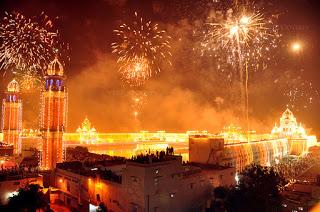 India has one of the richest cultures in the world. The vibrant culture of India is manifested in its different
religions, festivals, ethnic groups, places, architecture, art and literature, language, music etc. The vastness and richness of Indian culture is simply overwhelming. Among the many features of Indian culture, the festivals of this country are truly magical and enchanting. 
As it is home to people belonging to different groups and religions, there are a variety of festivals celebrated by them. One such major festival of India is the Diwali festival, which is mainly a Hindu festival but celebrated by people across all religions and ethnicity. 
It has now become a kind of national festival rather than a festival of one particular group of people. It is celebrated with much glitter and fanfare in different parts of the country. Today, this festival of lights has transcended all boundaries and is also celebrated by Indian Diaspora and foreigners in different countries who have been influenced by Indian tradition and culture. 
The Diwali festival is celebrated mostly in the month of October – November, by the Indians, especially the Hindus. Legend has it that when Lord Rama returned to his kingdom Ayodhya , after killing the demon Ravana, who had abducted his wife Sita, and also after completing 14 years in exile, the people of his kingdom lit up the houses with earthen lamps called diyas to celebrate the return of their favorite king. 
Thus started the tradition of lighting up diyas during this festival and this is how this festival gets its name as the 'festival of lights'. This festival is spread over five days. 
On the first day people worship the bird 'Crow' as it is considered to be a messenger of the god of death, on the second day they worship dog as they believe one of their deity resides on the shoulders of the dog. 
The third day is the most important day and is called Lakshmi Puja where people worship goddess Lakshmi, the Goddess of wealth and fortune. Those people who have cows in their home worship them as goddess Lakshmi is symbolically represented by a Cow. 
The fourth day is called 'Goverdhan Puja' where people worship the Ox. And finally the firth day is called 'Bhai Tika' where the sisters put a tika on their brothers' forehead, worship them and pray for their long life and happiness. In return the brothers give gifts to their sisters. This is how different meanings and emotions manifests in the same festival
Diwali is a festival of joy, love, happiness and victory. It is celebrated with great enthusiasm and happiness by people. They wear new clothes, distribute sweets among each other, visit their relatives' houses, give gifts to each other, burst firecrackers, and illuminate their houses, streets and localities. It is a great way to forget all our differences and come together to celebrate the life and happiness that it brings with it.