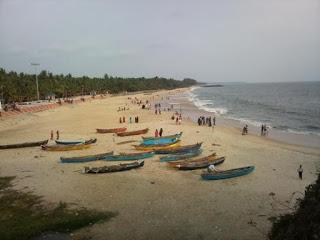 Kappad or Kappakadavu is a picturesque beach destination in Kerala, ideal for laidback
beach holidays. Situated delightfully away from the hustle and bustle of the city, approximately 16 kms away from Kozhikode, Kappad enjoys a respectable place as the most beautiful beach destination in Kerala. 
Kappad is quite famous for its history and its name is often mentioned in history and geography. In the year 1460 – 1524, Portuguese sailor Vasco Da Gama landed in Kappad making a history. Since then, huge number of business man from Europe influx to India to start export and import business. 
Well apart from the history, Kappad beach has its own appeal and charm that invited huge number of tourists and beach lovers to its picturesque serene shore. The clear blue water and the golden sands create a magical spell over the visitors and let them enjoy wonderful tour as well as various water sports and activities with maximum delights and joy.
 Tourist out here can enjoy laidback holidays basking in the glory of the sun, try some exciting and alluring water sports activities that make the beach tour more grand and enjoyable. So while you are in Kappad, you are sure to have a pleasant and delightful tour, which will tempt you for another visit to this serene and charming beach. 
Kappad is quite popular like other beaches in Kerala and is visited by huge number of tourists all the year round. The best time to visit this beach is between October to March, as during this time the weather is pleasant and the sea shore are calm and ideal for various beach activities. 
Attraction near Kappad 
Kappad beauty is enhanced by the quite few attractions that are available here. Pookot Lake, Korapuzha River, Cheekiode village and Kozhikode are few places and tourist attraction to see in the vincity of Kappad. 
How to Get There
Kappad is a popular beach destination in Kerala and so it is easily accessible. 
By Air
Karipur International Airport is the nearest airport to Kappad, which make the access by air much easier. 
By Rail
Kozhikode railway head is located somewhat at a distance of 16 kms from Kappad. Thus access to this picturesque beach has becomes much easier for some hundreds of tourists visiting Kappad every year. 
By Road
Travelling by road is another good option to reach Kappad. The beach is well connected by the well knit transportation system connecting other cities as well as tourist spots of Kerala.