Summer eating makes me so happy, fresh fruit, grilled meats, wine or beers out on the patio. All those fresh flavors make for some delicious short few months of eating.
Sweet, juicy watermelon is so often thought of as just a snack or dessert; but it is so good as part of a savory salad. Mixed with fresh tomatoes, creamy and salty feta, basil and a flavorful dressing. This is a salad meant to be eaten and served right. Leftovers aren't as good, they get a bit too soggy.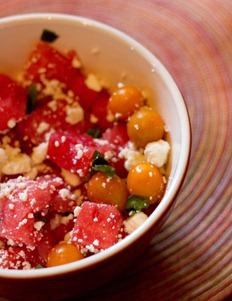 Watermelon, Tomato and Feta Salad with Red Wine Vinaigrette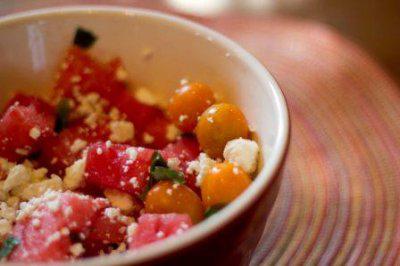 Prep Time: 15 Minutes
Keywords: side salad vegetarian
6026132
Ingredients (Serves 4)
For the Salad
4 cups seedless watermelon, cut into cubes
1 pint cherry or grape tomatoes
1/2 cup feta
3-4 fresh basil leaves, torn into bite sized pieces
For the Dressing
2 tbsp red wine vinegar
1/4 tsp garlic powder
1/4 tsp onion powder
1/4 tsp dried oregano
1/4 tsp Bangkok spice blend (or other spice blend)
1.3 cup olive oil
Instructions
In a large bowl add watermelon, tomatoes, feta and top with torn basil.
In a smaller bowl whisk together red wine vinegar, garlic and onion powder, oregano and Bangkok blend. Slowly whisk in olive oil. Top with salt/pepper and pour over salad. Serve immediately.
Powered by
Recipage