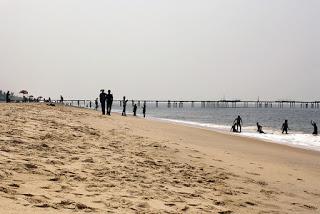 Kerala has myriad of beguiling and charming beaches with long sunny coastline, some having rocky out cliff while some
beautifully adorned by the swaying coconut trees. Among those many serene beaches, Alleppey is very popular beach spot in Kerala, often frequented by the tourists and honeymooners from across the corner of the globe.
Located delightfully in the district of Allappuzha, Alleppey beach is quite popular beach in Kerala. Adorned delightfully by the swaying coconut trees and palm grooves, the surrounding proximity of the beach offers such an alluring charm that is hard to find anywhere else. It is an ideal beach for leisure beach holidays and exciting water sports and activities that one can hardly get to experience in any other beaches in Kerala.
Alleppey is quite popular among water buff. Known for its splendid beauty and charm, the clean and green surround of the beach and the pristine water invites tourists to indulge in various exciting water sports and activities. Among the various water sports, surfing, para sailing, swimming and angling are very popular. One can also enjoy volley ball along the serene and enchanting beach and pump your veins with running and jumping activities.
Best Time to visit Alleppey Beach
Alleppey beach is very popular tourist attraction in Kerala, so the spot is visited by tourist the year round. But the best time to visit this small and enchanting paradise is between the months of October to February. This is the official season of Kerala and is visited by large number of tourists from across the nook and corner of the world. Attraction near Alleppey
Alleppey beach is not only the attraction tourists can wonder and visit on their tour to Alleppey. But a quite few attractions around the city are there that too engross and engage everyone to enjoy delightful vacation exploring the beauty that is visual and poetic delights. Krishnapuram Palace, Ambalapuzha Temple, Chavara Temple, Karumadikuttan, Mannarsala, Mararikulam and last but not the least, Alleppey backwater are the major tourist attractions to visit in an around Alleppey. How to Reach Alleppey
Alleppey is a major tourist attraction in Kerala and so it is well connected by airways, roadways and railways. By Air
Cochin Airport is the nearest airport. Alleppey is just 85 kms from the Cochin City. By Rail
Allappuzha is the nearest railhead, located somewhat around 5 kms from Alleppey beach. By Road
Alleppey is well connected by roadways and has well knit transportation system, connecting all the tourist places with Alleppey. Allappuzha KSRTC is located just 5 kms from Alleppey beach.
So visiting the enchanting Alleppey beach on holidays offers wonderful opportunity for beach lovers and tourists to enjoy the real fun with families and dear ones, treasuring some everlasting memories of lifetime.