Waldorf Hotel's Waldorf Salad
For salad lovers this is just a great recipe both in texture and in taste. Not only does this recipe actually looks like a Waldorf salad but tastes like it exactly as well. In other words it is a great recipe from your otherwise healthy lunch ideas. Now anyone can make it. The steps are simple and basic plus it takes a little effort to make a great salad. Any ways what actually make this a great dish or a great healthy lunch ideas is the very well-balanced of the simple ingredients in it. A truly unique piece of art. A recipe that has to be at least tried one.
Ingredients:
1 cup walnut halves
1/2 cup mayonnaise
1/4 cup plain yogurt
1 teaspoon prepared mustard
Pinch of dry mustard
Juice of 1/2 lemon
4 to 6 tart apples, peeled, cored, and diced (2 cups)
1 to 2 cups finely diced inner ribs celery (white part only), leaves reserved
Salt and freshly ground black pepper
2 bunches tender greens, such as arugula, baby kale, or pepper cress, washed and dried
2 tablespoons olive oil
1 tablespoon fresh lemon juice
Directions:
Preheat the oven to 325F.
Spread the walnuts on a baking sheet and toast in the oven for 4 to 5 minutes, until aromatic and lightly toasted.
Let cool.
Combine the mayonnaise, yogurt, both mustards, and the lemon juice in a large bowl.
Fold in the apples and diced celery and season with salt and pepper.
Put the salad greens in a large bowl.
Add the olive oil and lemon juice, season with salt and pepper, and toss well.
Divide the greens among four plates.
Spoon the apple mixture onto the greens and sprinkle with the toasted walnuts and reserved celery leaves.
Enjoy!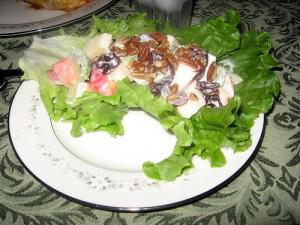 Photo by: martine_michelle