Waldorf Astoria Olive And Lemon Potatoes
If you feel like having something light this week for your lunch that in my opinion I suggest having this waldorf astoria and lemon potatoes salad. It is an amazing healthy lunch idea. Not only does it give you all the health benefits but it also pleases your belly. I can guarantee the vegetarians would love this dish. One of my friend who is vegetarian actually told me about this recipe, not that I am don`t like vegetarian stuff but I also would like to have a bit of meat in my salad as well. But this waldorf astoria olive and lemon potatoes recipe is just great on its own. Nothing more can be said than for you to give this love healthy lunch ideas a try.
Ingredients:
2 pounds Yukon gold or Idaho potatoes, scrubbed clean and dried
3 tomatoes, washed and dried
5 Gaeta olives, chopped
juice of 1 lemon
1/2 bunch parsley, chopped
2 tablespoons olive oil
3 tablespoon butter
salt and pepper
Directions:
Cut tomatoes in half.
Toss with olive oil and season with salt add pepper.
Place cut side down on a baking sheet and cook in a 250 degree oven for 4-5 hours or until they dry and shrink to half of their original size.
Remove from oven, let cool and chop.
Bake potatoes in a 375 degree oven for one hour.
Cool slightly and peel and mash with a fork.
Add all the other ingredients including oven dried tomatoes.
Adjust seasoning and serve with chicken.
Enjoy!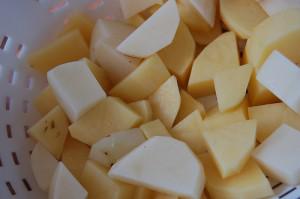 Photo by: snowpea&bokchoi