I know that finding good quality vitamins can be a huge undertaking, especially when you are on a budget. Just recently, I finally found a solid system that works very well for me and is not too expensive. My family has always been fans of GNC, but I never really found their products to be that effective for me, and they can get pricey. So, once I figured out what vitamins I liked and how well they worked, I thought I would share. Hopefully this can simplify things and give some insight =)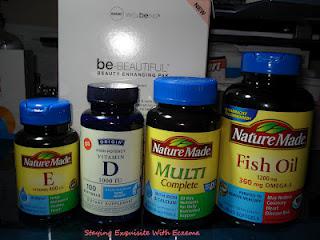 1.) Nature Made Fish Oil 360mg Omega 3. I take five of these babies daily and I am considering upping it to six. May sound crazy, but I have my reasons and have been assured by my amazing doctor that it is perfectly fine(but may cause diarrhea so proceed with caution.) In January, I had blood work done and the results floored me: apparently I have very high cholesterol. For whaetever reason, he wanted to check it and I am glad he did. Darn you genetics! My doctor was very adamant about not putting me on any medication for this, so he told me to take fish oil(it grabs on to the cholesterol and takes it out of the body) in addition to diet and exercise. As of now, I do not know my cholesterol levels, but I sure do feel a lot better since taking this fish oil. And my eczema is under control, too. I have always been told that fish oil would help, but now I can really see it. I have lost a little weight and do not snack as much. This particular fish oil is purified and has no odd smell or taste.  These pills are huge, but I have no problem taking them. And the benefits of fish oil are countless, so definitley pick some up. And make sure it is made with cold, deep water fish and not farm raised fish.
A bottle of 100 costs around $10.00
2.) Nature Made Multi Complete Vitamins. These are just your everyday multivitamin, but better. Unlike the GNC Women's Ultra Mega daily vitamin, you only take one of these. And the best part is that it is in the form of a liquid softgel, which makes it so much easier to take and there is no odd taste. I have read the label, and it has all of the good stuff, including 1000 IUs of Vitamin D.
3.) Nature Made Vitamin E. I have heard many theories regarding how effective Vitamin E is. Some swear by it, and others say it does nothing.  I take 400 IUs of it. To those that swear by Vitamin E, it is good for your skin, heart and immune system.  My skin is in better shape, but they could be a result of the fish oil and my skincare routine, too. If you were to skip on something, this is the one. I cannot say if it is or is not doing any good. But I still take it every day. And if my skin is dry, I puncture one of the capsules and use it on my face, which does help.
And the Nature Made products can sometimes be found at CVS or Walgreens on sale, usually buy one get one free. That is the perfect time to stock up. At CVS, I do know that you need an Extra Care card, which is super easy to apply for and does not cost anything.
4.) GNC Well Being Be-beautiful paks. These are pretty cool and effective for me. Each pack contains 6 supplements including a complexion support formula, skin elasticity formula, healthy skin formula and advanced collagen formula full of amino acids and other good stuff. But for simplicity, I won't pull out my biochemistry terms and structures =) This pack costs $30 and has a month supply. But GNC does have sales and a gold card that offers a discount at the beginning of each month.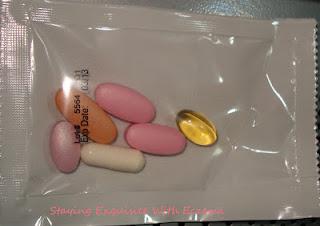 5.) Origins Vitamin D 1000 IU. I take extra vitamin D because I have low levels. I think mine are 24 and it needs to be 30 or above. I spend almost no time in the sun, so this is necessary for me. Low vitamin D levels not only impact your bones, but can make you feel fatigued and depressed. Which is how I found out. My doctor and I had been working to find out why I felt so tired(tired to the point of nearly not being able to function.) He tested for anemia, lupus, etc and my tests showed low levels of vitamin D. Aha..an answer and now the problem has been solved. I have been taking this Vitamin D for nearly a year(long before this other stuff)This brand can be found at Target. Oh, and I have also read where vitamin D may help with eczema, too. But I find the fish oil much more effective at that.
I know this seens like an insane amount of supplements to take, but I really do feel and look so much better now. It is worth taking all of this. And the best part is, I am not breaking the bank. Another tip; invest in a pill container. I have a daily one, but they make them for the entire month. Having one of these makes the process much easier.
And of course, always be sure to talk to your doctor. As you noticed, I mention mine a good deal in this post as he was a huge help in helping me figure this out , so speaking with yours will be a great tool to get you on the right track and find all of the important information. Also, even if you are young, get your cholesterol checked! When you turn 20, you need to get it checked about once every 5 years. I am 22 and my levels are high. And I am not overweight and have a decent diet.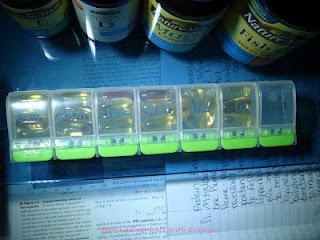 Please excuse my Biochem text and notes. I took a quick break from studying to post this =)

What vitamins/supplements do you take, if any? Do you find them effective?