Disclosure: Vionic sent me a pair of shoes to review and to spread the word about the solestory contest! All opinions are my own. 
I love shoes. And not just love them, REALLY love them. I have at least 75 pairs of shoes since I have been the same size (8) since I was about 15. And I do actually have a few pairs from at least college still. I was surprised that I even had shoes that old when I was going through them last month. At least 2 times a year I empty my big boot bin and look at my shelves; if I haven't worn a pair they go in the donation bag. I always ask a few friends who wear a size 8 if they want any of them or they go off to Goodwill.
I noticed recently even though I have so many pairs of shoes I was really lacking in a comfortable and supportive black sandal. Gone are the days that I wear crazy tall and uncomfortable high heels on a regular basis. Come on girls, don't you remember being 21 or 22 and getting ready to go out and putting on those sky high heels that you could barely walk in and made your feet hurt? I know we've all done it. Now that I am in my 30′s I am much smarter about those heels. I only wear them for a few hours and only for special occasions! You didn't think I would completely give them up do you? It was perfect timing when Vionic emailed me about their #solestory program and trying out a pair of their shoes with orthaheel technology. They provide proper heal alignment so that the feet, ankles and legs function as they are supposed to. Such a novel idea! You might be thinking ortha what… and those have to be ugly. Wrong. These are great shoes. The first day I wore them to work I got so many compliments and my feet didn't hurt. Such a huge bonus. Now you can have truly comfortable shoes that are fashionable.
I picked the Catarina T Strap wedge in Black. Seriously cute!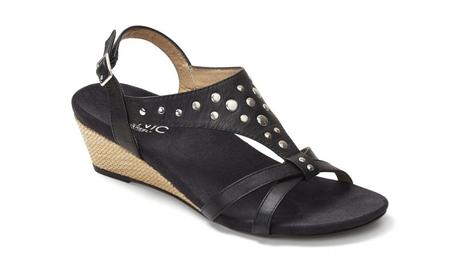 Cute black wedge sandals. What's not to love! Great with jeans, dresses and shorts. I am (well actually my feet) are pretty darn happy wearing these. In addition to creating cute and comfortable shoes Vionic wants to know how customers lives have changed since wearing these shoes. Just check these stories out! Major changes to their lives. #solestory