In my very own deluded universe, all things Korean have a way of finding their way to me.  I was clearing one of my duffel bags the other day, and a lipstick fell out. I think my pal ah chew must have passed it to me sometime back (she automatically sets aside all Korean products for me -totally feeling the lurrrveee-), but I must have missed it.
Being the humji (local slang for chickenshit) that I am, I jumped away in horror at the dark thing that fell out . I thought it was (yet another) lizard ambush, so I gave it an almighty flying kick into the corner. "Take that you!!" Needless to say, I felt quite ridiculous when I heard the metallic clank as it hit my wall. Oops.
Thankfully, my almighty flying kick wasn't all that almighty, so my newfound Vidi Vici lipstick was none worse for the wear. Phew.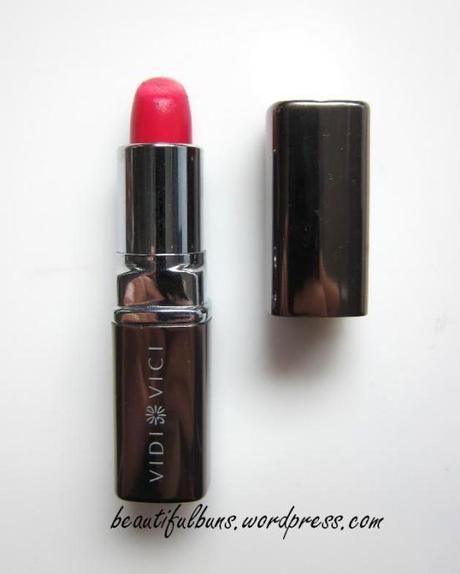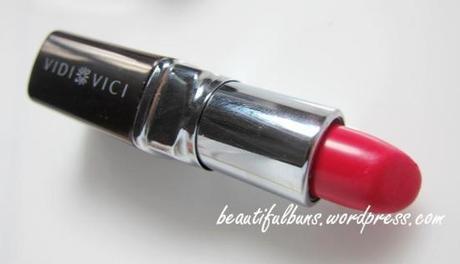 Vidi Vici Creamy Touch Lipstick in PP291 Plum Candy

Key ingredients are:
- Contains Theobroma Cacao (Cocoa) Seed Butter oil for soothing effect

- Contains Sunflower Seed Oil to provide moisturizing effects to your lips

- Enriched with vitamin E (Alpha-tocopherol) contain antioxidants that help soothe, protect, nourish, and moisturize your lips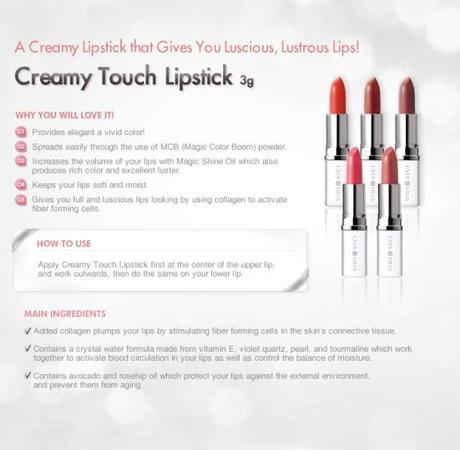 Not too sure why this version has a white packaging and different types of ingredients, but still under the same name. Might be a new and improved version?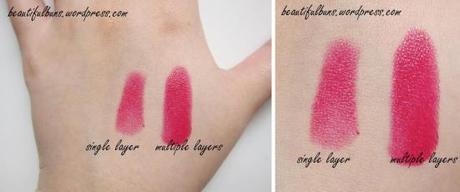 From L-R: Bare (shit) lips, freshly applied lips (albeit a little unevenly done cos it was 5am), and after the color wears off.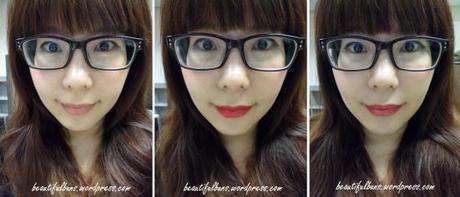 L-R: Me, my twin and my triplet. lol. I jest – it's bare lip, freshly applied lip colour, and worn-off lip colour
I say…
I likes this very muchies!
It comes in a normal metallic casing – not much to say about it. Just pull and it's opened, push down, and it's closed.
It glides on smoothly, perhaps due to the heat of my hawt hawt bodeh. oh yeahhhh.
It's moisturising enough to cover even my badly chapped lips. Some lips aren't moisturising enough, so when you apply them, they enhance the appearance of your flaking lips instead of hiding them.
Just one coat is enough to give a nice vibrant color. Apply more coats, and it improves the intensity and vibrancy. I'm also glad it doesn't dry into a baked cake.
What I particularly love about this lipstick is the fact that after it wears off (or rather, after I've eaten it), the remnants of the color remain like a lip tint. This means that throughout the night, I don't have to worry about touching up – first you see me (with lipstick) and then next you see me with natural-looking tinted lips that are less dry than before lipstick application.
If you apply it just to the center of the lips and finish up with a pink / shimmery lipgloss, it gives you that awesome just-bitten effect. (Although to be reallllly honest, if I want a just-bitten effect, I'd usually just.. bite it gently)
It's even been featured in Get It Beauty Korea, which is totally my bible for makeup items to purchase. Even ELLE HK listed this as their top pick. See see, I haz foresight.
Overall, one awesome product that even my friends complimented me on, and asked me where I got it. It's always an item I apply to jazz up my overall about-to-drop-dead face when I attend events.  If you can hunt down a Vidi Vici counter (check out their counter listings), I'd say get one of these. Of course, they have other best-sellers too, but those are really pricey, Sigh. Will save up to buy one to try soon!