Now winter is upon us and the best way to keep warm is to have something good yet warming like this velvet corn soup. Not only does it have tons of health benefit it also is the thing which will make you feel at ease in this cold weather. Now alot can be said about this velvet corn soup from healthy lunch ideas but unless you give it a try yourself you won`t actually know what I am talking about. In my opinion you should give this velvet corn soup a try as soon as possible to know whether you wold enjoy it or not. I can guarantee you`ll love it. Enjoy this healthy lunch ideas finest velvet corn soup.
Ingredients:
1 tbsp Peanut oil
1 tbsp Dry sherry
4 Green onions, minced
1/2 tsp MSG (opt)
1/2 tsp Fresh ginger root, minced
2 tbsp Cornstarch and
3 c Chicken stock
1/8 c Stock for cornstarch paste
1 c Canned cream-style corn
2 Egg whites
1/4 tsp Salt
1 tbsp Cooked Smithfield (or Hickory-smoked) ham, minced
1/4 tsp White pepper
1 tsp Sugar
Directions:
Wash corn in stock.
Drain corn, reserving stock; chop finely and return to stock.
In a cup, mix cornstarch and cold stock to make paste.
In heavy 2-quart saucepan, heat oil until Hot.
Sauté green onions & ginger for about 30 seconds, stirring constantly to avoid burning.
Add stock & corn; stir & bring to just under boil.
Add salt, pepper & Sugar.
Simmer 15 minutes or until ready to serve.
Just before serving, turn up heat again to a bubbly boil.
Dribble in cornstarch paste until Soup acquires a waxy translucence.
It should still be thin, but not watery.
Add sherry.
Now beat Egg white with a fork to a light froth.
Turn off heat.
Quickly swirl in Egg whites.
Pour into serving bowl.
Garnish with ham.
Enjoy!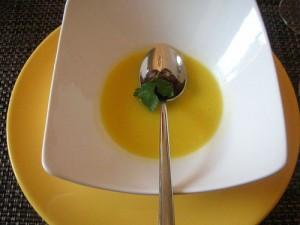 Photo by: Le Blagueur à Paris