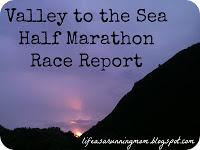 Five days post race day and I am feeling good....
well, kind of
. I seemed to have caught darling daughter's cold and was up most of the night since she was coughing and my throat was aching. The good news is, my legs are feeling back to normal. 
Yippee!
The delayed onset muscle soreness only lasted a few days and it really wasn't as bad as I feared. Yes, I feared dreadfully painful-not-being-able-to-walk legs mainly because of the downhill portions of the course and that pesky IT band issue I had a few weeks prior to race day. Fortunately, all my fears were meaningless. Thank goodness! 
On race day I woke up about an hour and a half before I wanted to leave the house. I like to eat my small pre-race meal a couple of hours before race start. It allows me to calm my nerves, stomach, whatever. Perhaps I just like the quiet time in the morning since my family tends to stay in bed when I make my journey to the kitchen. This particular day I had a couple of graham crackers with a touch of peanut butter and half a banana. I had a small cup of coffee and drank about 8 oz of plain water.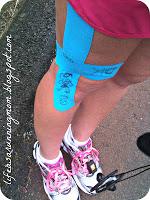 After sitting around for a bit enjoying the morning and getting more race nerves I started getting myself geared up and ready to go. It didn't take me too long so I took a moment to write Dad on my kinesiotape and darling daughter and dear hubby added some artwork. I had been debating for days whether or not to tape my IT band and finally did. Think of it as a security blanket. And yes, my taping is not traditional but the supporting band did cross where my IT band felt most tender and seemed appropriate for me.
At 5:45 am we all left the house. Dear hubby and darling daughter were going to drop me off at the start and meet me at the finish. The course is point-to-point from near the 'Iao Valley needle to the Humpback Whale Sanctuary. And for a bonus, dear hubby could bring darling daughter into work first and get a few things done. It was a dark drive and the sun couldn't rise fast enough for darling daughter and I can't really say when it did rise. It was plenty dark when we passed several cop cars and flashing lights on the way to the start. It was light when we got to the start. And I got to chat some with a good friend, Yolanda, I met through blogging. I am truly blessed to have her in my life and her support is very much appreciated, as is all of your support. And the sweetest blog follower came over to introduce herself and say hi. It was nice.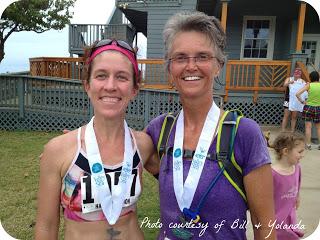 Okay, we are at the end!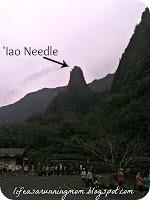 The race was to start at 7:00 am but we were delayed. Thankfully there was a nice fire knife dance to distract and entertain us all while we were waiting.
Remember those cop cars?
Well, it seemed a truck drove off the road and they were there for that. And we were delayed as we waited for the tow truck to pull the truck out and clear the road. Then the cable broke on the tow truck and we could start. I don't know all the details but I really hope no one was seriously hurt.
Once the race started I tried hard not to go out too fast and to not be propelled beyond my goal and limits by the other runners. Starting smart is hard. Starting smart on a downhill is even harder. But I got good advice from a trusted runner to not go out too fast in the first three miles. The downhill will make us all fast but no use risking thrashing your quads for later in the race.
Throughout the race I checked in on my pace but honestly, it was hard for me to predict what pace I should be hitting on this course. It had the downhill, flat stretches, and some minor uphill. I knew what I needed to PR so I just kept that in mind. And of course, I was on target. I had a good downhill start, remember?
My IT band was rather quiet. It may have  hiccuped here and there at the start but in all reality, I think it was my mind not my body speaking. I didn't have 100% confidence in my leg and I truly believe that was holding me back a bit. I was afraid to push too hard and end up on the sidelines. I really did want to finish....and to PR. Fellow runners crossed my mind here and there and so did memories of my Dad. I thought of how I wanted to feel Tuesday and knew I wanted to be recovered and ready to train hard but know I pushed myself reasonably on race day. Did I achieve that goal? Yes.
If you forget about the cold.
I took a GU at mile 4 and mile 8 and wondered if I should have fueled better before the race. Did I eat too early? I guess I can't complain as I did perform well but it is always worth considering. And no, I didn't ponder these questions during the race. Just afterwards as I reflect back.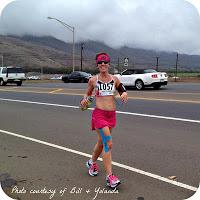 Mile 8 - am I feeling too good?
It was wonderful seeing my dear friend's husband at mile 8 for support, cheers, and I even slowed some for a photo. It truly does lift your spirits to see support along the course. And this course was quiet in that regard. But I did thank the cops at all street crossings. I truly did appreciate them directing traffic, or should I say stopping traffic, for us.
And part of the reason why I may have been tentative with pace along the course was the beach section at the end. The website said 0.5 miles on the beach and about 0.25 miles on the road to the finish. Pre-race the race director said 0.75 miles on the beach and about 0.25 miles on the road to the finish. There is a big difference between 0.5 miles and 0.75 miles....okay, not really but in the last minutes it had me wondering. Either way, I was expecting to see the 12 mile mark before the beach section, right? Well, it was on the beach. I don't know how much we ran on the beach. I feel it slowed my pace and I did walk a few times to get onto the beach, go over rocks, and climb back up to the road. On the bright side, the running guy who was playing leapfrog with me the whole race, or running by my side for some, said I lost him on the beach. I confessed to him, if he passed me on the road to the finish I was going to kick butt and pass him right back up.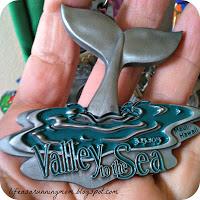 I was happy to make the final turn to the finish chute. I was happy to see I was on time to PR. And then when I saw the clock ticking closer to 1:55 I had to ensure I broke 1:55. And I did. My official time was 1:54:46 with a 8'45" pace. A new PR.
P.S. My previous PR was 1:56:20 with a pace of 8'52" set at the Wahine Half Marathon in April 2012.
Daily Gratitude: I am thankful to start my 2013 racing season with a PR.
Daily Affirmation: I have what it takes to commit to my 2013 marathon training. I will realize my marathon goals.