Valentine Pancakes
Making pancake is fun, it pleases both adults and kids. Its a great dish for breakfast or snack time. Valentine pancakes are no different than normal pancakes, but with just a little tweak it looks funky just like when you buy stuff for Halloween night. The color of these valentine pancakes make it ideal to have a laugh and be romantic with your loved ones. The recipe for valentine pancakes is simple and easy therefore anyone can make it.
Ingredients:
pancake mix
red food coloring
Directions:
Using your favorite pancake batter recipe, spoon the batter in to a heated skillet to form a heart.
This method can also be used to form other funky shapes.
You can make the pancakes look more festive by adding food coloring to the batter
(a couple of drops of red for a pink batter) and adding chocolate or cherry chips.
NB: You can play around with the food coloring and make pancakes or different colors.
Enjoy!
Liked this recipe than you`ll enjoy making these recipes as well.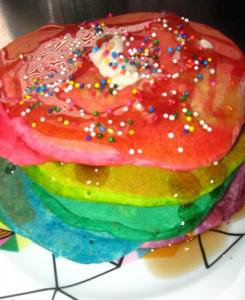 Photo by lobochem3x1minus1

Rating: 0.0/
5
(0 votes cast)