Disclosure: I have received a pair of Upere shoes in exchange for my review of their product. All opinions are my own.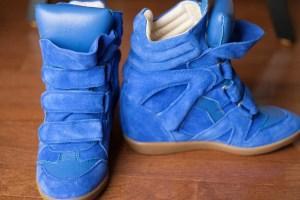 I used to LOVE to wear high heels, then I had 3 kids and my feet told me no way! But I'm still only 5'3″ and love to have a little boost when it comes to height. I started noticing that wedge sneakers are becoming popular. There are tons of them popping up on Pinterest and Ployvore so when Upere offered me a pair of their super cool shoes, I jumped at the chance. I wanted something fashionable, comfy and with a bit of a lift.
I received the Upere Wedge Sneakers in Cobalt Blue. They are bright and playful, and certainly NOT boring. The shoes are Cobalt Blue suede uppers with a 2 inch wedge heel and a rubber anti-slip soles.  They have hidden Velcro closures that you can adjust to your size. This is the only feature I don't love of the shoe, I find the Velcro closure scratches my leg if I close it. I have opted to not close them and they fit fine that way. They will NOT come off. Overall the shoes are comfortable. I wear a US 6.5 and found the EU 37 to be a perfect fit.
I love that they are casual shoes that give you a little height and a fashionable look without compromising the comfort that comes with a more casual shoe. Upere offers every color combination you can imagine, some bold and some more subdued. I happen to like the Navy and the White Tongue Cream. I think they would easily be incorporated into most wardrobes. I have chosen to wear my Upere Wedge Sneakers with jeans but as the weather warms up I think they would look cute and sporty with an easy flowing skirt or if you have the legs for it, short shorts.
The Upere Wedge Sneakers have a street smart and playful look that works well with today's styles. I love the look with skinny jeans or paired with an unexpected dress. Many of the Upere Wedge Sneakers are multicolored offering amazing styling choices and options.
You can follow Upere on Facebook, Twitter and Pinterest. Upere is also offering a 15% discount to my readers, simply use the code "UPERE".