Disclosure: I was provided with free samples of Breyers Gelato Indulgences. All opinions are my own.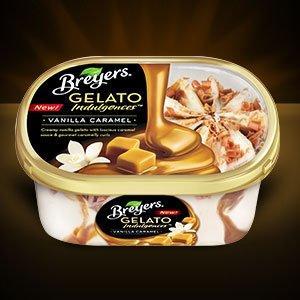 I know we are usually all about the real food in our home, but for the longest time I dreamed of being able to let the boys enjoy the summer I remember. I wanted to let them have the experience of eating snow balls and ice cream on hot summer evenings, and now that Matthew is practically recovered we sneak those days in here and there. Sometimes we go out and get a treat, like hitting our local soft serve ice cream shop or even on our annual trip to Dutch Wonderland where we can get Dole Whip pineapple soft serve (the only place outside of Walt Disney World I know that serves Dole Whip!) But more often than not we just enjoy something at home. That can range from a summer lemon cake to s'mores to Breyers gelato.
The boys went ga-ga when they saw the vanilla caramel flavor, and with good reason. It is a lovely, soft vanilla practically drenched in caramel. When I was little caramel sundaes were my ABSOLUTE favorite, so I get why they wanted to indulge in this particular Breyer's creation.
I, on the other hand, have become a huge fan of tiramisu. I used to make this creamy concoction of lady fingers, mascarpone cheese, espresso and chocolate before I married into an Italian family. Oddly, my husband is not a fan, so I never make it any more, but with Breyers Gelato Indulgences Tiramisu I can get the flavor I love even if my husband doesn't want to partake. (more for me anyway)
With all these awesome *sometime* foods, I can visit the summers of my youth with my children. What are your favorite summertime nostalgic flavors and foods?