Disclosure: I was provided with free Klondike bars. All opinions are my own.
With the abundance of fresh fruits during the summer season, I love to make tempting desserts that utilize all the sweet fruits at the market. For the Fourth of July I made this decadent Caramelized Pineapple with Coconut Sorbet. Of course I couldn't leave it alone, so instead of the sorbet I used Haagen Dazs Pineapple Coconut Ice Cream. I think this has become my new favorite summer Sundae. The fresh pineapple exudes it sweet juices and they meld with the butter and brown sugar to give a sauce that reminds me of pineapple upside down cake. This dessert can be as refined or down home as you want, simply by using larger or smaller pieces of pineapple and by choosing an appropriate ice cream dish. In addition, you can use this same method on all sorts of fresh fruit such as raspberries, peaches or cherries.
And speaking of peaches I just made (yesterday) the most decadent Gluten Free Peach Cobbler. My husband is a sucker for a good peach cobbler and because he was making one of his world famous pit beefs I felt I needed to step up and provide him with his favorite dessert. We took a trip to a local farmers market and bought some juicy white peaches. I used this recipe but substituted King Arthur Gluten Free Flour Mix. The cobbler was a big success. I have to say, you could not tell it was Gluten Free at all, and the flavor was amazing. I did add about 1 teaspoon of almond extract to the peaches as they sat and marinated in the sugar mixture. It did not impart too much almond flavor but simply enhanced the peaches. And of course it was served with a natural vanilla ice cream.
If you have noticed ice cream seems to play a big part in our summer desserts. I'm sure most people gravitate to ice cream during the hot summer months, but we like it during the winter too! During the heat of summer we will often stop at one of the local soft serve ice cream places and get a sundae, but more often than not we will just pop over to our freezer and grab one of our favorite frozen treats. My husband has always been a fan of Klondike and he tends to prefer the traditional vanilla or Heath Bar flavors, but I found out that Klondike is now making Klondike Kandy Bars and was really intrigued by them. I tried the Cookies & Cream version and found that I liked the added chocolate fudge-like ribbon on top of the ice cream. I have to say the Caramel and Peanuts one looks even better and there is a Fudge Krunch that features chocolate ice cream if you love all things chocolate. I'm sure we will pick up some more Klondikes in the weeks to come.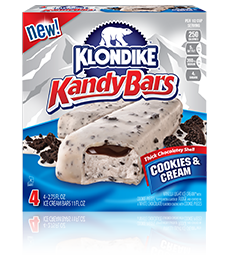 So do you like to make desserts during the summer or do you prefer to purchase yours from the freezer case? I love to do both, and ice cream always seems to play a big part when the temperatures are rising.