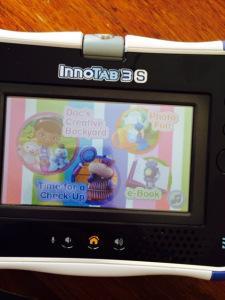 Christmas is right around the corner. Heck, Hanukkah starts tomorrow! Do you have all the gift you need? I know finding appropriate gifts for you kids can be really hard. That is why I love VTech InnoTab games. The boys had a chance to try out the new InnoTab Ultimate Spider-Man Learning Cartridge and InnoTab Doc McStuffins Create & Learn with Doc! Learning Cartridge.
Just this morning I was asking them about their "review" of both cartridges. My oldest son (age 10) said he love the Spider-Man cartridge. He and our youngest like the fact that you use the InnoTab itself to steer Spider-Man in one of the games. That means you don't use buttons or controls, but instead turn the InnoTab this way and that way to make Spider-Man move. That was quite a bit of fun for them. They both feel it is age appropriate and would recommend it to their friends. They also enjoyed the Doc McStuffins games but wished there were more "sick" toys to take care of. Maybe we will have budding doctors or at least toy makers on our hands. Again, they all enjoyed this cartridge and wanted to play more of it. They also said they felt the age range was correct.
What I like about the InnoTab is that I feel comfortable giving this to them when they want some electronic time. Lately I haven't been too thrilled with TV or video games, but VTech and the InnoTab learning cartridges make me feel a bit more at ease. I know the kids get their "electronic" time, but I also know it is a educational and safe set of games.
I would highly recommend the InnoTab and these two new cartridges as holiday stocking stuffers or small gifts. I think the kids will enjoy them for a long time to come!
Want more information? Please follow VTech and InnoTab on their social platforms below
The VTech product, gift card, and information have been provided by VTech.