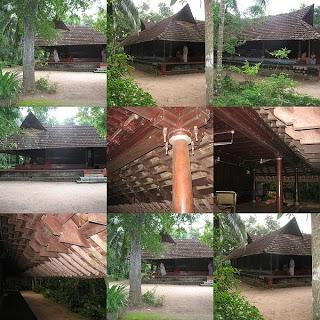 Decorated by an ornamentation of two peacocks facing each other, an effortless white wall plunks protector to the Paliam Kovilakam at Chennamangalam positioned to the North of Kochi of at a distance of around 30km. A 10-foot teak door will take you to the doorway of Kovilakam which serve as a seat of the Paliath Achans the genetic prime ministers of the former Kingdom of Cochin who mounted to fame in the 17 century. Today, the conserved halls of the 350 years aged palace and neighboring Paliam Nalukettu are silent wearing desolate gaze.
After six years of visualization by the State Government the Muziris Heritage Project for the protection of places of archaeological significance of Parvur, Kodungalloor, and Pattanam the Paliam Kovilakam is still vacant.
 Krishnabalan Paliath, manager of the Paliam Eswara Seva Trust that supervises the Kovilakam, Nalukettu, the nearby cremation ground and temples said, "The gazette announcement hasn't been made even two and a half years after the decree was made, the government has determined to pact the heritage monument tag to the Kovilakam."
95 year old P.V.K. Achan, former chief advisor of Bharat Heavy Electricals Ltd was the head of the family. The Muziris Heritage scheme visualizes the arrangement of a history museum at the Paliam Kovilakam reconstructed by the Dutch in 1663 as a gesticulation of gratefulness to the Paliath Achan who assisted them defeat the Portuguese.
Reinstatement
Benny Kuriakose who is a protection designer and the head project advisor of the project has been reinstating the construction. The interior has been ornamented with cameras, LCD TV's, display cases and lights. Though restoration was finished couple of years ago, it is yet to launch. The exhibit case and halls lie empty with materials and demonstrates scattered across museums, government offices and archives in Thiruvananthapuram and Kochi.
Mr. Paliath said, "No development is observed on ground. Some representatives of the Tourism Department like the Tourism Secretary are very excited about the project forwarding. It is not that there's lack of finances."
PALIAM NALUKETTU
Constructed in 1786, Paliam Nalukettu a two-storied construction neighboring to the palace for women and children of the Paliam family carries same condition. It is to be a lifestyle museum portraying the life of the Paliam family.
Another is the growth of the Ernakulam-Kottappuram inland waterway. Mr. Kuriakose said, "To reach the monuments that are part of the Muziris Heritage Project, guests can park at definite spots and take boats." The goal of the plan is to guarantee simple entrance devoid of lumbering the highway system and destructing the atmosphere of the region. But, not a lot has been made to expand the waterway.