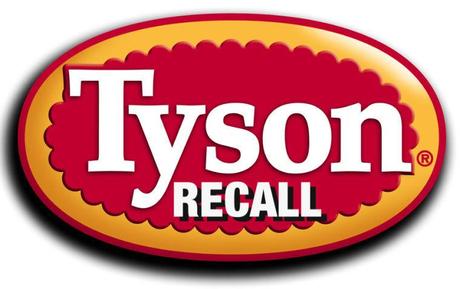 WASHINGTON, Jan. 10, 2014 – Tyson Foods, Inc. a Sedalia, Mo., establishment, is recalling approximately 33,840 pounds of mechanically separated chicken products that may be contaminated with a Salmonella Heidelberg strain, the U.S. Department of Agriculture's Food Safety and Inspection Service (FSIS) announced that day.
The mechanically separated chicken products were produced on Oct. 11, 2013. The following products are subject to recall:
40-lb. cases, containing four, 10-lb. chubs of "TYSON MECHANICALLY SEPARATED CHICKEN."
The Food Safety and Inspection Service (FSIS) was notified of a Salmonella Heidelberg cluster of illnesses on Dec. 12, 2013. Working in conjunction with the Tennessee Department of Health (TDH), FSIS determined that there is a link between the mechanically separated chicken products from Tyson Foods and the illness cluster in a Tennessee correctional facility. Based on epidemiological and traceback investigations, seven case-patients at the facility have been identified with illnesses, with two resulting in hospitalization. Illness onset dates range from Nov. 29, 2013 to Dec. 5, 2013. FSIS continues to work with TDH on this investigation and will provide updated information as it becomes available.
According to Tyson these particular products are only shipped to correctional facilities, not to the regular consumer. What is the difference between "the  uncooked chicken tenders in question and the ones from the supermarket?   In my opinion, there is a huge risk consumers are better off not taking.
Consumption of food contaminated with Salmonella can cause salmonellosis, one of the most common bacterial foodborne illnesses.  The most common symptoms of salmonellosis are diarrhea, abdominal cramps, and fever within 12 to 72 hours after eating the contaminated product. The illness usually lasts 4 to 7 days. Most people recover without treatment. In some persons, however, the diarrhea may be so severe that the patient needs to be hospitalized. Older adults, infants, and persons with weakened immune systems are more likely to develop a severe illness. Individuals concerned about an illness should contact their health care provider.
Consumers with questions about the recall should contact Tyson Foods' consumer relations department at 866-886-8456. Media with questions should contact Worth Sparkman, Tyson Foods' public relations manager, at 479-290-6358.
Do you or anyone you know has been affected by this or other recalls?  Please share with friends and family to prevent further illness.
References & original sources
http://www.fsis.usda.gov/
You May Also Like:
Health News
Shop Naturally: Organic Products and Supplements for you and your family!

Contact Us

Find The Root Cause Of Your Condition
disclaimer
chicken recall
salmonella 2014
tyson chicken recall