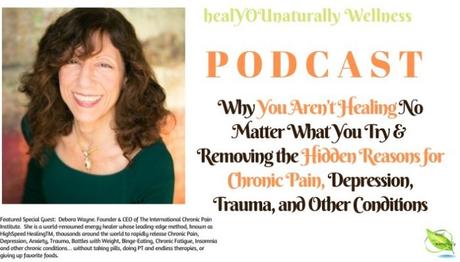 Tune into today's #HYNwellnesspodcast #32 and lear the about the benefits of HighSpeedHealing, how hidden emotions and trauma can keep you sick for decades. This science based technic also address other issues such as addiction, weight loss, addiction, mental and physical conditions and much more.. - Enjoy the show!
Podcasts Quotables
~ This is all based on an area of science that is very unfamiliar to a lot of people and often referred to as Biofield Science. This field was discovered by physicists but it's a fairly recent discovery and it was first photographed by the late dr. Valerie Hunt from UCLA. She was able to photograph the field is informing the body already and if it has already showed up physically in the body you can still see it in the body and then when you work in the field you see the changes occurring in the body as well, and there's a two-way communication happening between the field and the body. This is so fascinating because let's go back to the emotions for a moment....

~ Women with PCOS that consume Soy have a reduction in androgens...

Debora Wayne ~ Founder & CEO of The International Chronic Pain Institute
Dr. Hunt found out that emotions showed met a frequency and frequencies or if there are disturbance frequencies they are literally communicating to the body releasing toxic chemicals in acidity, and this is why if you do have these emotions and thoughts and emotions are the same. If they are releasing these disturbance frequencies they will keep talking to the body giving instructions and releasing chemicals and stirring up the stress hormones and that's where it starts...
Show Notes
Resources/ Links Mentioned
Also mentioned in this episode:
Foods, Supplements and Herbs Mentioned
Turmeric is a natures most potent anti-inflamatory make your own Ancient Golden Paste or try organifi Gold here
Omega 3s (chia, hemp seeds ) Salmon
Omega Krill ( Try it here)
Coffee organic preferably
Leafy greens such as Kale, mixed greens or spinach
You can also use my favorite supplement Metabogreens
Grass-fed Whey Protein ( Get 20% off with coupon code HEALYOU20)
Don't forget to visit, interact and tell Debora that you learned about her via my podcast:
Website: internationalcpi.com
https://clubber.one/@deborawayne
Instagram instagram.com/deborawayne1
Follow Me @deborawayne
Liked the show? Help me out!🙏
( Just click on your favorite podcast channel on the top right)