Tuna Supreme 
Now I know not many people are fans of seafood but honestly this tuna supreme recipe can never get and simple or better in both texture and taste. If you don`t like seafood than it is hard for me to explain how this tuna supreme is actually gunna taste like. But if you ever change your mind, this seafood tuna supreme recipe is perfect for any occasion especially for picnics and your otherwise healthy lunch. Honestly this is one of the best healthy lunch ideas out there. This tuna supreme recipe is perfect for all types of people even for diabetics. Try and enjoy this lovely recipe.
Ingredients:
1 sm. can tuna, water-packed
3 hard boiled eggs, diced
1 c. American cheese, diced
2 tbsp. each chopped sweet pickles, mince onion, chopped celery and cut-up stuffed olives
1/2 c. mayonnaise or Miracle Whip
Directions:
Mix all ingredients and serve on bread or lettuce leaf
Enjoy!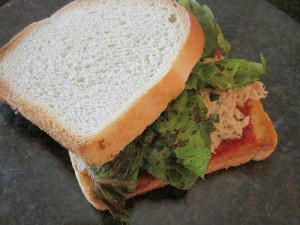 Photo by: aMichiganMom