The Leather Sleeved Gotham City Jacket
If you follow bloggers you know that this trend has been around for quite sometime in the blogosphere.  Basically, it is a black parka or jacket with leather sleeves.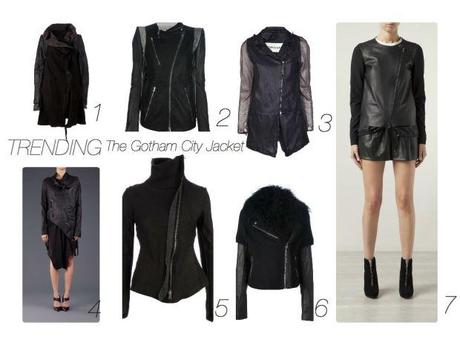 Here are 7 designers that are creating this "Gotham City" look right now and their
1) ISAAC SELLAM EXPERIENCE - Quadri Coat $2,540 – not on sale, found here
2) IF SIX WAS NINE - Kangaroo Leather Biker Jacket $3990 – not on sale, found here
3) GIORGIO BRATO - Metallic Sleeve Jacket $1775 – not on sale, found here
4) BARBARA I GONGINI - Draped Jacket $1350 – not on sale, found here
5) ISAAC SELLAM EXPERIENCE - Heureuse Jacket $1745 – not on sale, found here
6) HOTEL PARTICULIER – Leather Sleeve Biker Jacket $976 – not on sale, found here 
7) VERONICA BEARD – Leather Fitted Jacket $1159 – not on sale, found here
 Staying Power
I've been doing some research and I think this trend is going to be around for a while, because:
a) All of the top luxury sites are still selling this look by designer labels, and they are NOT on sale
b) It falls into the whole dark wardrobe trend, and what I like to call "the Gotham City" trend.
c) In "bloggers land" the trend is ENDING, however, bloggers are usually ahead of when people in  "normal people land" start to wear something.
d) This trend is perfect for those grey days of rain as winter ends and spring arrives. For example I sported this look here on a grey day.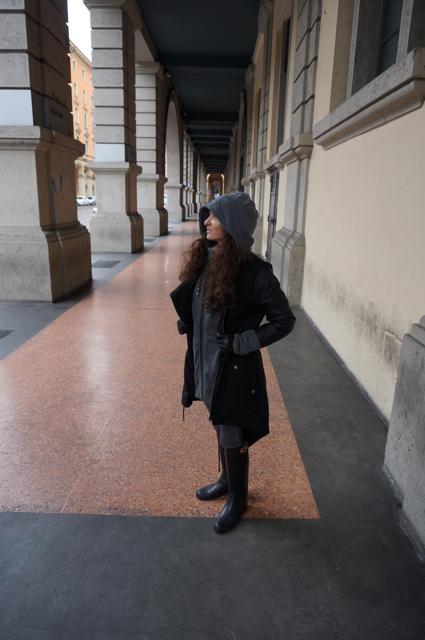 Characteristics of the Gotham City Jacket
It is no surprise that "dark" has been a major theme in high fashion for the last few years.  HUGE in Paris, London, Berlin, New York and Los Angeles, it takes rock and roll leather and studs and pushes it to the next level…..destroyed!
If you want to get this look for less I've done a whole post about destroying your clothes to make them look luxe here!
The "Gotham City" jacket has these basic characteristics
1) Asymmetrical Zipper – None of the Gotham City jackets just zipper up the middle, they all have an asymmetrical closure, or even two asymmetrical closures!
2) Leather – It's either entirely leather, or has leather parts such as; sleeves, elbows or patches that are leather.  The leather can be either aged, washed and ruined or with a rough grain.  It is never patent, shiny or too smooth
3) Asymmetrical Cut – The asymmetry of these jackets doesn't end with the zipper, the cut is always made more interesting by being asymmetrical.  It's either longer or shorter in the front or back, or is cut on an angle from left to right and vice versa.  In art terms, this is about deconstructing the form of the "classic" leather jacket, making in "uncomfortable" for  viewers and therefore pushing the wearer in to that next stage fashion realm.