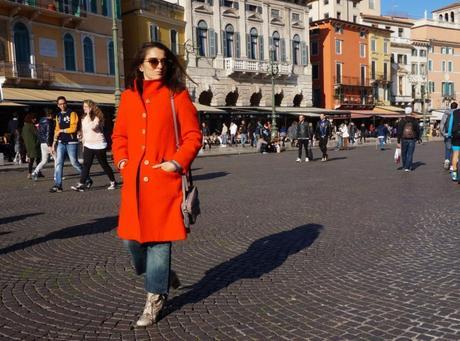 We all get a little antsy every now and then, don't we? With the desire to see new places, have new experiences and enrich our lives with a little more beauty. At least, that's how I get every couple of weeks.
It's true what they say, that when you live somewhere you don't do all of the touristy things that there are to do in your city. In the same way, when you live in Italy you often don't visit as many tourist spots as the people who come for whirlwind tours of a few weeks. You know who I'm talking about....the people who come for a week and see Rome, Florence, Milan, Venice and the stunning VERONA!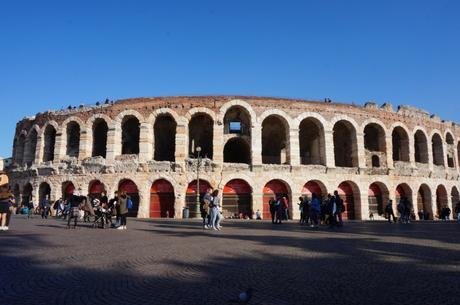 Verona - You've Stolen My Heart!
Verona is my new favorite city in Italy! I fell in love with this city towards the end of October when I convinced my husband at the last minute one Saturday morning to take me for a day trip so I could *finally* see it! This was my very first time visiting this incredible city and I HIGHLY RECOMMEND IT to anyone coming to Italy. What can I say....it is stunning....the atmosphere, the Arena, the Piazzas, the people. It is no wonder that three of Shakespeare's plays were set in Verona and among them Romeo and Juliet (you can go visit Juliette's balcony in fact!)
..............This is a city of love!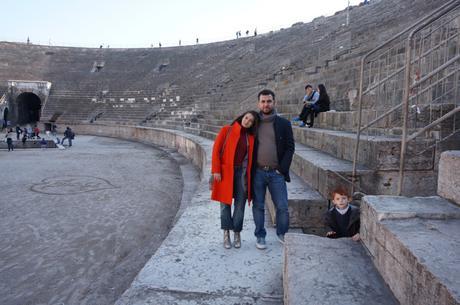 On the blog lately you may have noticed that I've been trying to inspire my man to leave our son with his parents more often ( remember our date night?) so he and I can have more couple adventures together and be a little more relaxed when we have our "dates". However, I love hanging out with my little man too and I really value giving him lots of different experiences, so on this trip to Verona we took the little guy with us!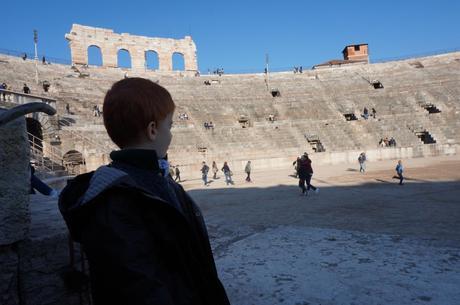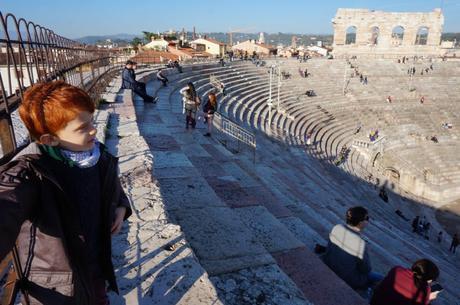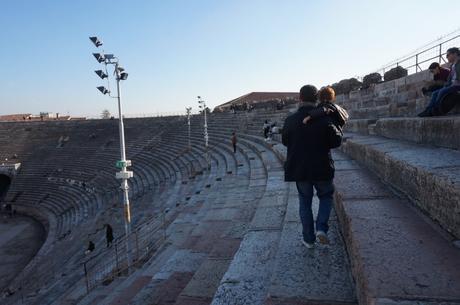 The little guy is becoming quite the tourist and he actually really looks forward to hanging out with us and having adventures, so much so that every now and then he'll turn to me and ask "Mamma where are we going today?" - the apple doesn't fall from from the tree!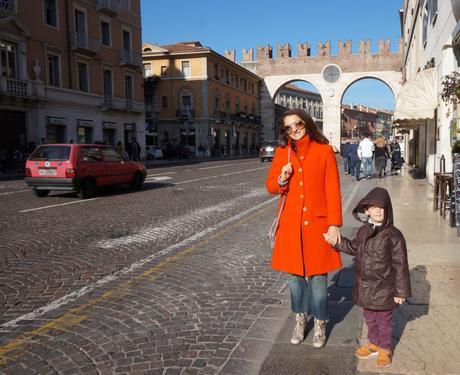 Italy never fails to amaze me, this country has captured my heart and soul and just when I think I can't love it any more I turn the corner, walk through an ancient city gate and have my breath taken away.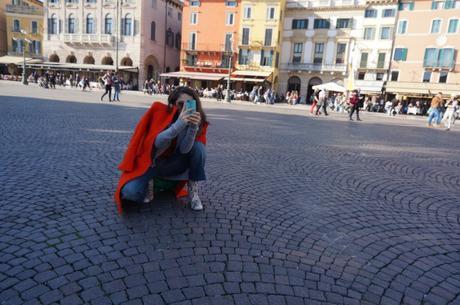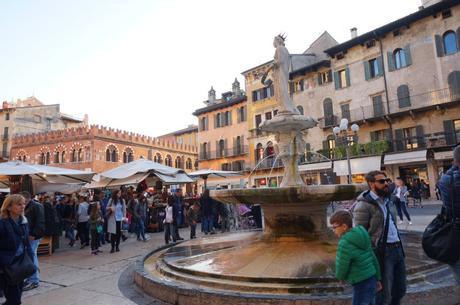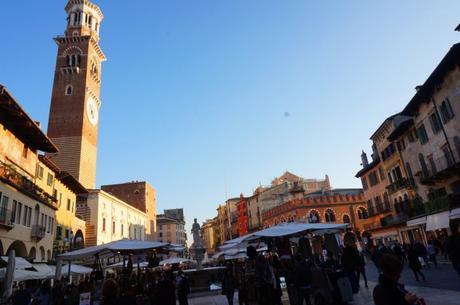 Verona is special because unlike the Colosseum in Rome, which is rarely used for public events, the Arena di Verona, which is a Roman amphitheater built in 30 A.D. (so, exactly one thousand nine hundred and eighty six years ago!!) is still used for events, concerts and performances.
It is one of the best ancient structures of its kind and still hosts 15,000 people for concerts...and that just blows my mind! Talk about an engineering masterpiece, it has world famous acoustics even without mics and speakers! The first 20th century opera to be housed here was Aida, and since I am an opera lover I've decided to buy myself a Christmas gift this year and I'm going to Aida in 2017! Next on the list after an opera in the Arena is a concert...I would LOVE to see a concert here - ahem *cough cough* I'm going to get my man to read this post ahem *cough cough*!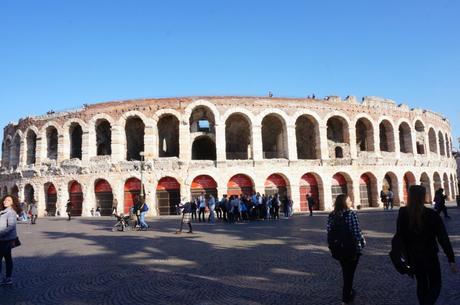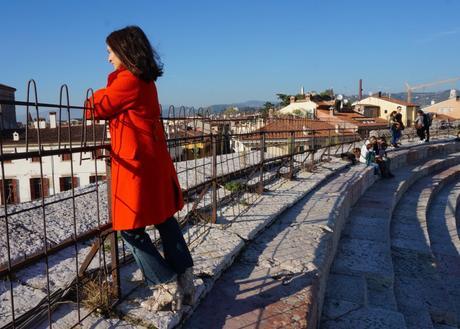 We actually didn't really do much walking during this visit, with a little guy in tow you kinda learn to take sightseeing in stride so as not to make the whole experience stressful. We just had a lovely day and ended it with an aperitivo in one of the most stunning piazzas I've ever seen and then headed back to the car.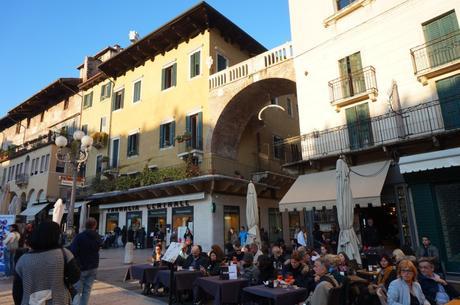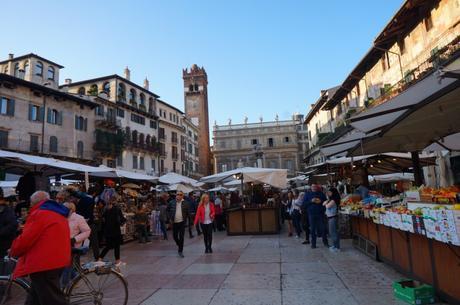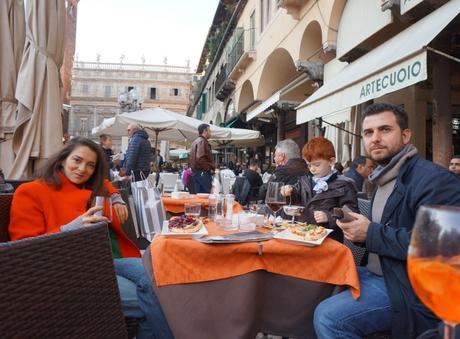 However, since it only took us an HOUR to get there (don't even ask me how I've lived in Italy for 9 YEARS without ever visiting Verona!!) I've asked my man to take me back during the Christmas break, since I hear it is very magical during Christmas!
Considering that in Toronto I often had jobs where my commute was 1.5-2 HOURS every morning, this is nothing! My husband is a pretty local person, and in Italy you have to pay significant highway tolls so it takes a lot of convincing to get him to come anywhere with me, but slowly he's learning that a happy wife = a happy life, and this wifey needs weekend adventures or she starts to get antsy!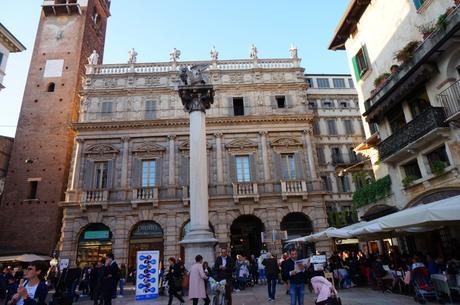 What I Wore - Python Printed Block Heel Booties
These real leather python printed block heel booties are a sponsored gift from Shopbop.com. They are still available for $168.00 and are python printed cow leather, Made in Portugal and HONESTLY VERY COMFORTABLE.... think a full day of walking in Verona as a tourist comfortable!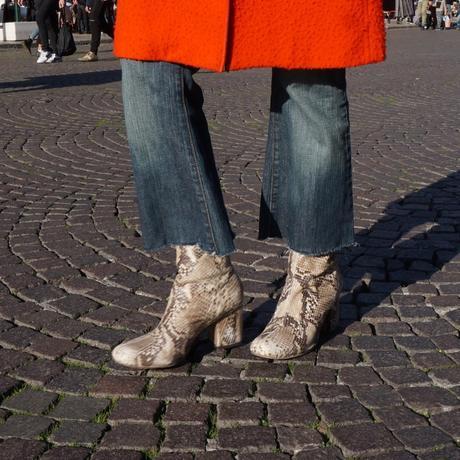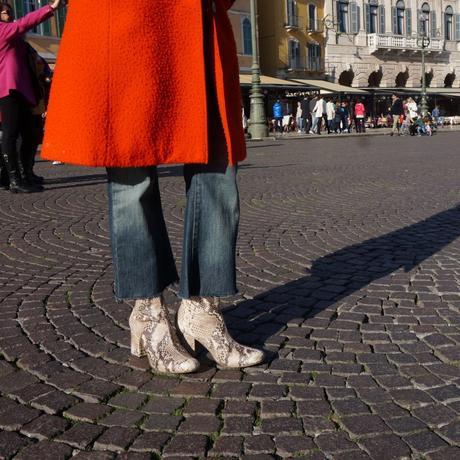 Python and Snake Print Boots for 2016/2017
I have to be honest with you....I have a thing for python. Maybe it is because my husband is an exotic leather belt artisan and I have an extensive collection of python belts and bags, or maybe it is because you can pair python with EVERYTHING!
I love the mix of black, taupe, beige, brown and cream on these boots that allows them to be easily mixed with either a black coat/bag, brown coat/bag on in my case a bright orange Casentino wool coat and a pale purple camera bag ! (I'm not one to shy away from bright colors!)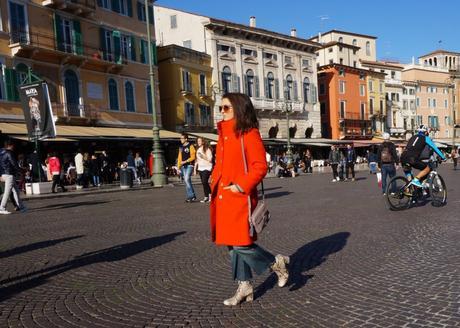 And I have a confession to make... I also love these boots because at their affordable price they are a very close replica of this pair of Dries Van Noten python printed calf leather block heel boots that retail for about 640 euro!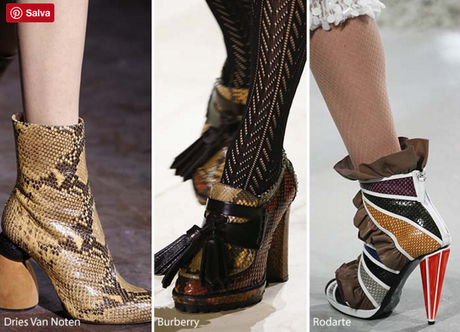 And....just incase you were thinking of investing in a pair of real python or python printed leather block heel booties I predict, based on my recent trend research, that they will be hugely popular for the Winter 2017/2018 season, and that exotic leather accessories are going to make a big impact as fashion looks at more "classic" styles and textures that give customers a more luxurious feel.
I paired these booties with a pair of designer jeans that I've had for close to 15 years that I haven't worn in forever because I no longer found the wide leg to be very flattering. So I just hastily chopped off the bottom to make a good old fashion pair of uneven hemmed cut-off jeans which are totally trending right now.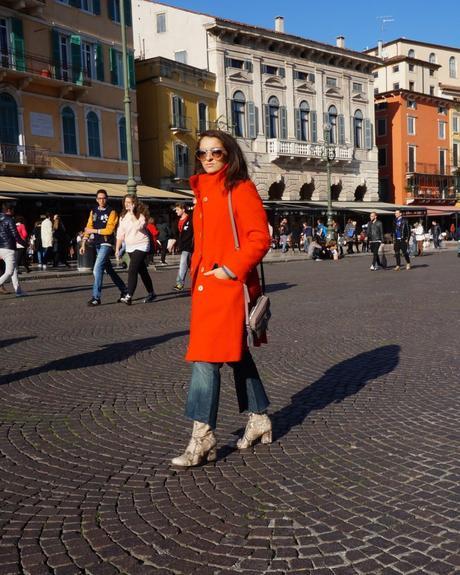 I've loved the uneven cut off denim trend since the Spring and I've experimented with it before here, but I just CANNOT bring myself to actually buy a NEW pair of jeans that were made to look destroyed, old and haphazardly lopped off. I mean...... that is like someone calling themselves "punk" and then spending 5 hours to get the perfect mohawk. If you are spending that much time on your hair you are NOT PUNK. If you are spending good money on a pair of jeans that were supposed to look trashed I just find it insane. I mean, we ALL have a few (or a few hundred) pairs of jeans that we no longer love enough to wear, just cut up a pair and have fun with it!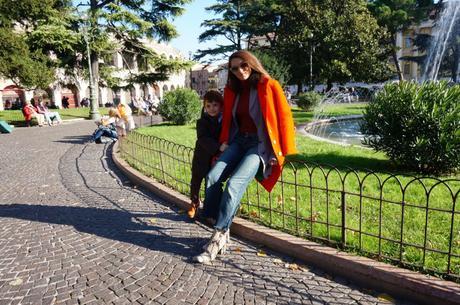 My coat is a custom made Tuscan Casentino wool coat that I've blogged before about here. I actually wanted to produce a line of these coats but I've have had nothing but trouble organizing the artisans who make this fabric. They just do not trust online store/shopping/bloggers and so I'll have to wait 20 years until Italy catches up to speed! Oh well, good thing for me that I am used to how Italians work and I'm sure that if I keep plowing forward by 2025 something will happen! These people are not fast!
In the meantime, I will enjoy this incredibly versatile cooked wool coat that is practically water-proof, humidity proof, super warm, all natural and sharp looking! I've described this wool and the history of this coat (which is a traditional cut) before here!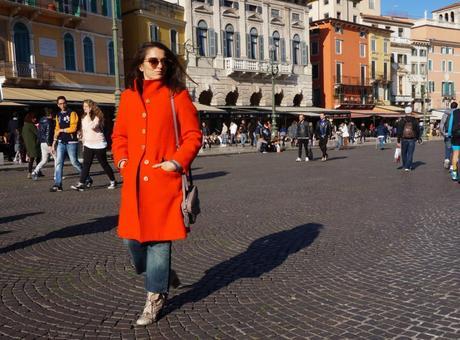 My bag is the MAB camera bag by Rebecca Minkoff in nubuck suede, available here for $175 in 8 other colors (including this same light purple but in a different leather finish). It is a great accessory although I find that I do not use it as a camera bag so much so as a normal purse, and I usually end up holding my camera so that I can snap an obsessive amount of photos as I walk through the Italian streets in a constant state of awe.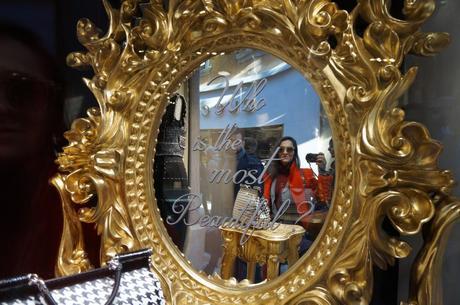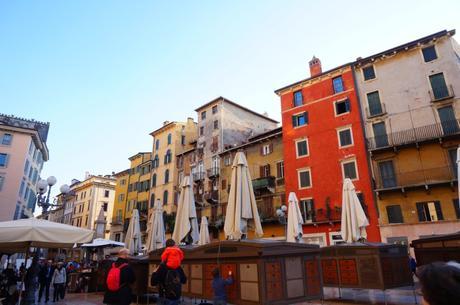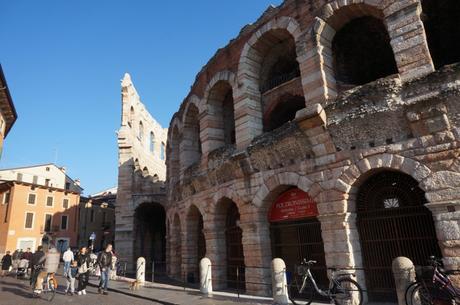 Verona stole my heart and I CANNOT WAIT to go back. And even though it is so close to home I really do feel like I should rent an apartment here and stay a month to get to know every corner of this city. My husband sells his leather goods collection in a pretty important boutique in the centre of the city...I wonder if I can convince them to hire me as a sales woman for a few weeks. And with that I wish you a great Tuesday and I am back to blogging in full force now, with my new Mac Book Air .... my old Mac belonged to the company I used to work for and sadly I had to give it back when I changed jobs this summer, and being without it caused a damper on my enthusiasm for blogging. Oh well....2017 is almost here and I know I say this every year (so why change things now) but I truly believe 2017 will be a GREAT YEAR. So. Have a great Tuesday !
#REASONSTODRESS DRESS TO IMPRESS FASHION BLOGGER LINKUP
Welcome to the #REASONSTODRESS DRESS TO IMPRESS LINKUP for fashion and style bloggers!

SHARE YOUR POST ON TWITTER with the hashtag #REASONSTODRESS & you'll get a retweet!
REASONS TO DRESS - An Italian Lifestyle Blog About Fashion, Travel & Life in Italy
Grab the 200 x 200 version of this banner for your blog post with the code below!
PLEASE : Linkup your STYLE related posts, new and old! Or Linkup a FASHION related picture from Instagram with the hashtag #REASONSTODRESS
PLEASE: Add the badge or a link back to EITHER of the weekly hosts
PLEASE: Follow each host on at least 1 social network , we're friendly, social and generally over-sharers! Let us know that you've followed so that we can share the love!
PLEASE: Please be social and visit a post that interests you. Don't forget to use the #REASONSTODRESS hashtag to let people know how you found them!