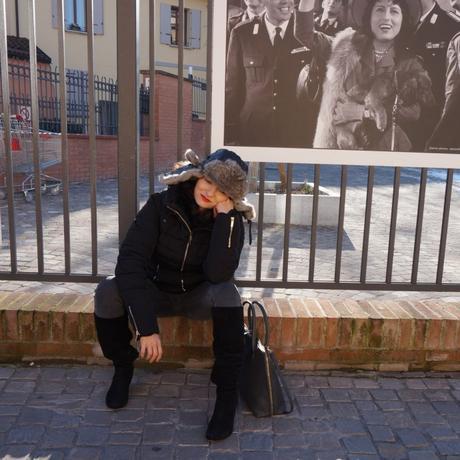 Happy New Year Everyone! I've been home from work for the past two weeks because my little guy is off of school until January 8th! In Italy we also celebrate the Befana, which I've written all about in this post :
WHAT DO SANTA CLAUS, JESUS AND A FLYING OLD WOMAN ON A BROOM HAVE IN COMMON? THE STORY OF LA BEFANA
The Reason I Dressed
On some days we stay in bed until 10, stay in our p.j.s all day and eat pizza for dinner after playing with play dough or pretending to be monsters from outer space. But on other days I plan exciting outings for us like trips to the Castle in Carpi (the town nearby I've written about here), where we go to children's concerts and lunch with friends.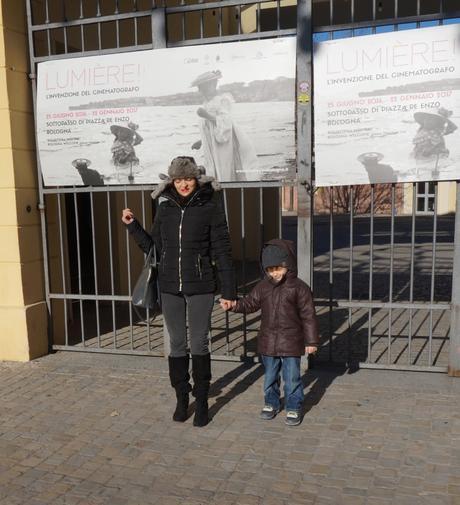 I love making these special memories for my son. I'm always on the hunt for things that he and I can do that are different than just hanging out at home, or in the Piazza or at the mall. In my research I found out that the Cineteca of Bologna has children's programming and a great lineup of films for kids. The Cineteca is dedicated to the history of Cinema in the World and does fantastic screenings of Charlie Chaplin, Italian movie classics and American historic blockbusters.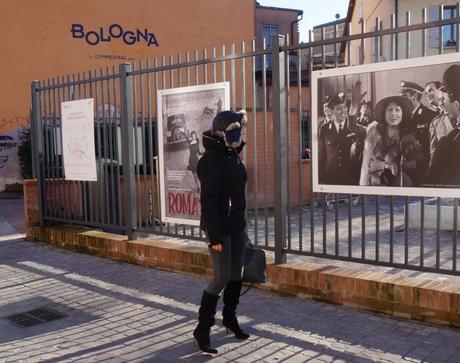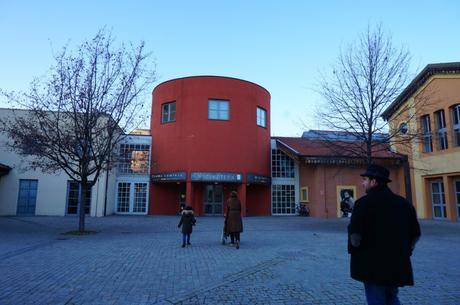 It just so happened that on New Year's Day there was a screening of The Wizard of Oz and so I asked my husband if we could lunch in Bologna and then head to the Cineteca and he said YES!!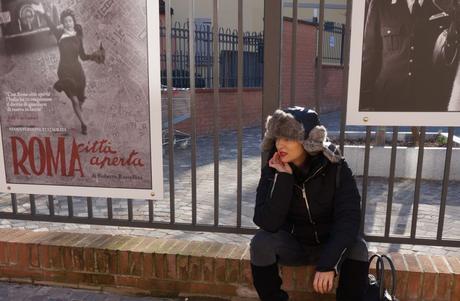 It is always a BIG DEAL when Marco says yes to anything because he is rational, pragmatic and very 'home bound', while I am irrational, full of energy and need to fill my life with fly by the seat of my pants plans and constant motion. The three of us spent New Year's with friends and got home around 2am. Before having kids I would usually head to the After Hours Bars at 2 am, but being out with a 4 and a half year old until 2 am is living on the EDGE, I'm telling you!
We actually got ourselves out of bed on time, had breakfast, got ready and drove to Bologna! On Sundays there is usually a great brunch at the Cafè attached to MAMBO the Modern Art Museum of Bologna, which is one of my absolute favorite spaces in the city. It is kinda hipster, but I'm cool with it because the food is not bad, the ambiance is great and the music is even better!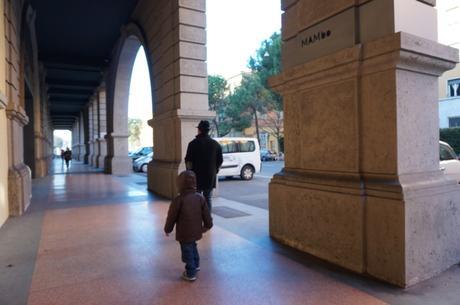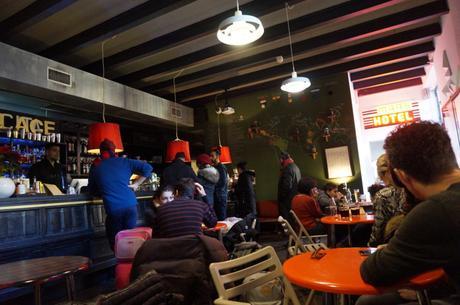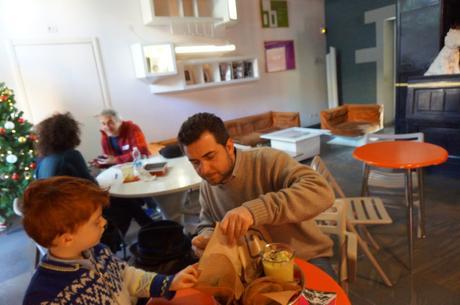 It is filled with art books that you can look through while you lunch or have a coffee or a drink and one day I will share some thoughts on the great book of Venice photographs I actually managed to read while we lunched!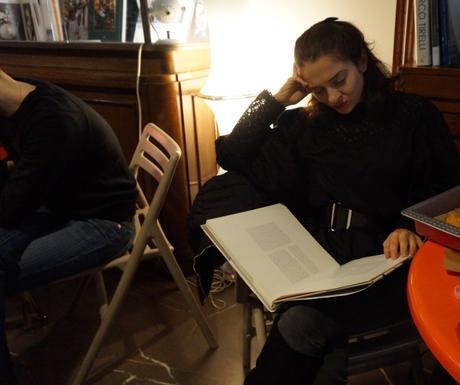 MAMBO and the Cineteca are both in the same neighborhood of Bologna as each other, which is actually one of my favorite areas. There is also a nightclub right there that I've been to a few times when I lived in Bologna and I consider this to be one of the coolest and most artsy areas of the city. I think there is MUCH MORE that could be done to make it even cooler, but as I always say Italians are slow to catch on!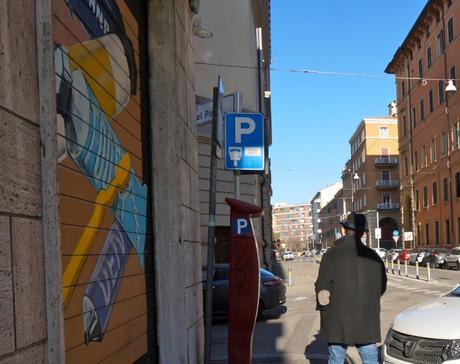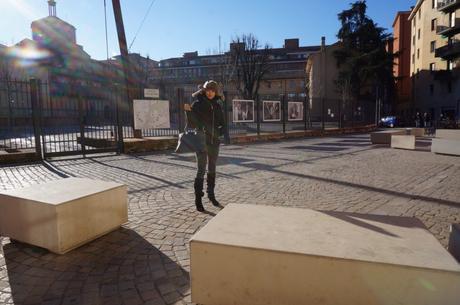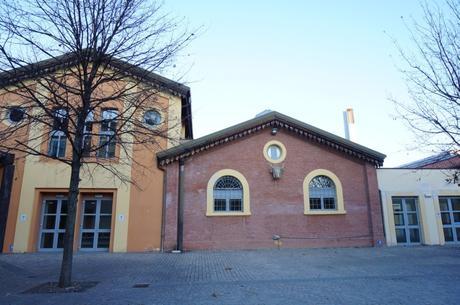 After lunch we walked to the Cineteca and got our tickets for the Wizard of Oz, which actually screened in Italian so it was called "Il Mago di Oz".
I have SO MANY memories about the Wizard of Oz, there are certain scenes that will stay burned into my unconscious for the rest of my life....like those flying monkeys!! HOW scary were those!?
Is it just me or is it CRAZY that this is a film from 1939. Nineteen thirty nine! That seems just too long ago. Talk about ahead of its time, I thought it was made in the 60s! It was basically the first fantasy film ever made but also transcends into an action movie, a horror movie, a musical and a children's movie all at once.
I think about how much this film has impacted my life and I can only imagine what it did to that 1939 post-recession audience about to experience the second World War in an America longing for hope, change and an escape from everyday hardships. But I digress.... I just wanted my son to see The Wizard of Oz and I wanted to finally see it on the silver screen!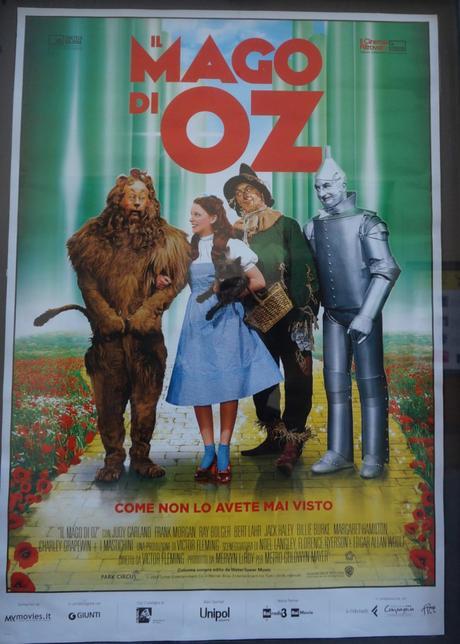 As it turns out the songs were not overdubbed with Italian lyrics (like they are now....Frozen in Italian is just not the same, let me tell you!) they were the originals in ENGLISH!! And when the music started for the first time and Judy Garland sang "sooooooommmmmeeewheeeere oooooooveeeeerrr the raaaaaiiiinnnnnbow" I BALLED MY EYES OUT. Like non-stop crying people!
And so what did my four year old say about the movie? My bombarded with computer generated animation and action over stimulated child? He.loved.it.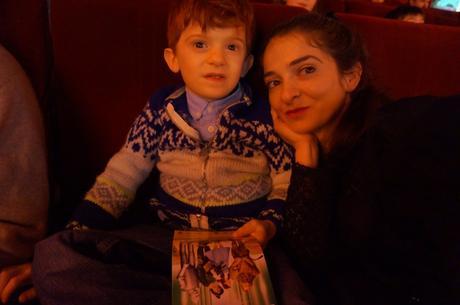 Some things never go out of style! Like Judy Garland's beauty, for example! Ugh....I could go one and on...for example when the movie goes from black and white to color and you really feel like you've entered into another world......*come on* - NO special effect or 3D projection from Avatar could give the same impact. Less is more - always.
What I Wore
I've finally caved and I've bought myself a black puffy coat ski jacket! I've joined the middle-class, provincial Italian masses and I'm pretty sure this is some type of rite of passage!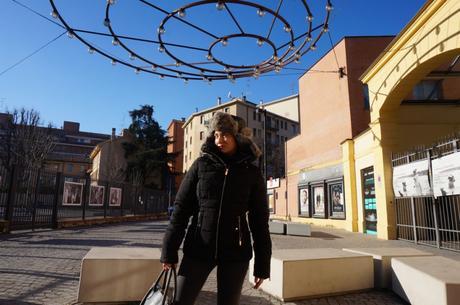 This coat was on-sale so I picked it up last week because I've been looking for something to take with us in February when we head to the Dolomites for a little snow vacation. Although Marco and I have both skied in the past, neither one of us feels confident enough to hit to slopes now....in our middle age (yikes!). I think when my son is 7 or 8 I will take him for a week or two of skiing just the two of us so that I will take lessons and so can he and we'll just leave papà at home!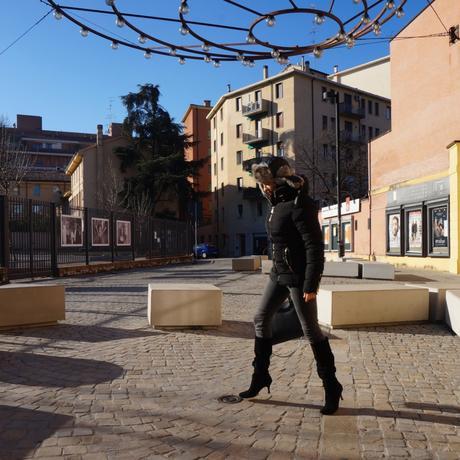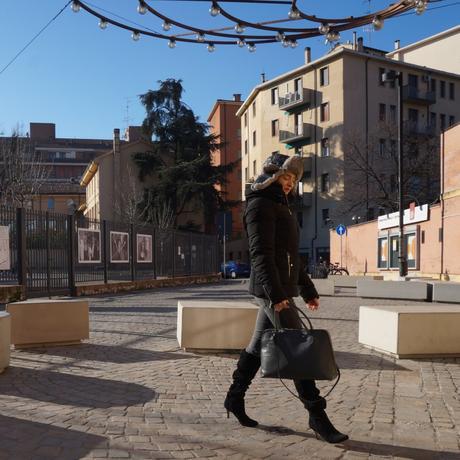 I paired my ski-chic puffy jacket with a real rabbit fur lined flap ear hat since it is cold here! And by "cold" I mean a brisk Canadian Fall day type of cold, which is still colder than I like!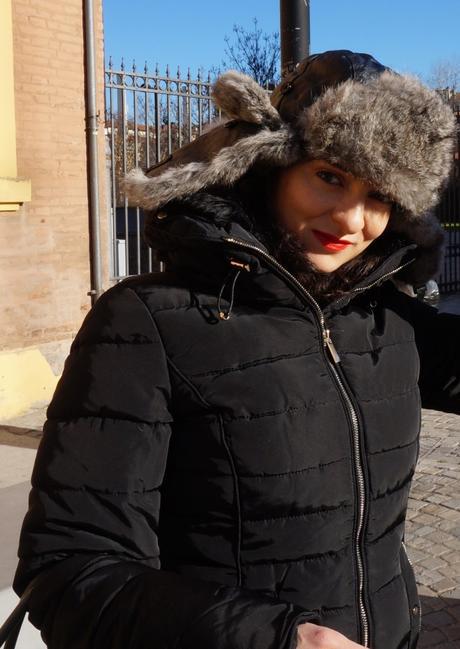 As far as hats go my man just recently started wearing a hat, doesn't he look like Humphrey Bogart in this hat!? I should do another post on his recent man-formation into a more mature home, his style is always very classic and put together.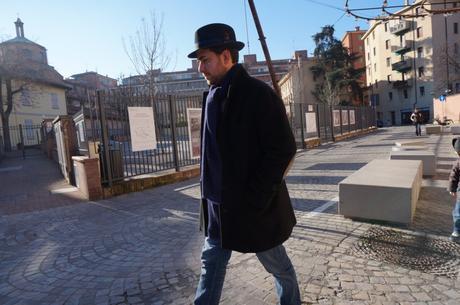 Under my coat I wore a pair of Pull and Bear skinny high-wasted jeans, since I've decided they are the only jeans that really work with my frame and so I'm sacrificing variety and "trendiness" for what actually suits my body-type and if that means being boring than oh-well! I'd rather be boring than frumpy.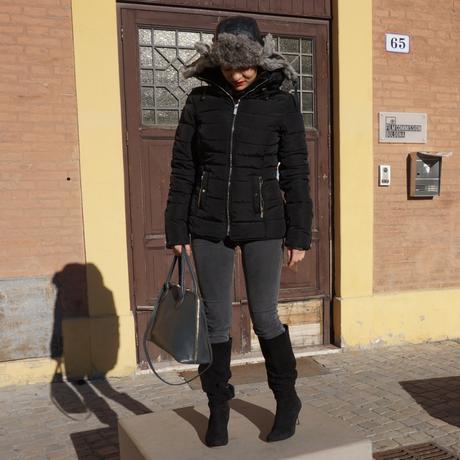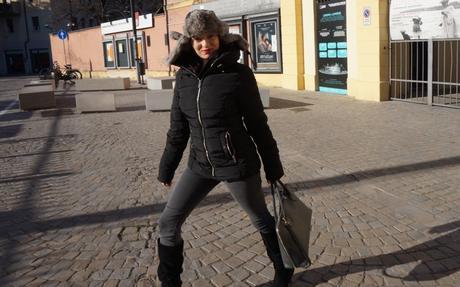 Underneath my coat and for lunch I wore a vintage cotton blouse with ruffles and voluminous lace sleeves. The color, sleeves and cut are all oh so Renaissance!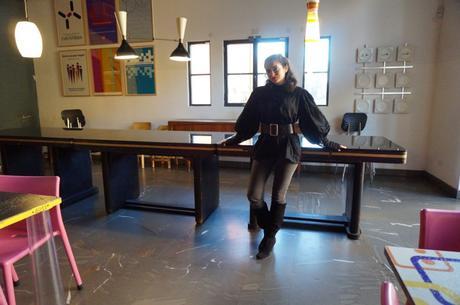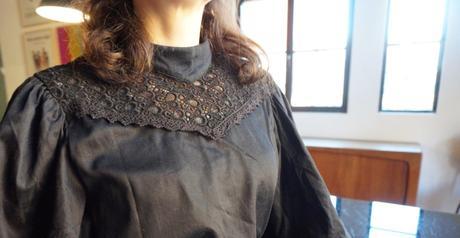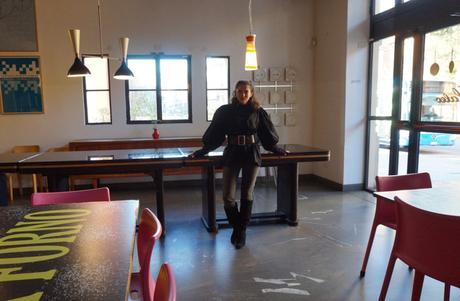 This top is very billowous and so to combat it taking over my small frame I cinched it in at the waist with a wide belt. I designed this belt for my husband's company. I should probably update you on what's been going on with our collection since I've blogged about it a lot in the past but haven't mentioned it much in a while. The collection is actually moving forward, but since I've started another full-time job my man is taking over the development of the brand completely ....which is actually a good thing, since it should be his vision driving things in the first place! More on this to come!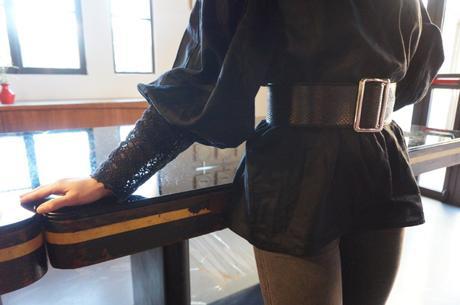 My boots are real suede slouchy boots by the brand Mina Buenos Aires! I've mentioned them before on the blog and I'm putting together a behind the scenes post with an interview and visit to their factory. I'm also working to translate their media kit for a few American online multi brand stores that I'm hoping will recognize how incredible this brand is and distribute their collections. They are COMPLETELY hand made in Bologna by skilled Italian artisans with the absolute best quality leathers, soles and heels.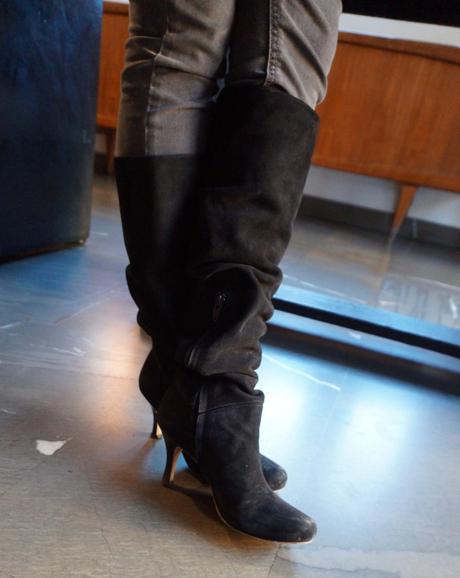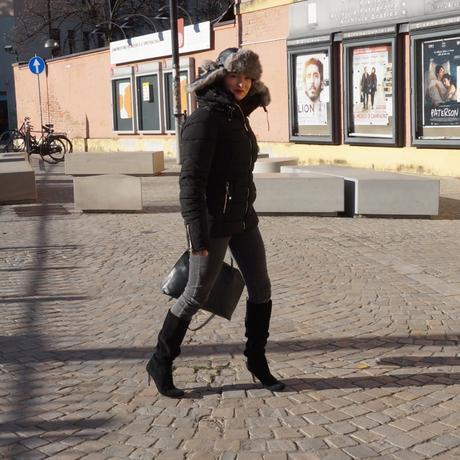 Follow the Yellow Brick Road
To make a long post even longer.....let me just share my thought of the night with you.....about following my path to get to where I need to go.
In 2017 I'm going to be true to myself when it comes to blogging, meaning I'm not going to take advice from my husband, or friends, or brands or anyone anymore.
For the past year I've risked closing this blog after some constructive criticism from my man last December about how "nobody cares about mom fashion, or mom street style, or my life or my adventures". He can be harsh! But I think what he wanted to say was that I had to choose a path for the blog and stick with it! I was all over the place and in the last 12 months I've only focused on lifestyle and fashion and the blog has really grown! I've had more sponsored posts, paid opportunities, clothing samples and invitations then I've known what to do with...but something was lacking! I was starting to pull away!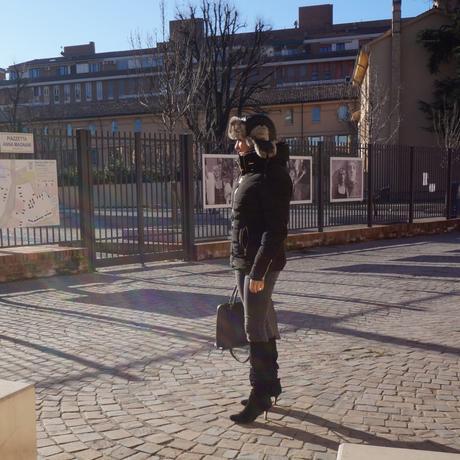 I backed away from the blog and started a little side project (yet to fully launch but I love working on it) called the RTD Magazine, this way I can divide the subject matter of what I want to write about in two distinct spaces. That is where I will eventually publish all of my travel related articles, and so far even that has brought me opportunities (like writing for a few different American travel mags).
I also realized that I cannot be a travel writer. I want to give my family stability here in Modena! Besides, no matter how many blog opportunities I received in 2016 I STILL wast making enough money to be satisfied and that's when I realized.... I can make money from the blog but I can't make blogging for money my focus.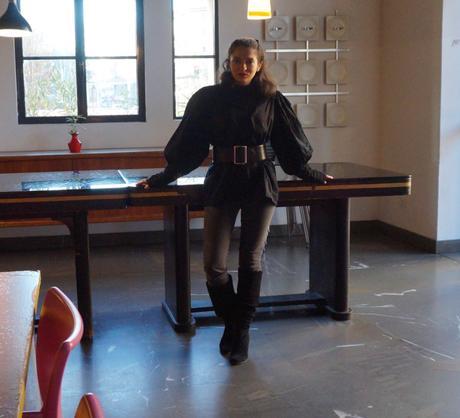 Money and the focus on "success" ruined the fun of blogging for me. I stressed about every post being too personal and not "fashion" enough. Instagram and social media have become chores and I took all of the ME out of the public spotlight for fear of being criticized.
But that's also ok! I can deal with it, and if anything the criticism from my husband (but not only) and the repositioning of the blog have taught me that I want to blog but on my own terms and that focus is good! You want to read my blog? Good, read it! On some days I have almost a thousand visitors so someone out there must enjoy it!
You don't want to read it because you don't care about the Cineteca of Bologna, or my outfit or anything I have to say? Then just don't.
Now that I am selling houses at auction in Italy and making a good salary, while balancing my mom/wife responsibilities I can do whatever I want in my free time! I can pole dance (which I started in September and LOVE), I can blog, I can cook and I can and will travel.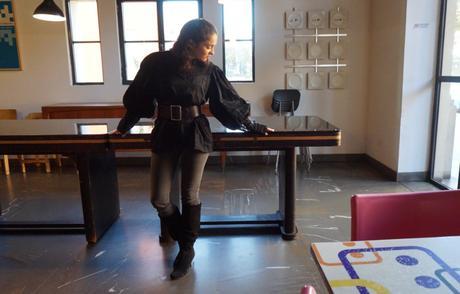 I can't tell you how many other bloggers have said my posts are too long, and yet my normal weekly readers tell me that's what they love the most about my blog....and that's what I love doing - writing! So VIVA the never -ending blog post, if you've stuck around 'till the end you can email me at [email protected] to claim your prize!
Dorthy had Oz and I have Reasons to Dress, everybody needs to find their "somewhere over the rainbow".
Happy New Year Friends.