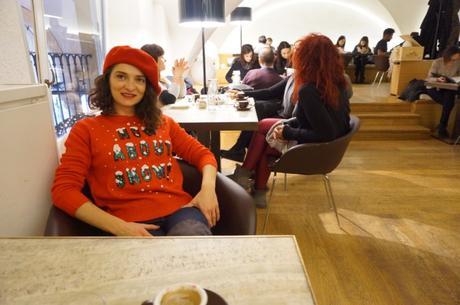 I wanted to publish these photos before Christmas but I've been too busy enjoying Christmas! MERRY CHRISTMAS EVERYONE!!
I don't really come up with New Year's resolutions, at least not on purpose. It just kind of naturally happens that each year around the end of December I start to think about what new direction I want to take my life, and a word comes to mind to help me shape my year.
When I first started blogging the word was "capture" and I remember it clearly. I had just decided to buy a new professional camera and I made the resolution to grow my 10 monthly readers to.....more! And it worked. I kind of feel that I'm still at the beginning of this whole adventure in blogging business, but I'm patient enough to know that it will develop naturally as long as I don't stop.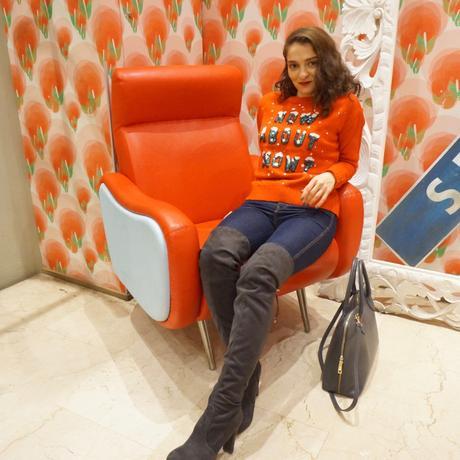 Tonight, while folding clothes, I had two very distinct trains of thought. Thought number one was that I don't easily give up on things (and I'll share more on that one day) and thought number two was my 2017 word of the year:
I'm so grateful this year. The feeling is overwhelming. I feel like I've been given a second chance on life, a second wind.....a new beginning. Call it what you will, I feel like my eyes have finally been opened up to how happy I actually am and how lucky I am to have the man I have, the child I have....the life that I have. My life is not without it's problems, but nothing I can't handle.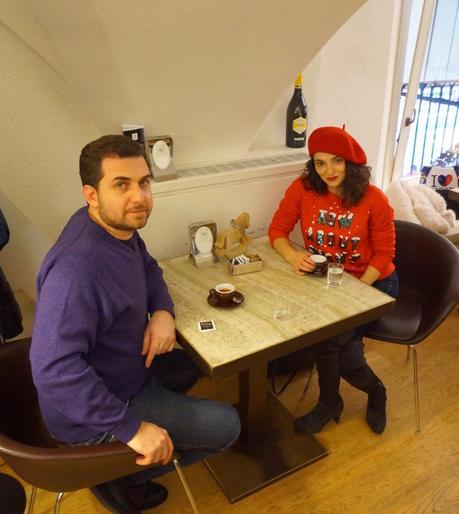 Marco is such a good man and such a good father. He is a great husband who is honest and reliable and damn good looking (i.m.h.o.). Relationships are hard work, especially when one half isn't pulling their weight, and I think I realized that he's been doing most of the work at keeping our family afloat over the last little while and I feel very indebted to him now that I've gotten my head out of my ass.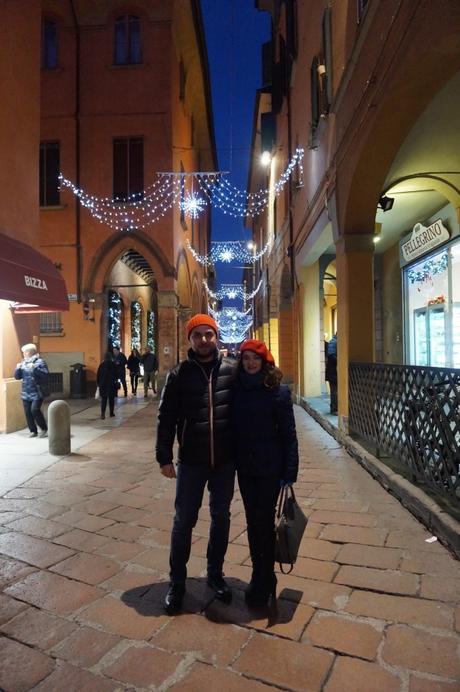 I can't make up for lost time but I can make more of an effort in 2017 to be a better wife and companion and mother. And without getting overly sentimental, I just felt like sharing my revelation because it is all I have on my mind lately.
I Need a Creative "Outlet"
One of my friends asks us every month if we'll join her and her family outlet shopping. I'm not much of an outlet person myself...actually, I'm not much of a shopping person. (If my younger sister were reading this she'd call me a liar!!).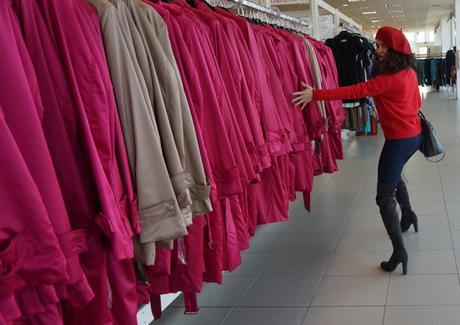 But seriously....I can think of 2,456,987 things I would rather do than just go shopping! As you can tell from this blog, I would rather have an event to actually wear my clothes to than just fill my closet with more clothes that will never see the light of day.
That being said, I love to shop whenever I go somewhere and think that clothes make EXCELLENT souvenirs from day trips and vacations. So I suppose to clarify, I love shopping, but dislike when shopping is the only reason I'm leaving the house - so you will never catch me making Saturday plans to hang out at an outlet mall all day.
But on this particular Saturday last week we dropped our son off at the nonni's house around lunch time and we had almost arrived in Bologna when I got seriously hungry. Looking out the car window I saw one of those all you can eat Chinese Food + Sushi buffet places that are now all over Italy. The Chinese food sucks and the sushi sucks at these places, but beggars can't be choosers.
Lunch was a 3 out of 10 but it hit the spot and right beside the Chinese place I noticed an "outlet". Marco turned to me and said, "I'm pretty sure my mom told me she wanted to bring you here because they have small sizes, do you want to go in and check it out?" (this is how I know I'm lucky...how many other men encourage their women to GO shopping!?)
"Sure .....I have no money so I'm not going to buy anything, but if your mom said it was worth it, let's check it out"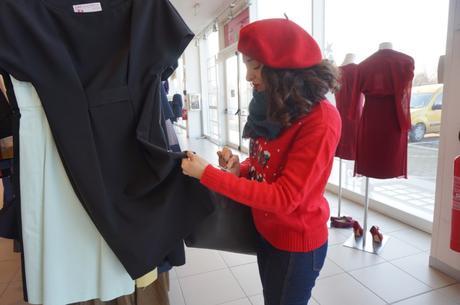 Holy mother of all mega shopping finds! This places carries all of the MMFG (Max Mara Fashion Group) brands discounted at like 85%!! Brands like Max Mara, Sportmax, Max&Co, Marina Rinaldi, Penny Black, Marella and Persona at prices that I could.not.resist!
I mean, I just got a new job, a few more nice looking pieces in my wardrobe is nothing more than an investment in my career....right? Right!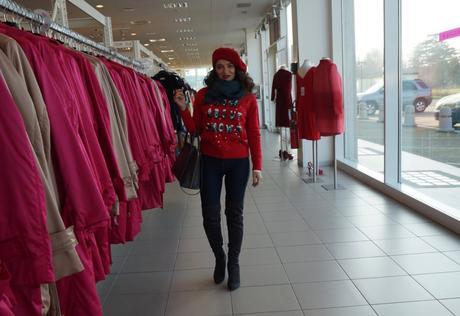 Bologna Sotto Natale
"Sotto Natale" - literally meaning "Under Christmas" from December 1st to the second week of January Bologna becomes pretty magical, much like every other city in Italy. The Christmas lights go up, the Christmas markets open and the store window displays fill with panettone!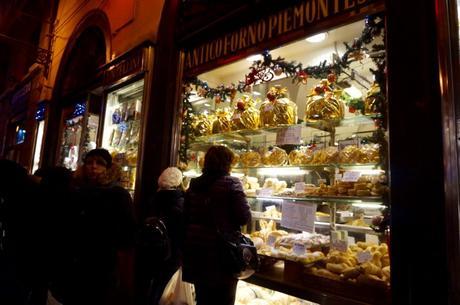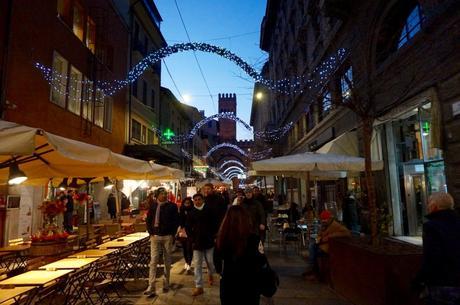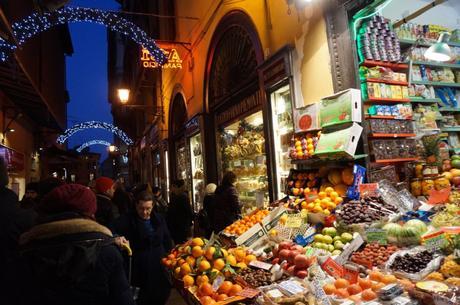 Every time we go to Bologna we always go past the Hermes window display. According to Marco and his parents, Hermes are the masters at small leather goods and their workmanship remains number one in the entire world. On a level of skill my husband and his family can do many of the same things as the Hermes artisans but the problem is no one is willing to pay for them! There are certain details that you can only do when your customer is willing to shell out the dough for it, and considering that Hermes leather accessories are the most expensive in the world, they don't skimp on the details.
Just across from Hermes is one of my favorite Cafe's in Bologna, Zanarini. A great spot for a coffee, or chocolate or pastry that is usually reserved for tourists or the local "chic" crowd.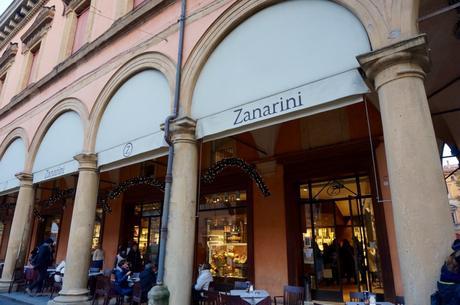 I asked Marco if we could stop in for a coffee and he said yes. Once inside there was no where to sit but one of the baristas recommended we try up stairs. I didn't even realize that there was a "salotto" upstairs and so this was a new discovery for me.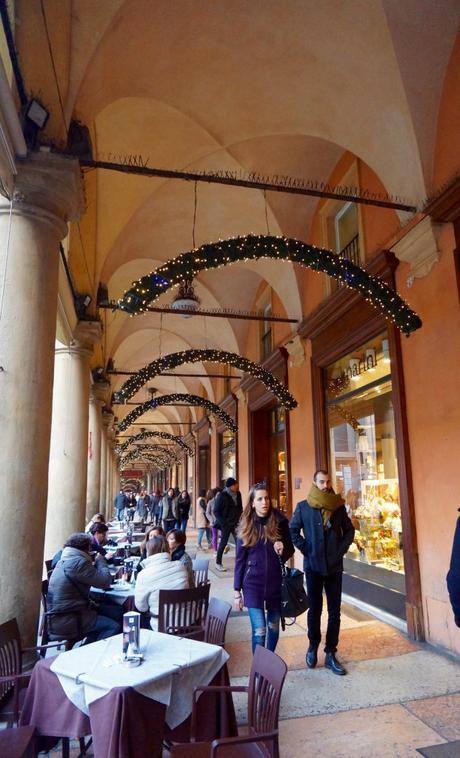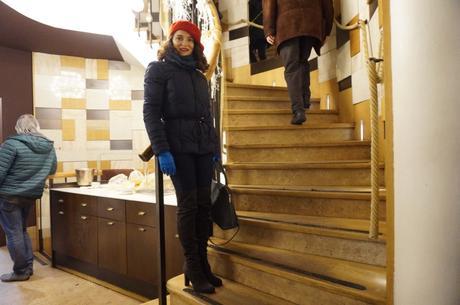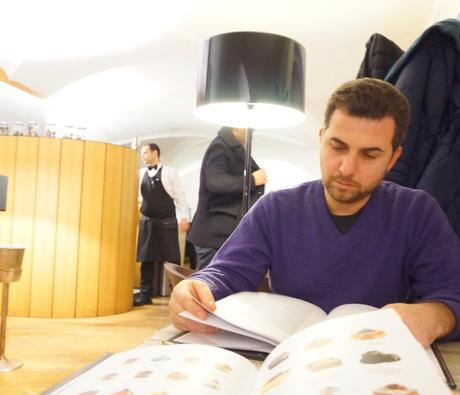 #ThingsThatMakeMeHappy
1)Discovering new places
2) Chic Hangouts
3) Warming up with a cappuccino, tea, hot chocolate + cookies
4) Having romantic moments with my man
5) Taking fotos for the blog
As you can see from this list the upstairs salotto of the Zanarini Cafe had pretty much everything to make me one happy lady.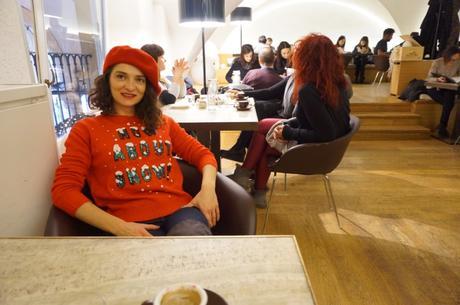 After our break we wandered through all of our favorite neighborhoods of Bologna. We ended up running into our friend Mauro Roselli, a Modena graffiti artist making a name for himself because big brands like Converse, Comix and Pannini are using his "paintings" as their designs.
By the time we were done wandering it was almost dinner time and I was starving. We found this place called Bolpetta, which is like a polpetteria, meaning they only make meatballs. I *really* had to go pee (I swear to God that 75% of the places that we end up eating at are because I really have to pee) so we went in sat down and ordered.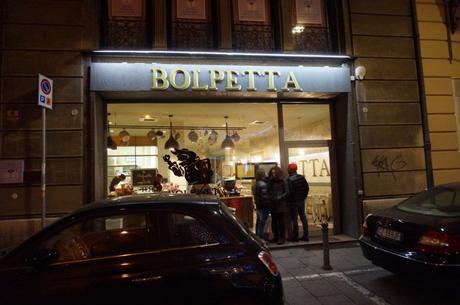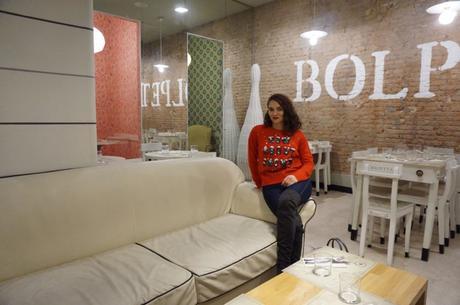 Ummm.... if you are planning on visiting Bologna you can do better than this place! However, it was relatively cheap, great for groups because it is spacious (it used to be a luxury multi-brand clothing store called Casa Dello Sport), and you can't beat the location. But if I tell you it was the best meal I've ever had in Bologna I'd be lying.
Confessions
I may or may not have been a whiny brat tonight with Marco. I have a beautiful pink velvet dress that a sponsor asked me to wear and photograph two months ago that I just have not had an occasion for. I don't mean to be so high maintenance, but I just really want to be swept off my feet and brought to some luxury spot for a super event in like a castle or something....is that too much to ask!?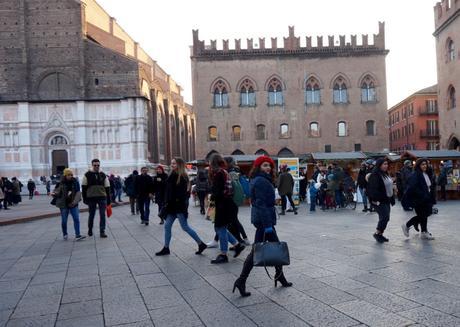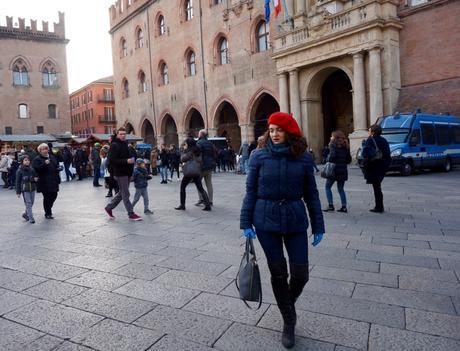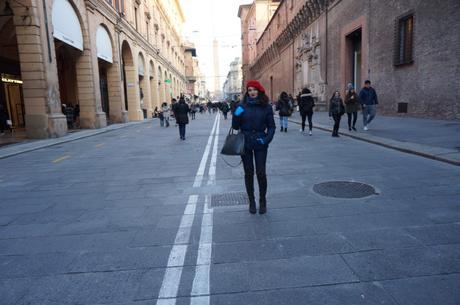 Going back to the beginning of this point about being grateful, I though I would just give him a little shoutout to say thank you for the incredible patience he has while dealing with a high maintenance wifey!
Merci Amour!
What I Wore
My "How About Snow" sweater was bought on sale last year at H&M for around 7 euros.... I just couldn't resist. My puffy jacket is by the Italian brand EXE, you can find their collections online and in luxury multi-brand stores. I have this exact same jacket in the short version and a long version because in Italy you just can't seem to have too many puffy jackets!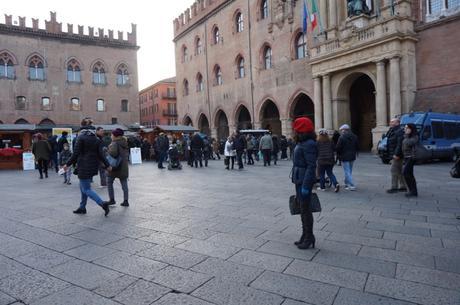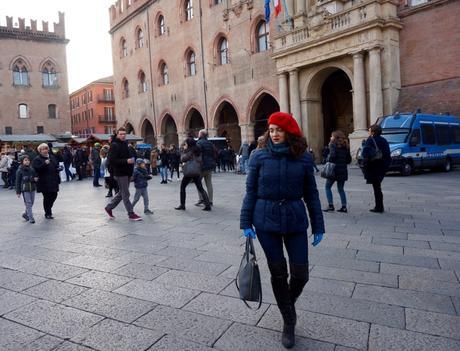 My red wool beret was bought in Paris 7 or 8 years ago from a street vendor in front of the Louvre (see I told you shopping for clothes can make an excellent souvenir!) and my bag is by the Torino based small leather brand Toty Bags, bough at a temporary artisan market 3 or 4 years ago ( this is a old look featuring the bag from one of my very first posts EVER...where I am looking young!).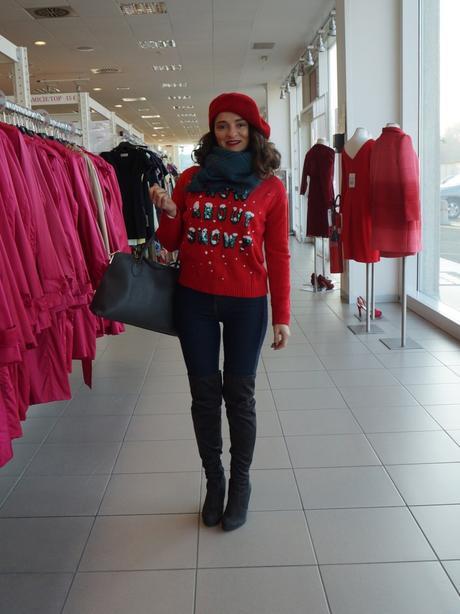 My scarf is Zara, my jeans are the "super high waisted" skinny jeans by Pull and Bear which has become the only place I buy jeans because they actually fit my waist while going over my hips/butt! My boots were a sponsored gift by Shopbop.com and are still available here. I'll be featuring these boots in a few different posts, they are by the brand Sam Edelman, who I have grown to adore for their comfort, no matter how high the heel (case in point). These have become my favorite boots this season and you can see them styled with a short skirt in this post. ...or if I ever manage to make it to that special dinner in a castle somewhere I'll wear them there too!
And MERRY CHRISTMAS again friends...even if Christmas was a few days ago I still feel like giving you all tidings of comfort and joy...comfort and joy ....oh tidings of comfort and joy!
(p.s. I'm having some technical difficulties with the linkup, It should be back up next week)