So as you guys know, I've been to Korea quite a bit this year, and one of these trips was thanks to the hospitality of Etude House. I was more than eager to accept their kind invitation to attend the launch of their newest IT product, the Magic Any Cushion in Korea, and here's what went down.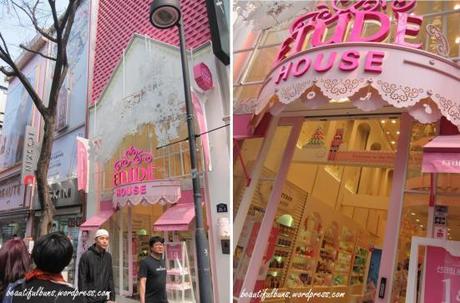 Visiting the Flagship store at Myeongdong – there must be 101 Etude House stores / franchises in Myeongdong, but how you can recognise it is by the tall , lone tree just outside it.
How it looks like in the night – no, contrary to what you might think, I did not shop there from sun rise to sun set (although I wouldn't put it past myself to do so heh). This photo was taken on another trip recently.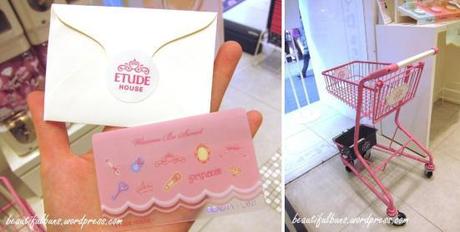 If you live in Korea, you can get this Beauty Points card to chalk up points for every purchase you make. I'm not sure of how the mechanics work, but I'll let you know once I get a PR in Korea. hurhurhur. By the way, did you notice the super cute pink shopping trolley?!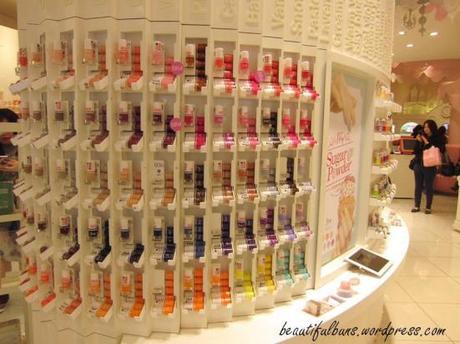 Now this isn't the Flagship store (depicted above), but another larger store in Myeongdong.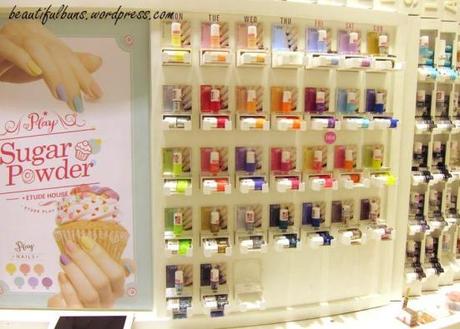 A large, large, large collection and display of nail colours
:D
Check out
my review of the Chocolate Kiss Nail set here
.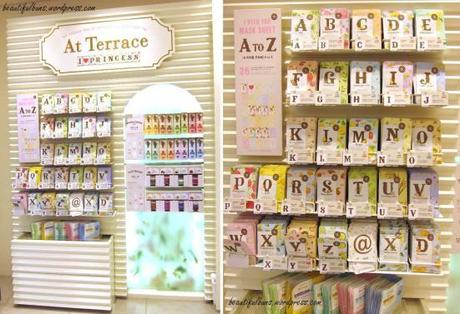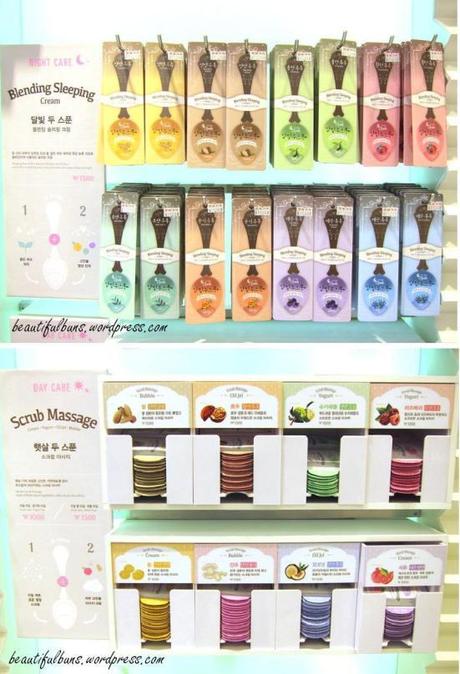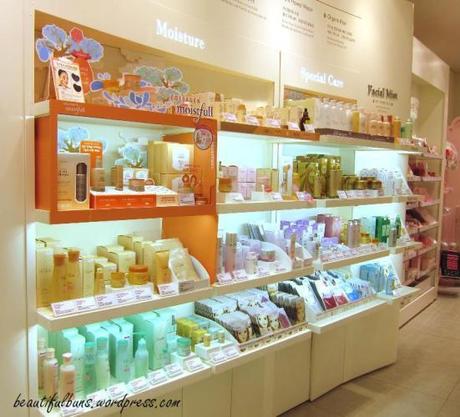 All their skincare products categorised neatly so that you know where to find things.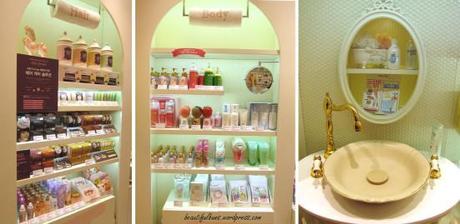 There's also Hair and Body products, and a vintage-styled sink for you to wash your hands after trying products. P.S. I'm a hugeee fan of their
OMG Dry Shampoo.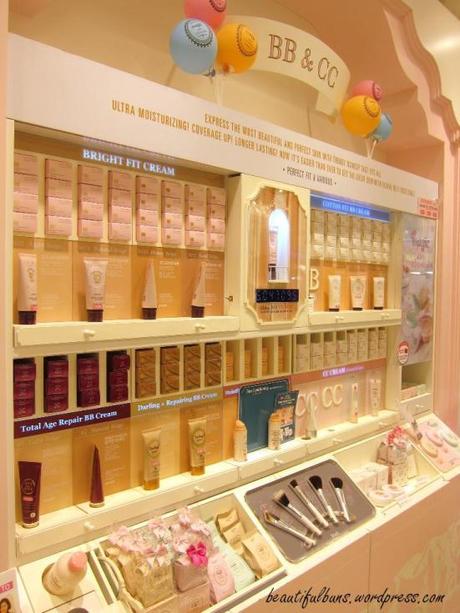 All their BB, CC creams and foundations gathered in one area so that you can again pick what suits your needs.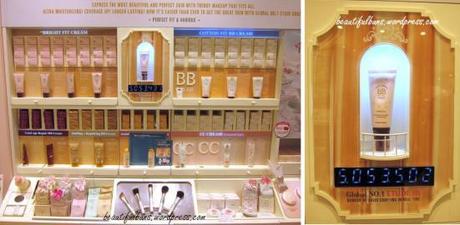 There's even a real-time display of the number of their best-selling BB cream being sold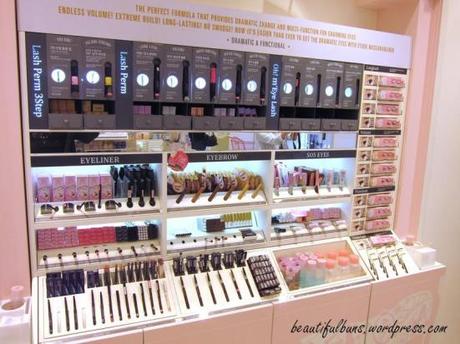 Here is their eye mascara / lash / liner area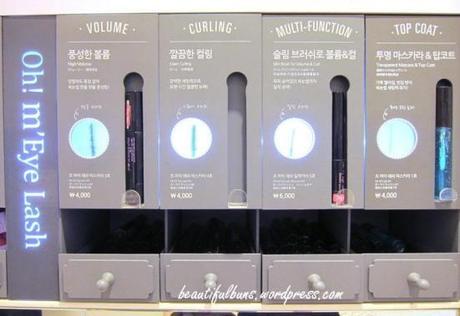 Categorised according to the type of effect it gives. Are you spoilt for choice yet?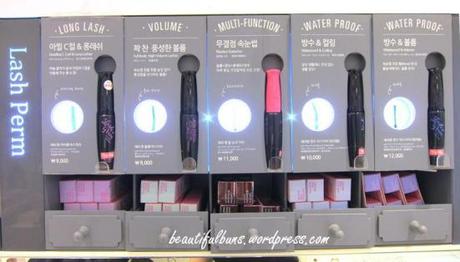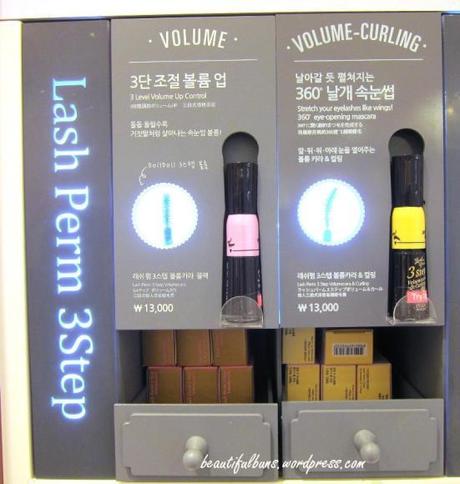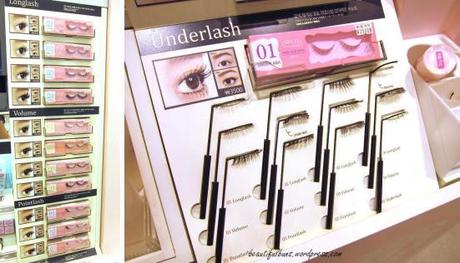 Now I never knew that Etude House had false eyelashes, much less for the under eye as well.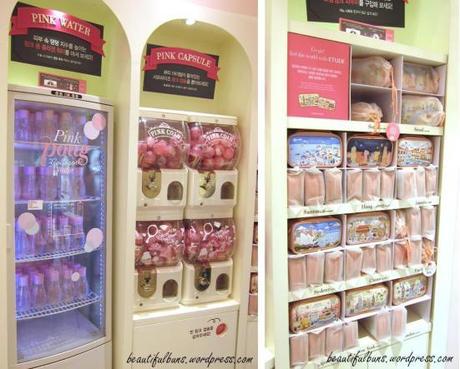 Once you venture further into the store, you'll find a little play area – with a fridge full of Pink Pong Water (collagen drink), a Pink Capsule dispenser machine and various types of Etude House Pouches for sale

Does it not look so alluring to you? I. Must. Haz. One!

I'm not sure exactly how you can get the Pink Coins – perhaps with purchase or you can actually purchase it – but one coin gives you one turn. Based on your luck, you can get colourful hair ties, or in my case, a powder puff. Meh.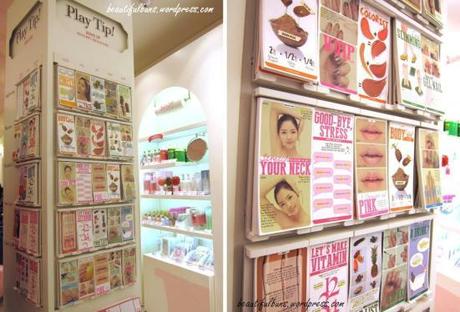 Yet another value-add service for consumers – this is seriously why I love Korea so much. There's even a wall full of makeup tips which you can tear out and compile into your own Etude Play book and bring home!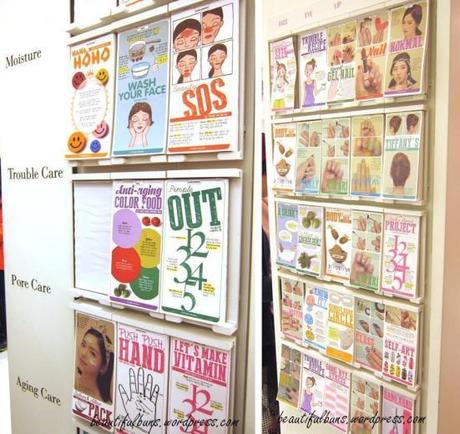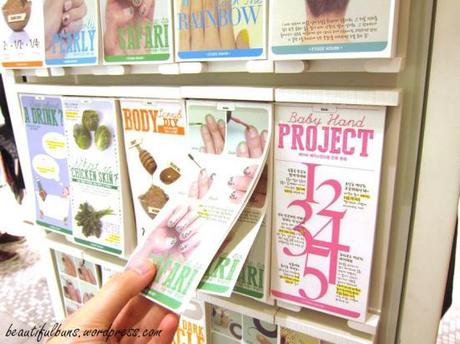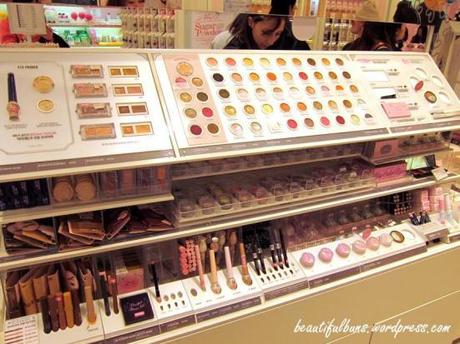 Moving on to the eye makeup area – Etude House Eye makeup products are surprisingly good and affordable –   one that I've used is the
Proof 10 Liquid Liner
, which is so smudge-proof and long-staying.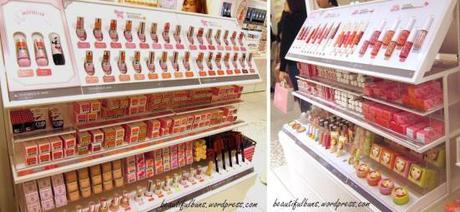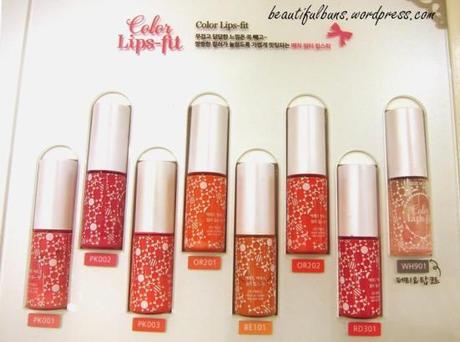 Argh, I had to resist and refrain from buying this Color Lips-fit in every single colour since I
already own two
. At the extreme right is the glossy finish if you wanna add some shine to this product that gives a matte finish.
But enough of the dawdling – it's time to actually see what I was in Korea for – the latest product that has taken Korea by storm (I kid you not. I've been reading Ceci magazine religiously, and this Magic Any Cushion has been featured so regularly!)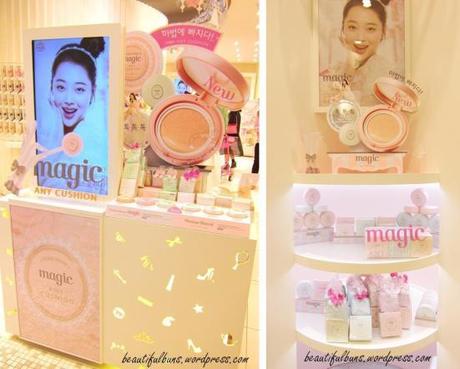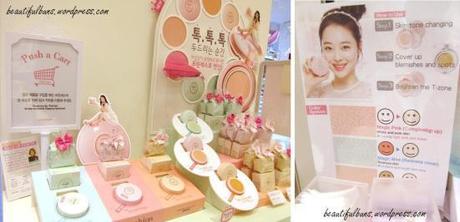 Now the Magic Any Cushion is essentially a colour-corrector / primer / base in cushion form, which is frigging ingenious considering the fact that BB cushions have taken Korea (and the world) by storm. Almost every Korean lady you see on the street will have a BB or CC cushion in her bag cos it's easy to carry around and great for touch-ups. So why not put a primer / base / colour-corrector into the same form?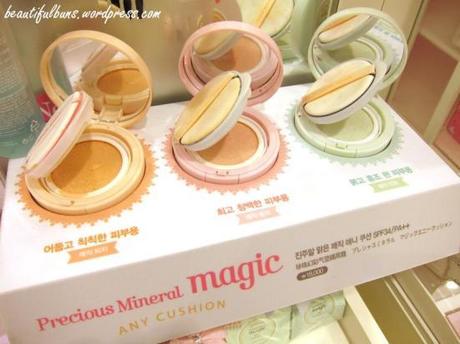 Presenting to you – the Etude House Magic Any Cushion! It comes in three variations to suit all sorts of skin tones.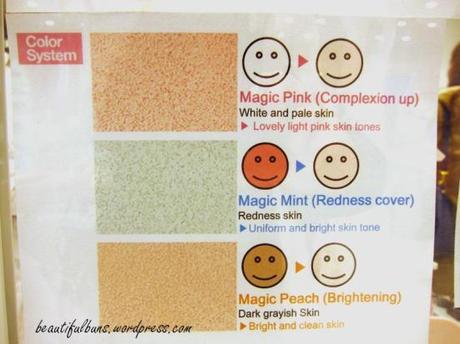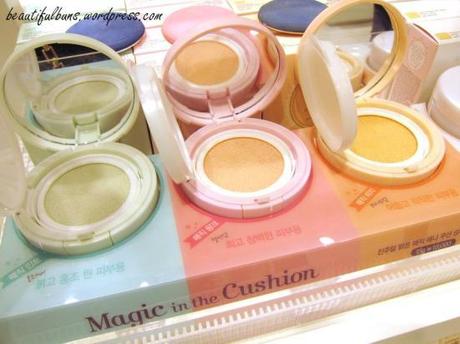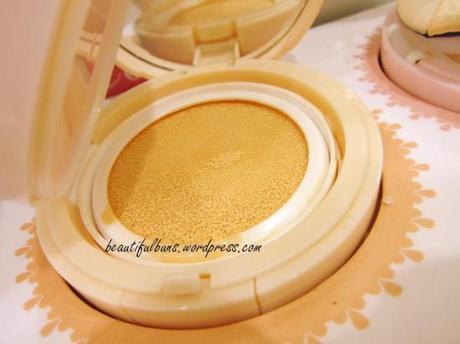 Peach: For skin brightening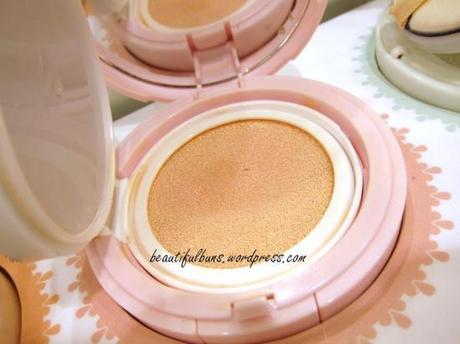 Pink: For radiance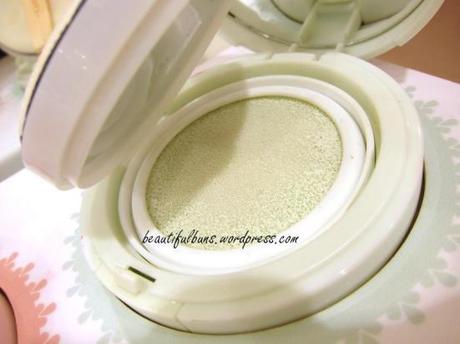 Mint: For covering redness
Part 2 of my Etude House Magic Any Cushion Press Trip to come soon (along with swatches, and you know you're waiting for that!) Stay tuned, baybehs!
0.000000
0.000000