I can't cover all of Thailand in one post so I will break it up into getting to Thailand and the cities that we visited when we there. Much easier to write and not so long to read. 
We flew from Los Angeles to Taipei, that was a little over 13 hours on China Airlines.  A 2 hour layover and then another 3 1/2 hours from Taipei to Bangkok. That is A LOT of time to be sitting in a coach seat.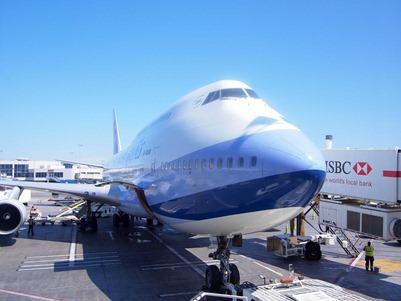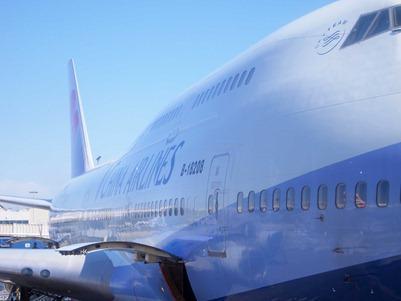 The service was decent, we got 2 meals on the first flight and while the food was not fantastic, at least we got a meal! My one complaint? Not enough water. They came around 2 times to offer water. In tiny 4 ounce cups. So 8 ounces in 13 hours I think my feet would have been swollen 10x worse had it not been for the bottles we brought on board.
Tip: If you are traveling internationally bring 2 cheap reusable bottles per person. Fill them both AFTER you are are through all customs and gate checks. I drank both of my bottles plus one of Scott's. We used these bottles throughout the trip, constantly refilling them for large bottles we would buy at a convenience store. At the end of the trip, they got tossed. Best $4 dollars spent!
Thank goodness for the entertainment on board. We had the individual screens in coach and were able to watch movies, play games, track the flight and just zone out. China Airlines supplied the headphones (Delta now charges $3 for them!) because it is a 2 prong plug and most standard US headphones will not give you sound in both ears.
The units were touch screen and you could select the language and they actually had a good selection of movies to watch. On the way over I watched:
The Avengers (good)
Brave (ok)
What to Expect When You Are Expecting ( a few funny parts, but not great. At least it helped pass time on the plane)
I read half a book (I read fast) and got about 3 hours of sleep. Yup. That is it. Only 3 hours. When you are in a tiny seat, have no leg room and the people around you are seriously noisy you just aren't going to sleep much. I will preface this by saying I don't sleep very well on planes any way but this was was one of the worst.
Tips for sleeping on a plane:
Take something. I know many don't like to take sleeping pills but if you don't want to be a zombie when you get there you need a few hours of sleep. I took 2 sleeping pills. They helped a little. The one caveat with these, within 30-40 minutes to taking them you do need to try to sleep and relax your body or they are not going to work.
Bring a blindfold. I have one that is very soft, doesn't squeeze too tightly around my head and does a great job at keeping out light.
Earplugs will be your friend! It is the only way to help block out some of the surround noise. Buy a cheap pack at Target or use very small noise cancelling headphones. Not big ones that cover your whole ear but some bud style ones that you insert in your ear.
Stay hydrated. Drink a ton of water and don't drink much alcohol. A glass of wine is ok but don't plan on slamming 4 of the mini bottles

It will not help you sleep.
Try compression socks. I learned this tip from a coworker AFTER we got back (darn!) but they really do help with feet swelling. When you are sitting for that long you need to do everything you can to help avoid swelling and blood clots. Get up and walk around as much as you can, even if it just for a few minutes. Your feet will thank you.
Adjusting to being 12+ hours ahead:
As soon as you get on the plane set your watch for the time it will be in the country you are landing in. You need to get body used to being on the new schedule. This does not make the adjustment go that much faster but anything helps when your body is going through a complete day night reversal. Thailand was 12 hours ahead of Central Time. Talk about a flip!
When you land try to be on the time of day, so if you land at 1am try to go to sleep when you get to the hotel. Wake up at a decent hour and go do stuff! Make it as long as you can before going back to the hotel to crash. On the opposite side if you land at 1pm, go take a shower, change your clothes and get out of the hotel. I know it is really hard but your body will thank you in the long run.
Eat as healthy as you can. Lots of fruits and veggies, lean protein and complex carbs. You don't want to be loading up on caffeine and sugar.
Sometimes you need to listen to your body! The 2nd day we were in Thailand we crashed at 6pm and slept through the night. It was what our bodies needed and we felt so much better the next day.