Hi everyone,
I don't know how often most of you tend to travel but this year alone, I've been on at least four to five long flights and it has definitely wreaked havoc on my skin each time.  The climate really does make a difference but for the most part, airplane rides are not only dehydrating for your body but for your skin as well.  Apparently according to my brother, the circulated air within a plane is purposely dried out to help with maintenance of a plane and to prevent rust from forming.  I guess that's a good reason, lol.
Normally I don't really pack very much in terms of skincare within my carryon but I thought to give it a try this time to save my skin from needing a couple days of downtime.
Of course, the type of skincare you should bring would depend on the length of the flight and how your skin normally reacts to dryness or dehydration.  For me personally, my skin tends to tighten up and get pretty flaky as a result while the rest of my body likes to retain water.  Never very nice when you've puffed up a couple of inches :/
I guess a good rule of thumb would probably above six hours or below six hours.  If you have a flight above six hours, you could feasibly maintain your original skincare routine while if the flight is under six hours, cut it down to just serums and lotions. This time, to counteract the dry skin problem, I decided to bring along an exfoliant, a mask, and hydrating lotions/serum set. These are the items I brought with me: Cure Natural Aqua Gel, a My Beauty Diary mask, and a couple of Laneige samples I received last time I purchased from Amore.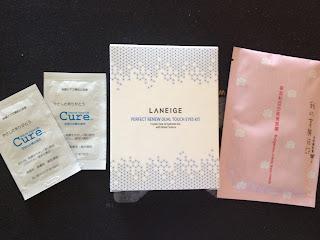 For me, Cure doubles as both a cleanser and an exfoliant.  It rids the top layer of oil and sloughs off any of the dirt.  Of course if you prefer,you can also follow up with some sort of cleanser.  I read about this product through the Soompi forums and thought that I should make the switch over to gel exfoliants since the regular scrubs weren't working as well as I would've hoped.  I REALLY need a flawless canvas for when I apply makeup or else I become very frustrated, lol.  This product is by far my favorite in comparison to other gel exfoliants I've tried so far.  I will do a more in depth review a little later so stay tuned for that!
As for My Beauty Diary masks, I ADORE them! They provide very lightweight serums that cool down your skin and they come in a huge assortment of flavors.  The serums that come in each mask is very saturated so there's plenty of extra for your neck and lower if you want to.  I don't like it when the masks are too dry since it doesn't feel like they do much.  I tend to use masks at least every other day mostly because they help to retain suppleness in my skin and keep it highly hydrated.  My favorite so far out of the ten flavors I've tried so far is Bulgarian White Rose and so that's the one I decided to bring with me on this flight!  My skin always feels amazing after I finish putting on a mask! It feels cool to the touch and always soft.  I tend to wait for the remaining serum to dry before putting anything else on.
Next is the Laneige sample pack I received.  This sample pack has five products in it from the Perfect Renew line.  I've always had my eye on the Perfect Renew Skin Refiner so I'm pretty excited to try it!  I'll give you all some initial impressions I had of the product.  Here are the products included in this sample pack: Skin Refiner EX, Emulsion EX, Essence EX, Cream EX, Dual Touch Eyes EX.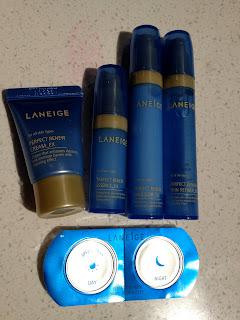 Perfect Renew Skin Refiner EX
This is a gel based refiner that's supposed to make your skin smoother and based on my initial impressions, this definitely does just that.  The gel consistency is medium and it isn't too runny nor is it too thick.  It definitely absorbs into the skin very rapidly and all that's left is the feeling of smooth skin.  The scent isn't too obtrusive and smells rather clean and doesn't really linger on the skin.  A plus for those who can't abide with scented skincare products.  I definitely think that this product warrants more testing and I probably would buy the full size!  For people who live in more humid climates, I think it would be best to skip this product on a daily basis since it actually ended up making my skin more oily.  It should be okay for winter though.
Perfect Renew Emulsion EX
I usually tend to stay away from emulsions mostly because I'm scared it'll cause pimples or make my combination skin much more oily but this one was surprisingly lightweight for an emulsion.  It had a very runny consistency and I didn't feel like the product was heavy at all.  It was similar to those milk lotions from Hadalabo or Juju Aquamoist.  Definitely absorbed easily and feels moisturized! I think this would be a great addition to any skincare routine for all seasons provided that the weather isn't too humid.  Again the scent for this product isn't too heavy either, kind of smells like clean soap.  It lingered a little bit longer than the skin refiner but that's not surprising since one is thicker than the other.
Perfect Renew Essence EX
I don't usually use too many essence products  but I did really like this one! Subtle, not too heavy, and very moisturizing.  The consistency is definitely gel-like and is similar to the skin refiner although the basic functions of this essence is for anti-aging.  The smell is pretty good and I can't really think of what it reminds me of! Something like a Dove soap! I can't place which one but anyway, I feel this product wouldn't make my skin too oily so it should be okay for both winter and summer.  It definitely made my skin feel much more plump and nicely moisturized.  Like the two products before, it absorbed easily into the skin and didn't leave any touchable residue on top of the skin.
Perfect Renew Cream EX
Another type of product I normally don't like to use because of oil content but I thought for a drying plane ride, it would be beneficial for my skin.  Light and almost gel-like in its consistency, this cream wasn't as heavy as I thought it was going to be.  But then again, very few Laneige products are "oily" or "heavy."  I think the only one I encountered so far from their line that was WAYYY too heavy was the Water Bank cream.  Scent is the same as the other products and it absorbed surprisingly well.  Normally cream-based products sit on top of the skin and leave an oily feeling residue for me but it seemed to absorb very quickly.
Overall, my first impressions of these products have been very positive.  I'll probably continue testing these until I find something I really like out of these products.  I tend not to use only one line of products in my skincare routine.  I get bored too quickly for that, lol.  But when I like something, I do tend to use it religiously ex: Softymo Deep Cleansing Oil.
After you're done making your skin feel supple and awesome, you can sleep! YAY, lol. I literally thought I heard my skin screaming "Hallelujah!" when I finished putting on these products.  It was pretty drying on the plane but this definitely prevented me from having to deal with flaky skin later. 
I would definitely make sure to try and clean your face immediately after landing to prevent the products you had put on previously from clogging your skin, especially after long flights.  This helps your skin adjust to the different climate.  I don't tend to allow too many products to sit on my skin for more than a night since the Cure Natural Aqua Gel strips it all off the next day.  But you, of course, get the benefits of the product without any of the possible clogging on your skin! 
Anyway, that pretty sums up my in-flight skincare routine! Keep on the lookout for our next couple of reviews/posts! I've been stocking up on some cool new products to try out for when I return to the States! 
Do you do anything for your skin during a flight? If you do, what products do you like to use? 
All of the products mentioned were purchased for review or given as a freebie after purchase by SUPERbijinUP.