Hi everyone,
I know I know! I'm becoming totally horrible at posting on this blog!  I really need to get on top it for all of you!  This is a review I promised all of you back in.... I don't dare to say it...

(October...) 

Work has taken a lot out of me and plus IMATS just came and went!
I REALLY WILL BE POSTING UP THE HAUL SOON!   For those of you who do follow me on Instagram, you know that I went kinda CRAZY during IMATS.  I also recently purchased some drugstore products from Walgreens and CVS to share with you all as well :)
In any case, onto the review!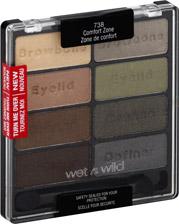 I can't really tell you how much I ADORE this palette!  I first read about these on nouveaucheap's blog and immediately went to CVS to snag some during their BOGO free sale.  I never regretted it!  I used to use Wet n Wild products but I am ashamed to say that I became a little snobbish and stopped using them until recently!
It's always a good thing to realize that the price or even the brand name of the product doesn't guarantee quality.  I was shocked to say the least about this item only being $4.99 retail and I got TWO OF THEM for this price!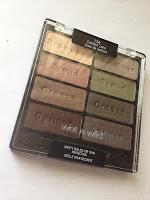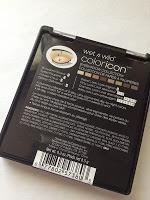 I was definitely happy since I honestly haven't stopped using it since I got it.  It creates the perfect smokey eye and doesn't have problems with creasing or fading on my lids. I loved each and every shade in this palette and think of both sides of the palette as coordinating colors.  Most of the time I use the left side of the palette but the right side is just as gorgeous.
Colors
True to its name, it comes with 8 pans of eyeshadows.  One side is all neutral browns while the other side runs a little olive/green.  All of these shades are beautiful and highly pigmented.  
The top left is a beautiful shimmery white shade that's perfect for highlighting brows and the inner corner of the eyes.  The left second shade is a gorgeous champagne color and works beautifully as a lid color.  It's more than possible to use this color by itself.  The left third color is a shimmery light brown shade that I normally use to create the cut crease and help define the eyes.  The last left shade is a shimmery

dark

brown shade with hints of red in it.  This is the liner shade and is versatile.  If you add a little bit of mixing medium, it can definitely be used as liner.
The top right shade is a shimmery pale taupe color that works as a lid color as well.  I don't normally use such darker colors as the brow bone highlight just because I don't have the bone structure to pull it off.  But if you have prominent brow bones, by all means, have at it!  The right second shade is a beautiful pale olive green.  I usually use this color for the outer half of my lids.  The third right shade is a dark olive green shade with hints of gold in it.  This works for me as a liner shade as well.  Not as harsh as dark brown or even black.  Use some mixing medium to achieve that lined look.  The bottom right shade is an enigma.  It's a multi-faceted color with hints of brown, green, and red.  It was a little bit difficult to capture on film.  This works beautifully as a bottom liner color, capturing light, giving your eye look more dimension.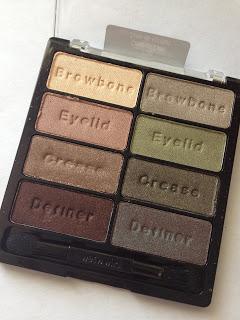 Packaging
There's really not much to say about the packaging.  It's basic and clicks shut rather snugly which is good for traveling.  The foam/sponge applicator isn't that great but I'm sure that you will more than likely bring eyeshadow brushes with you should you go on a trip.  It's obvious they didn't spend much effort to put bells and whistles on the packaging, rather spending money their amazing eyeshadow formula.

Swatches
These colors swatched beautifully and very easily.  The eyeshadow crumbed a little bit on contact and little definitely went a long way.  It was easy to get a swatch true to color without much effort.  They also applied beautiful with both fingers and with a brush as well.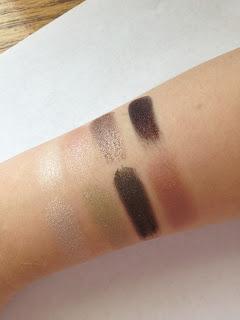 Natural light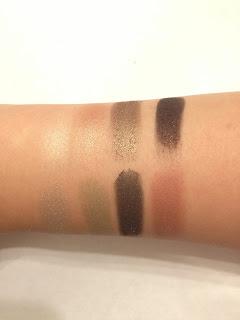 Indoor light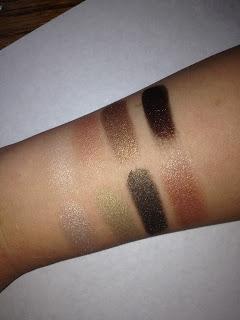 Flash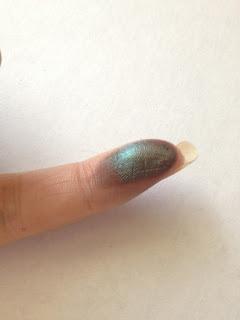 Like I had mentioned earlier, the last right shade was definitely difficult to capture in pictures but I caught the gist of the color in this picture.  It's definitely a multi-dimensional shade that kind of reminds me of a scarab beetle.

Eyes
I LOVE LOVE LOVED creating eye looks with this palette.  This is probably my go-to palette when I don't feel like experimenting and want something basic.  I actually pick this up over my UD Naked and Naked 2 palettes, which says a lot since I used to use both Naked palettes everyday.

I included some pictures of both sides of the palette in two eye looks.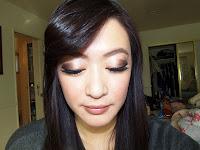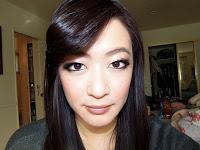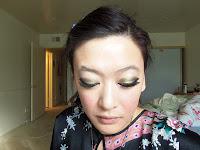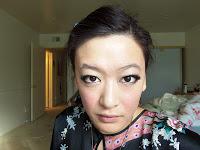 Excuse my hair in the second look, lol.  I hadn't finished getting ready but you get the gist of the versatility of the palette despite it only having 8 different shadows in it.

Thoughts
If you haven't had enough of me raving about this palette, I'll sum it all up again.  It's AMAZING.  I can't tell you how much I love and appreciate this palette not only for it's price point but also it's quality.  It's great and easy to use with each shadow's use imprinted into the palette.  For only $4.99, it definitely can't be beat.  You won't find a better palette for it's price point.

If you don't already have this in your makeup arsenal, I highly recommend you to go pick one up right away.  If you already own it and don't use it, dust it off/dig it out of your makeup mine/stash and put it to some good use!
Rating: 5/5.0 stars

Have you tried it? What are your thoughts?
Disclosure: This product was purchased by SUPERbijinUP for review purposes.