Hi everyone!
I'm back with another post and this time I'll be posting swatches from two of the shades from Maybelline's new Color Tattoo Metal Collection!
I actually had purchased only two previous shades from their permanent collection and I'm sad to say that although it was long lasting, I had NO IDEA how to utilize these properly!  When I saw the colors available for this collection, my eyes were immediately glued to these two shades!
Inked in Pink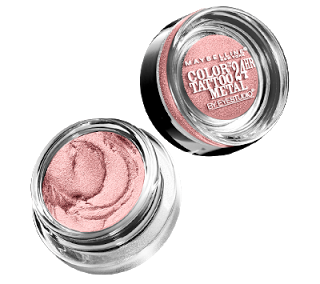 Barely Branded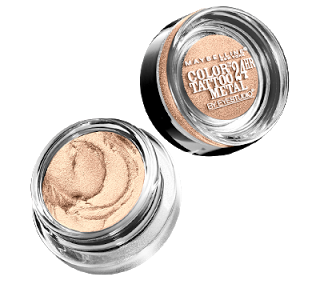 Aren't they gorgeous!? Barely Branded called out to me because it seemed so similar to their other limited edition collection from Fall 2012.  I'm in love with neutral shadows.  I firmly believe that you can never have too many neutral palettes!  I was utterly devastated to have missed out on that particular collection but it really seemed like they FLEW off the shelves.  I couldn't find anywhere that had them in stock T_T

In any case, I bought these two to swatch for all of you and actually ended up finding out that Barely Branded was a DUPE!

Find out what it is after the jump!


For those of you who follow me on Instagram, you know that I had just gone to IMATS and did a huge haul of products.  Although I didn't purchase much actual MAKEUP MAKEUP products, I did purchase a few to take advantage of the discounts offered at MAC (whose line was GINORMOUS THE ENTIRE DAY).  I bought two paint pots from them: Bare Study and Rubenesque.

LO AND BEHOLD, I was swatching Barely Branded and it popped into my head that this looked REALLY REALLY similar to Bare Study.  So I got off my butt and went to my stash yet unopened because I need to film still...... and snatched out my paint pot!

VOILA! It's the SAME!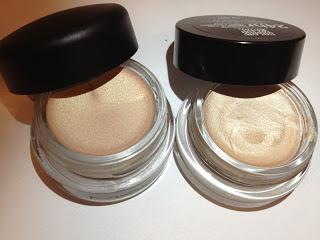 Left: MAC Paint Pot in Bare Study   Right: Maybelline Eye Studio Color Tattoo in Barely Branded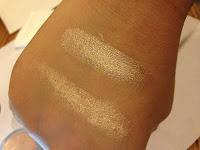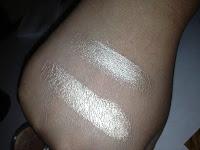 Well, not EXACTLY the same but it's close enough of a dupe for me to actually consider forgoing the purchase of backups for this particular MAC Paint Pot.  The Maybelline one is a little bit more cooler in tone and surprisingly went on a lot smoother in comparison to MAC's.   So if you prefer cooler toned cream shadows/bases you might end up liking the Maybelline version over MAC's.
One caveat: During the smudge test, MAC's Paint Pot was immediately dry and able to withstand smudging without any visible movement whereas Maybelline's had to wait and it still slightly smudged/transferred.
Ultimately, I think the price makes it worth it to purchase Maybelline's ($6.99 compared to $18.50).
Onto the individual swatches of the two shades: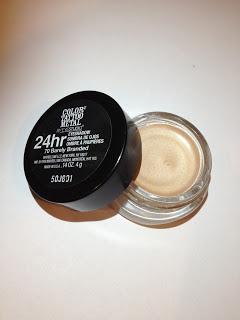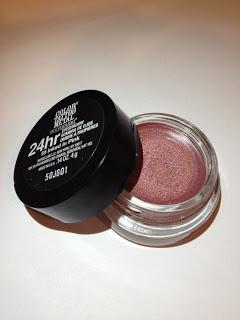 Packaging
This product's packaging was pretty simple, twist top with a pot structure.  My only gripe about these products is that they're practically impossible to use when you have long nails.  I usually keep really long nails unless they break and I have to trim all of them down.  Swatching this was like trying to fit a square peg into a round socket, no joke.   And! It gets even more difficult with time, especially if you use it often!  This isn't a deal breaker but sometimes manufacturers need to think about us long-nailed people.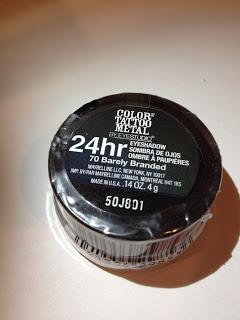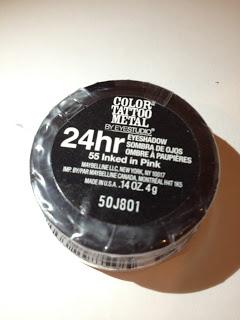 Swatches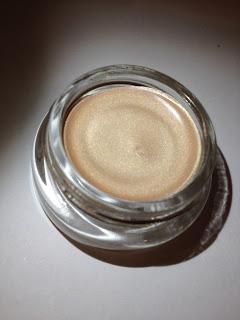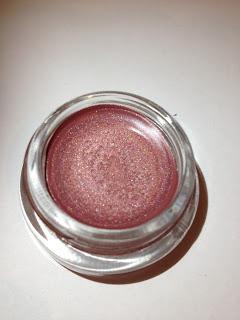 I really liked the consistency of both of these products.  Barely Branded was a little smoother than Inked in Pink mostly because the glitters seemed to have drifted to the top in their formula.  It was almost as if their formula was starting to separate while they were packaging.  Kind of weird.  It was VERY glittery but too much more than Barely Branded.  I'll continue using both and see if there's any issues.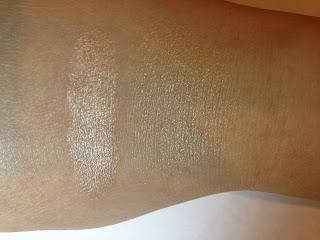 Barely Branded: It's definitely a very pretty champagne colored shadow with buildable color.  One swipe is sheer enough to use as a light wash over the lids while building the color creates more depth and dimension to the other.  Sheered out is another option if you don't want to seem too done up on your off days.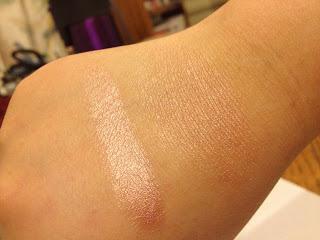 Inked in Pink: A gorgeous cool toned pale pink, it's also very buildable to create a pop of color either on a more natural faced day or even for a more dramatic look.  It's a manageable color without being too overdone particular when built up.  I definitely think I'll be reaching for this quite often on those days I want to add a pop of color without overdoing it.
Here's the two colors next my other two Color Tattoo shades in Tough As Taupe and Too Cool.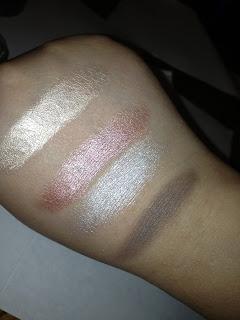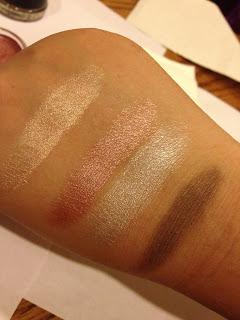 You can definitely see that consistency is the smoothest for Barely Branded.
Thoughts
Overall I think these two colors can be very handy in your makeup arsenal if you don't already have similar items.  Barely Branded would definitely be a good investment because of its versatility whereas Inked in Pink would be good for those just starting to experiment with brighter colors.  Both of those were amazing and I can and would recommend these to my friends. My only gripe is about the packaging that I mentioned earlier.
Rating: 4.5/5.0 stars

Have you tried it? What are your thoughts?


Disclosure: This product was purchased by SUPERbijinUP for review purposes.