Like many, many, many young ladies out there (ok fine, I'm not so young, but that's not the point), I'm not 100% happy with my looks. I have the usual grudges – my eyes are too small, my nose bridge isn't high enough, my pores are too big – you get the gist.
Many a time during a girly chat, I have mentioned wanting to undergo cosmetic surgery – I mean, it's so commonplace these days, especially in my second home Korea. I could fart in myeongdong and at least 5 ladies affected by my noxious gases would have had something done to their faces.
But then again, I have a low (in fact, almost non-existent) threshold for pain. I bet even those pimped-up cars that are ridiculously low and near to the ground could go over my pain threshold with nary a bump. What's more, while seeing other ladies undergo the procedure and showcasing their recovery process, I could barely hold in my shudders.
Thus, I have decided – I will give up on my notion of wanting to do cosmetic surgery. Instead, I will forever stick double eyelid tape onto my right eye (because I don't need it for my left eye), and I will polish up my makeup skills and pile on the skincare. However, in order to maximise the results, I need to have awesome skin. Because of this reason (and because I simply had to do something in Korea just for the sake of doing it), I decided to visit CNP Skin to see what they could offer me.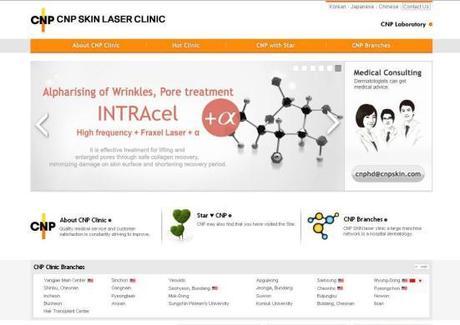 Although I know there are countless skincare clinics / dermatologists / aesthetic clinics etc in Korea, I decided on CNP Skin because my Korean girl friend recommended it. Of course, I also did my due diligence by emailing several other clinics, and the price point of this place was also pretty affordable. In addition, it was super convenient that  I could send in my queries to CNP in English, and their prompt replies were also in simple but comprehensible English.
MY PREPARATIONS
My initial email was regarding the removal of remove spots / moles / milia seeds, [their email addy is [email protected]] and this was the reply I got.
We usually use laser device to remove them. It takes 2 hours(about).

After the procedure, the wound will be healed within 7days.

The cost depend on the spot size and how many count. (For example, diameter 5mm spot is 50,000 won/each spot.)
I decided to follow up with a photo for further clarification:
It's best to see directly for an accurate diagnosis.

Put simply, I think they removed by Er-YAG laser the spots.

After Laser, do not wash your face for 24 hours.

For 7 days, renew a regeneration tape once every day.

For 1 or 2 days when there is a lot of blood or discharge, replace the tape for more than once.

On the 7th day, when you remove the regeneration tape, the area will be red spot.

Red spot may continue for one month or more.

You should avoid using exfoliating scrub and not to irritate the area.

You can use public bath, sauna, hot sauna, and swimming pool after 2 or 3 weeks from the clinical operation.

For one week from the clinical operation, you'd better not to drink alcohol.

I think the price will be about 150,000~200,000KRW.

If you have any questions, Please reply.

Thank you.
It sounded really good – after all  I had paid SGD500 for spot removal back in 2010 at Sloane Clinic in Singapore. For 5 spots. sheesh. Compare that with this time (I counted more than 10 spots!)  – KRW200,000 is only about SGD245. Half the price, double the number of spots?
Of course, I was booked for an appointment, and my correspondent recommended that I head to their Yangjae Branch, which is their main branch and also had a translator. They even kindly provided directions.
I made the reservation on Friday, 28 March at 11:00 am to the Yangjae Main Center.

The Yangjae Main Center is located at Gangnam area.

Using taxi from the Yangjae Main Center to Best Western Gangnam Hotel is

the fastest way and it would take approximately ten minutes or so to get there.

The fare of taxi is expected 5,000KRW~6,000KRW.

The address of the Yangjae Main Center is "4F, City Band building (Shimhyun Bldg), 952-9, Dogok-dong, Gangnam-gu, Seoul

서울시강남구강남대로 250 심현빌딩 4층(도곡동 952-9)".

The call number is 02-3463-1221.

If you changed your schedule, Please reply.

Thank you
What's more, after I informed them of the hotel I was staying at (was in Seoul with Etude House at that time), they even specially did up a directional map from my hotel to the clinic.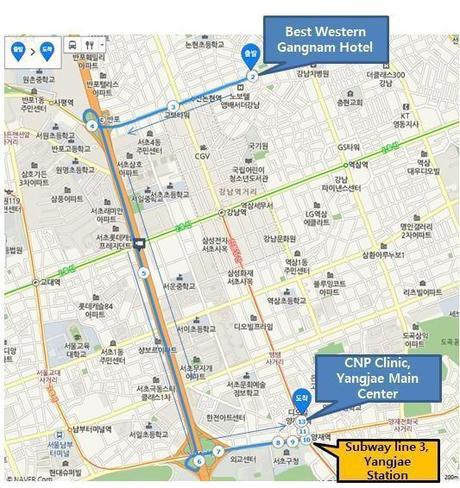 Isn't that nice of them?!
HOW TO GET TO CNP SKIN CLINIC, YANGJAE
CNP, Yangjae Main Centre

Address
4F, City Band building (Shimhyun Bldg), 952-9, Dogok-dong, Gangnam-gu, Seoul

Operating Hours
Weekdays : 11:00 ~ 20:00 / Lunch : 13:00 ~ 14:00
Saturday : 09:00 ~ 17:00 / Lunch : 13:00 ~ 13:30

Contact number
+82-2-3463-1221
This is a map from their website, but their directions are to their corporate office.  Follow my pink markings instead. It's essentially the same direction, just don't turn right into the little alley way, and continue walking straight.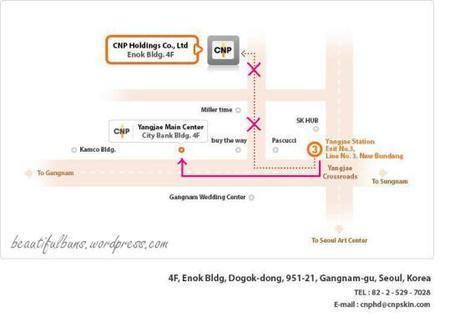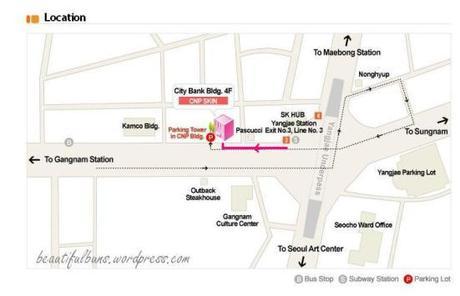 Another map from their website showing the roads around the area.
If you're going by subway, alight at Yangjae Station, Line 3, Exit 3. It'll only take 5 minutes to walk to the building, which is located on your right-hand side and along the main road.  There are no visible signages of the building name, so look for a Citibank signage (cos it occupies the first 2 levels ).Walk into the (somewhat quiet) lobby and take the lift.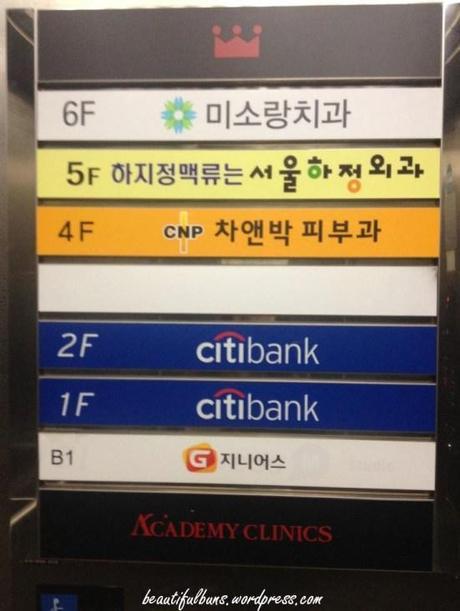 You should see this as a sign that you're in the correct building.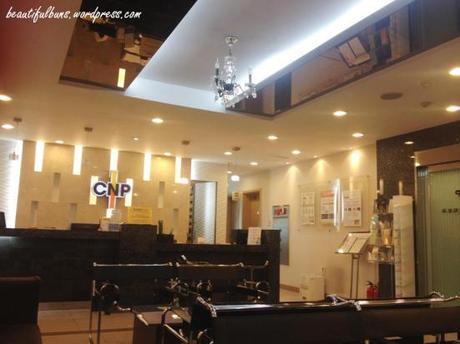 And a very vast difference from the lobby and lift – this place is warmly lit and there are plenty of staff on hand to help you (this photo was taken during their lunch break, which explains the lack of people in the phot0)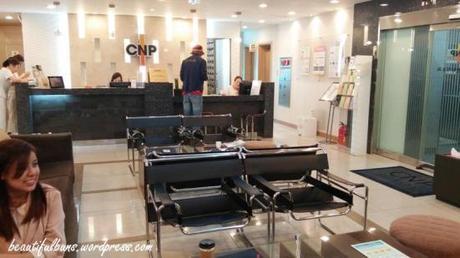 Just go to the counter and give your name.  Some of the staff can speak halting English. They'll pass you a form and you'll have to fill up your particulars on the form.
My view from the sofa as I await my turn to consult the doctor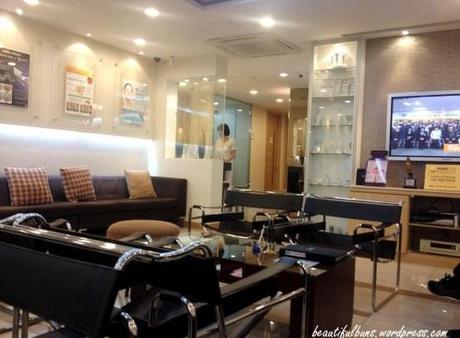 More of the clinic – the showcase has CNP Laboratory products, and the tester corner is where the staff is standing.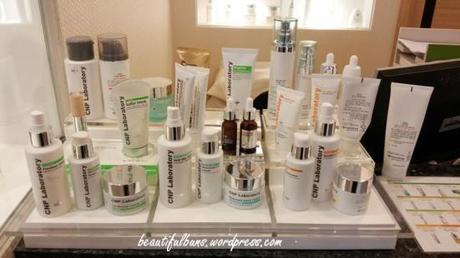 Ta-dah! You can test out their products here :D
My painstakingly pieced-together collage of all their products in the showcase.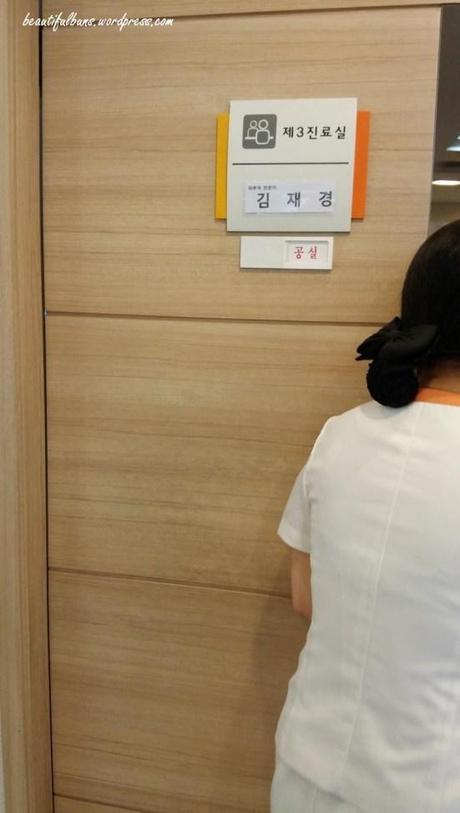 Enough tomfoolery – time to see the doctor! The name on the door is Dr Kim Jae Gyeong.
I didn't dare to take any photos of her cos I felt like I'd be intruding on her privacy, but she's  around her late-2os, looks sweet and pretty, is very caring, intelligent and speaks relatively good English.
During the consultation, she asked what were my skin concerns (to which I told her I wanted to remove the spots), and checked my skin. She then explained the removal process (by laser) and told me about post-removal care). By then I was so won over by her that I even asked her to recommend another treatment for me, to which she said that Scaling & Polishing would be suitable.
I was like "whuttt, isn't that a dental procedure?"
But anyway, she told me it would smoothen the skin's surface, refine the texture and increase clarity and radiance. Yes please!
THE PROCEDURE
I was then led into a room – in true Korean-style, it's communal. There are several beds in this room, separated by a cupboard in the middle (for your belongings) and some panels.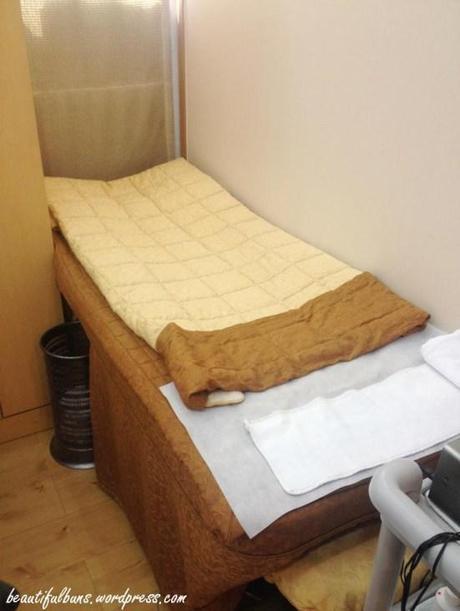 Typically Korean-style comforters
Since I was in a room with several other ladies, I didn't want to be intruding on their privacy by snapping away (that, plus I had to commence my treatment and had to deposit my phone into the cupboard).
Scaling & Polishing involves the following steps (as far as I can remember) done by the staff:
Makeup Removal
Cleansing and Massage: Ahhh. comfy~
Some sort of serum thingy application via a brush (done by the doctor herself), which will be left to set under a mini fan for about 10 minutes.
Infra-light thingy
Cleansing: Ahhh. refreshing~
Extraction: Sonafabitchhhhhhhhhh this hurts. Since I had my eyes closed, I didn't know what was going on, but I'd feel a prick , and then high-pressure squeezing. This went on all over the face – every. single. blemish. zomg. This went on for about 15-20 minutes (I think? Pain tends to make time pass slower)
 Cleansing: Ahhh. soothing~
Mask: This is a heavy mask that will set into a peel-off. The therapist will ask whether you want it over your eyes (closed) or not, since some people can get a little claustrophobic. I had it over my eyes and fell asleep. Comfy!
Mask removal and gentle cleansing/ rinsing.
And you're done! I'm not sure if I've missed out any steps cos I was dozing off and on. Heh.
Now I was totally expecting a red and splotchy face due to the extensive extraction, but I think the mask calmed my skin down completely. My face was not splotchy or red at all. Woah.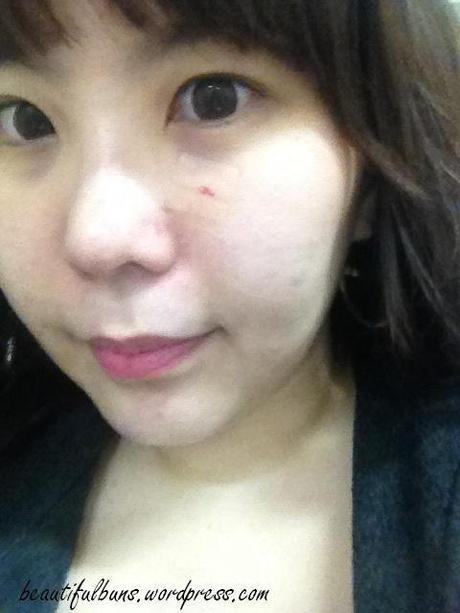 This is me immediately after treatment – the red blotch under my eye is a spot removal with regeneration tape stuck over it. No filters, no photoshop. Not too bad right?
THE RESULTS
I. frigging. love. it. There's no downtime, and my skin was instantly smoother, firmer and more radiant.
Over the next few days, I found that my makeup really glided across the face and I didn't have to use any much to cover the blemishes. What's more, it was so smooth that I had a glow to my face!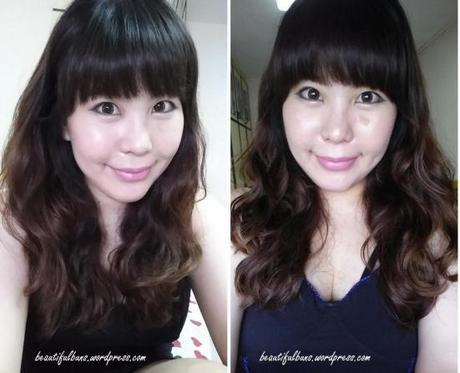 Ta-dah! L: Taken indoors under fluroscent lighting, and R: Facing sunlight. Yes, that's the regeneration tape to help in the healing process. But yes, mah face is glowinggggggg. P.S. Love the curls done at Cecica Hair Salon!
PRICE RANGE
Scaling & Polishing: KRW150,000. Once a fortnight. For skin smoothness, firmness and radiance. LOVE THIS.
Coolgen Therapy: KRW90,000. Once a week. For moisture, dewiness.
Detox Program: KRW200,000~400,000 (depending on dosage, composition levels).  Main ingredient: glutathione, a powerful antioxidant that occurs naturally in the body to clear the body of free radicals and toxins that can lead to serious skin problems like hyperpigmentation and melasma, as well as more common ones like sun spots. For whitening.
Spot / mole / milia seed removal: KRW50,000~200,000 depending on the number of spots. I paid KRW200,000 for about 15 brown spots removal.
Of course, they have a lot, a lot, a lot of other services and so, so many branches as well (there's even one in Myeongdong). I've heard that Yoo Jae Suk also visits this for his skincare purposes! For more information, check out their English website. Go try it out – you will not be disappointed! :D
CNP, Yangjae Main Centre
Address
4F, City Band building (Shimhyun Bldg), 952-9, Dogok-dong, Gangnam-gu, Seoul
Operating Hours
Weekdays : 11:00 ~ 20:00 / Lunch : 13:00 ~ 14:00
Saturday : 09:00 ~ 17:00 / Lunch : 13:00 ~ 13:30
Contact number
+82-2-3463-1221
 International email address
[email protected]
Website
http://www.cnpskin.com/eng/
0.000000
0.000000