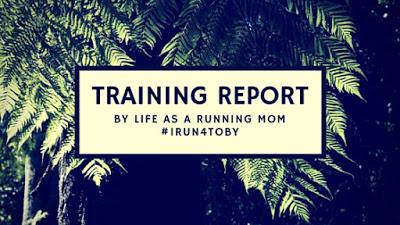 Aloha and Happy Monday!
I still can't finish a cup of coffee without having to heat it up again as it gets cold. Does anyone else have this problem or is it just me?
I ran 35 miles last week with 26.2 miles yesterday at the Maui Oceanfront Marathon. Stay tuned for that race report but I will tell you this, I am happy with my run and nope, I did not PR.
It was a great week and I did awesome eating a hard boiled egg and banana for breakfast and a salad every day for lunch (except for one day where I broke down and bought a turkey and avocado sandwich). I am still doing my hot lemon water daily and trying to focus more and more on hydration, hydration, hydration. I am so busy at work I forget to drink (hence the cold coffee).
Plus I decided I really don't like alcohol. I informally gave it up at the start of the year with the idea drink rarely so when dear hubby offered me a Corona light on taco night and it tasted nice but I had the worst time sleeping that night. My alcohol side effect and why I gave it up. I really can't tolerate any! And yesterday he offered me some wine to congratulate our marathon finishing and I took the tiniest sip and gave it back saying, "No, thank you." He looked a bit bummed but I need to help him see it is nothing against him. I didn't like it. I just wanted my warm ginger green tea (warm because it was no longer hot as it sat waiting for me). Maybe I am getting.....old. eek!
But onto happier things, even though I am not doing yoga per se, I spent time each day stretching and moving into those yoga poses that truly help open my hips and stretch out my legs. 
And here is my current position on my misison to run to Toby in Nebraska. He is my buddy that I was matched with through I Run for Michael. He has Down syndrome and I run for him and to raise awareness about Down syndrome and one day, I will wrap my arms and hug this little boy who I have fallen in love with. He is a trooper and his mom is REMARKABLE!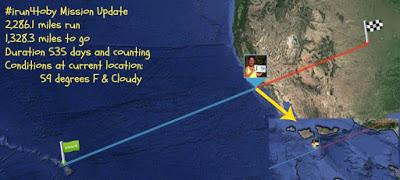 My goal this week: To blog at least twice! I would love to get back to three posts a week. I will get there. Did I mention work being busy?

Daily Gratitude: I am thankful I finished my 9th marathon.

Daily Bible Verse: No temptation has overtaken you except what is common to mankind. And God is faithful; he will not let you be tempted beyond what you can bear. But when you are tempted, he will also provide a way out so that you can endure it. ~ 1 Corinthians 10:13