My friend Kristin and I were meeting for a girls night and needed a spot close to her house that would have decent food and a place to catch up over drinks. Town Hall Tap is only a mile from her place in Minneapolis and just so conveniently happened to be a new place for me to blog about. It was a Tuesday night and not  overly busy so we had no problems getting a table.
We settled in, got to catching up and figured out what we wanted to drink and eat. Town Hall Tap is known for their ever changing beer menu full of unique things to try. I am always game for that, I opted for a Monarch White and Kristin got a Leffe. One was enough for me that night. I enjoyed it but it wasn't my favorite beer ever. Splitting an appetizer and a sandwich seemed to be an easy choice. 2 jalapeno pretzels with their special sauce, warm cheesy goodness. These were delicious!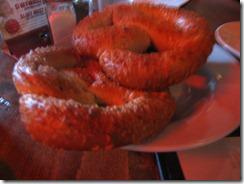 The sandwich was less than stellar. Usually a Cuban is a pretty safe pick for something with good flavor. Not this time, the bread was too crusty, the meat was bland, and I think it had one pickle on it. Not horrible, just not something I would ever order again.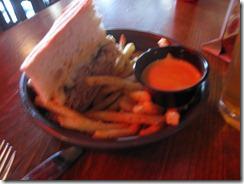 Our waitress was friendly and efficient so no blame would ever go to her for a bad sandwich. I would go back to Town Hall Tap for beers/appetizers but probably not for dinner. You can't love them all.