I have a confession. 
I could care less about the BIG GAME this weekend.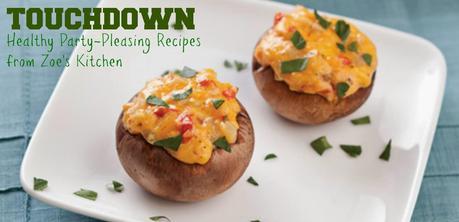 However, it does give me an opportunity to catch up with friends and partake in another reason for a party.  While I have no gripes about parties, I am worried about the partaking part -- and totally ruining all that great work I've been doing trying to lose weight with the MamaChallenge DietBet. However, I don't want to be left out to eat nothing but raw vegetables and ice water.  What's a girl to do?  Thankfully my latest food fettish, Zoe's Kitchen, has shared some of their top-secret recipes for a few quick, clean, and easy recipes that are healthy (they were curated by dieticians, moms and culinary folks) and totally delicious. And if you need help trying to make a dish? they even have an easy-to-follow video available to show you how. 
Havent' heard of Zoe's? You are missing out. There are several here in DFW with the newest one in Richardson. And best of all their food AND their service is top notch! (And you can actually go there for several healthy food combinations and not just one boring plate you have to eat every time you go.  So even this mama can make them - and you'll want to as well because they are fantastic.  Believe me, no one will choose that sack of chips when they have Turkey and Hummus Pizza, Pimiento-Cheese Stuffed Mushrooms and Sangria at the party.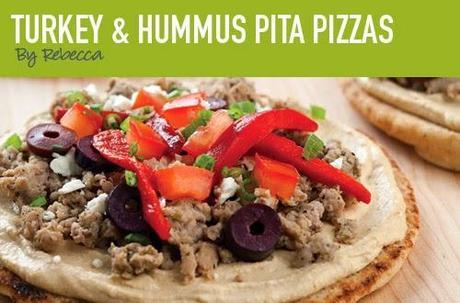 All photos courtesy of Zoe's Kitchen
serves 8

ingredients

1 pint Zoës Hummus

1 lb lean ground turkey




1.5 tbsp Zoës




Spice of Life seasoning




8 whole wheat pitas




4 tbsp sliced Kalamata olives




8 tbsp crumbled feta cheese




8 tbsp roasted red pepper strips




4 tbsp chopped scallions (green parts only)




8 tbsp chopped tomatoes




directions

Heat a large nonstick pan over medium heat. Add the ground turkey and seasoning and cook thoroughly until turkey is no longer pink. Drain any excess grease from the pan.

Heat the pitas on a microwave-safe plate in the microwave on high for 30 seconds.

Place pitas on individual plates. Top each pita with 2 heaping tablespoons of Zoës hummus and spread evenly over pita.

Then top each pita with 2-3 tablespoons cooked ground turkey, 1 tablespoon crumbled feta cheese, 1⁄2 tablespoon Kalamata olives, 1 tablespoon roasted red pepper strips, 1 tablespoon chopped tomatoes and 1⁄2 tablespoon chopped scallions.

Using a pizza cutter, slice each pita into 4 wedge-shaped pieces and enjoy!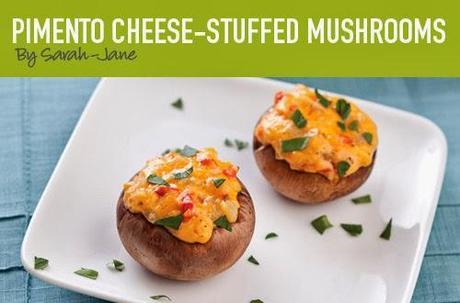 serves 8 to 12

ingredients

1 pint Zoës Potato Salad

1 red pepper, cut into cubes




1 large yellow squash, thinly sliced




1⁄2 large onion, cut into 1" pieces




1 can artichokes, chopped and squeezed to drain




6 eggs




2 tbsp milk




1 cup shredded cheese (such as Gruyere or Swiss)




1⁄4 cup grated Parmesan cheese




3⁄4 tsp salt




1⁄2 tsp pepper




1 clove pressed garlic




1 tbsp olive oil




directions

Preheat oven to 450 degrees.

Prepare crust by mashing Zoës Potato Salad in the bottom of a glass quiche dish. Using your hands press potatoes into bottom of the dish and up the sides to form the crust. Place dish into the oven for 3-4 minutes.

Meanwhile place peppers, squash, onions and garlic on baking pan. Add olive oil and 1⁄2 of the salt and pepper, toss to coat, spread vegetables in a single layer. Roast vegetables for about 8 minutes; reduce oven temperature to 375 degrees.

Sprinkle shredded cheese evenly in the bottom of the quiche crust, add roasted vegetables.

In a small bowl beat together eggs, milk and remaining salt and pepper. Pour eggs carefully into quiche dish. Dust the top with Parmesan cheese and bake for 20-25 minutes or until top is puffed and beginning to brown.

Let stand 5 minutes before slicing to serve.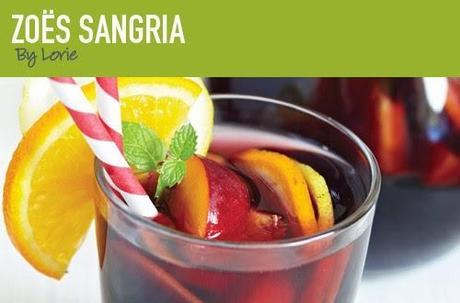 ingredients
1 gallon Zoës Limeade
Fill pitcher halfway with Ice (4 cups)
1 bottle red wine (choose your favorite!)
2-3 cups fresh fruit (we like grapes, strawberries, oranges and apples)
directions
Fill a large pitcher with 1 gallon of Zoës fresh-squeezed limeade. Fill with ice.
Add a bottle of your favorite red wine.
Chop 2-3 cups of your favorite fresh fruit and add it to the pitcher.
Stir and serve!
Now it's Game Time!