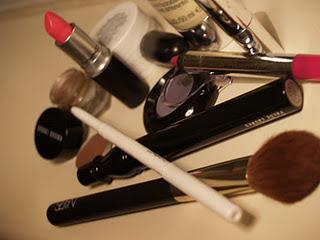 The other day when I was getting ready for work, I found myself reaching for the same thing as I had the day before, and I got to thinking about how I choose what to use each morning from the ridiculous amount of products that are currently cluttering up my bathroom. There are some things that I use every day for months, like my Smashbox Tinted Moisturizer in Luminous and my Makeup Forever Brown Gel. But then there are things that I will use for a week or even two, but then set aside and all but forget about. I realized that I tend to wear a few looks during the week, then experiment a little on weekends. I'll often stumble across a daytime look that I try out on Saturday or Sunday and it will become my favorite for the next week. But it's always changing. So I thought I'd share the things I found myself reaching for the most this week. Possibly I'll do this every week or few weeks - whenever I notice that I'm using different stuff than last time!

1. MAC Seasonally Spicy Technakohl Liner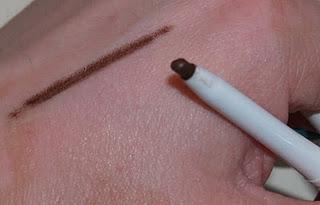 I got this recently and am absolutely loving it. It's greats smudged along the upper and lower lashlines with Remotely Grey shadow on top for a super easy daytime look. Another bonus? You don't need to sharpen it!


2. MAC Remotely Grey Eyeshadow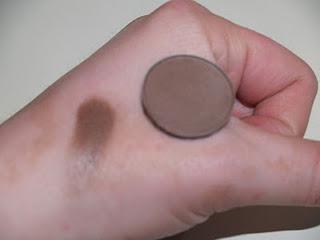 As mentioned above, this shadow is great to smoke out a dark brown liner along the lashlines. I also love it as a lid color for a daytime neutral look. Despite the name, it's more of a taupey-brown than grey, though I suppose it has the tiniest hint of a silvery/grey sheen to it. I really wish this wasn't LE, because in my opinion this is a must-have shade!
3. MAC Amplified Lipstick in Impassioned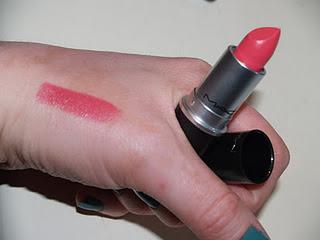 I can't believe I never noticed this shade before! I went into MAC last week to exchange some of my Back 2 MAC empties, and they didn't have the lipstick I was looking for in stock. I was just about to give up and leave, when I glanced over and this shade caught my eye. It's the most gorgeous coral/pink shade that is both bold and tasteful simultaneously. Though it's not for every day, this is a super fun lipstick to wear for a night out!


4. MAC False Lashes Mascara (Black)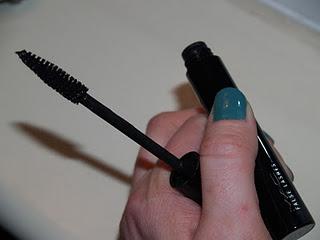 I used to use MAC Plush Lash every day. I decided to give this one a try, and I haven't even opened my brand new replacement Plush Lash that I bought a few months ago. This adds length and volume and can be worn in the day time, or built up for a night out. New fave.
5. Lancome Luring Eyeshadow (Sheen)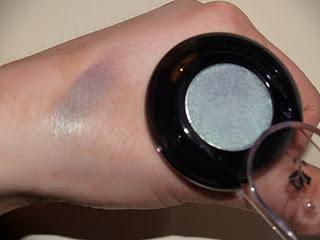 Okay, so I don't like Lancome because of the whole testing on animals thing, so I went back and forth about whether to include this shadow on the list. In the end I decided to because in all honesty, though I won't be purchasing from them again in the future, this shadow is one that I find to be unique. It is an iridescent shimmery shadow that has hints of blue, green and purple in it. I like to layer it over another shadow (or paint pot) that will accentuate one of these colours.
6. Bare Escentuals Buxom Lip Tarnish in "Caught on Tape"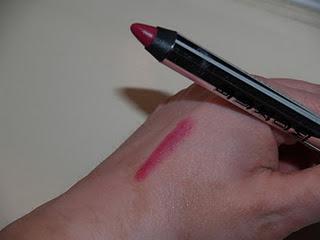 You might not have heard of these pencils - I hadn't. They're basically lip stain/glaze in a pencil format that has BE's Buxom line plumping properties. I love the color of this - it's between a rich burgundy red and a fuchsia pink - and you can build the color up or wear it as a subtle hint of color during the day. Great.


7. Clinique Dramatically Different Moisturizing Lotion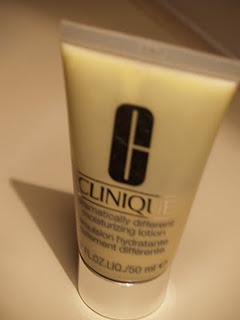 I'm sure you have all heard of this cream - it's something of a cult favorite. It's bright yellow and comes in a clear plastic cubic pump container. It also comes in handy travel-size squeeze tubes for $15 each. I have trouble with dry skin in the winter, so this is a very important part of my winter skin care. It's thick enough to provide lots of moisture, but it absorbs more quickly than other creams so it doesn't leave my skin feeling oily. Also it doesn't have much of a scent - if anything it smells a little like oatmeal - which is another plus in my book. Because I hate using hand cream and then forgetting and touching my face, I have actually been known to use this as a hand cream in the winter time as well, and it works wonders for my hands and if I do touch my face, it doesn't leave it feeling gross. Bonus.


8. Kiehl's Lip Balm or MAC Lip Conditioner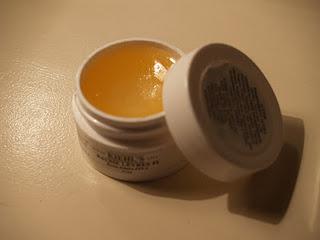 I don't shop at Kiehl's anymore, because of the whole animal testing fiasco (they are a subsidiary of L'Oreal), but I have a tub and a tube of their lip balm that I'm still working on using up. It really isn't anything special, in all honesty, so you can substitute Rosebud Salve or MAC Lip Conditioner or even a drug store brand of lip conditioner. But whatever you use, it's important to moisturized those lips in the winter time, just like you do with the rest of your skin. I use this before bed at night and in the morning when I'm doing the rest of my makeup. If I'm not wearing a coloured lip product I'll also use it throughout the day.
9. Bobbi Brown Longwear Cream Shadow in Sand Dollar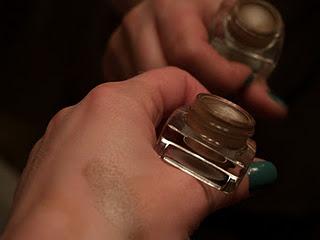 This is a great base color or for a daytime neutral eye. It is a muted taupe color with a hint of shimmer that makes it gorgeous worn alone or with a thin wash of similar eyeshadow over top. I like it with MAC's Wedge shadow in the crease and Seasonally Spicy smudged into the lashline with Remotely Grey (you can also use any mid-tone brown shadow). So easy!
10. Nars Blush Brush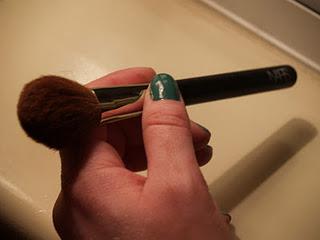 I love that this is super soft, it picks up just enough product when tapped off lightly and is the perfect size to apply to the cheekbone - I hate brushes that are too large so that blush ends up everywhere, or too small so that it ends up in a thin line. Pricey, but I'm getting daily use out of it!
So there you go, that's what I'm loving this week! Until next time....
xo M.