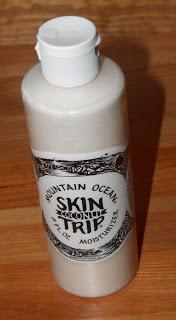 I randomly stumbled across this during one of my Whole Foods skincare forays. I was picking up, sniffing and putting down one product after another (as you do) when I got to this one. And I just couldn't put it down.
I usually find coconut- and pineapple-scented products to be overly sweet and fake smelling, so I usually avoid them. But this... it's like bottled coconuts with just a hint of sweetness over top, and it's intoxicating.
Of course, a delicious scent isn't all you want in a body cream. You also want it to, you know, moisturize. The good news is that this does that as well. I don't like really heavy, greasy or sticky creams - this is none of those things. It absorbs quickly, leaves skin feeling soft, and the scent lingers but isn't too overpowering. According to the website:
"This extremely fast absorbing, non-greasy formula soothes, protects and quickly replenishes needed moisture to dry skin. Blended with Coconut Oil, Aloe Vera, and Lanolin, Skin Trip gives your skin the nutrients it needs and effectively reduces the natural evaporation of moisture from your skin. pH Balanced. Perfect After Sun, After Shower, After Shave, Anytime."
It's not heavy enough for really dry skin like hands, feet and elbows, but for general all-over moisture, it's great. I also find that I love this in summer. Perhaps it's because I first bought it in summer so it has warm and balmy associations for me, but whatever the reason it is great for the sunny months.