I do believe that I would label this palette my cosmetic disappointment of the year.  I was very excited to try this palette, but it fell short of expectations.  Do not let the beauty of this palette fool you.  It is not what it seems.
Shades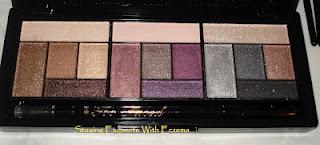 This palette has 3 separate collections in it: The Ingenue, The Icon and The Bombshell.
"The Ingenue" is the neutral set.  It has browns and golds in it.
    1.) Naive: shimmery cream
    2.) Ingenue: shimmery medium brown
    3.) Innocent: shimmery tan
   4.) New In Town: shimmery light gold
   5.) Casting Couch: dark brown with silver microglitter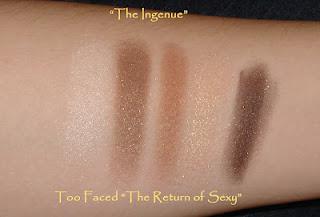 "The Icon" consists of purple shades.
   1.) Pink Diamond: slightly shimmery pale pink
   2.) Icon: pinky purple with gold shimmer
   3.) Divorcee: shimmery dark taupe
   4.) Hopeless Romantic: shimmery violet
   5.) Primadonna: dark violet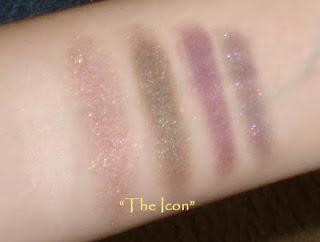 "The Bombshell" has greys and blacks.
   1.) 7 Year Itch: shimmery silvery white
   2.) Bombshell: true silver
   3.) Hollywood: shimmery charcoal
   4.) Maneater: rose gold (favorite shade of the entire palette)
    5.) Beautymark: black with silver microglitter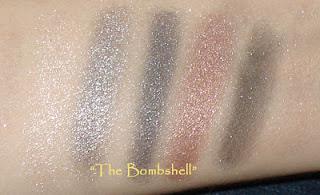 Texture and Finish
Most of the shades in this palette are so amazingly smooth and buttery.  The darkest (liner) shades are the only exception.   They are a bit chalky and feel more gritty.  The base colors (Naive, Pink Diamond and 7 Year Itch) are a little powdery.  This palette has VERY shimmery eyeshadows.  They are even more shimmery than what I like.  Matte shadow lovers, do not even look at this palette.  I did have a huge problem with fall out with a lot of the shades, especially the shades from the Ingenue portion.  I normally love eyeshadows with shimmer, but this is overkill.  This is my first issue with this palette.
Pigment and Staying Power
 The pigment looks really nice when swatched, right? Don't let that lure you in.  I swatched them in Sephora and they looked so gorgeous, so I bought the palette.  Well, I am sad to report that the amazing pigment does not transfer to the eyes.  I had to really work on applying the shades to get anything to come up.  This is especially true for Ingenue.  Bombshell was actually quite nice and I will posting an eotd later for that one.  That is strikes two and three.  The staying power was just meh...it was not bad but it is not anything to brag about.  I noticed fading around hours 3 and 4, but no creasing.
Packaging and Price
This palette has a very nice appearance.  It is black with gold writing and it is made of sturdy plastic.  It does not have magnetic closure, but I would not worry about it snapping open; once it snaps shut, it stays shut and can be a bit difficult to open.  As mentioned above, the palette has 3 collections so it is good for a variety of looks and moods.  The layout looks very similar to Lancome's Color Design All in One Brightening palettes, which I like a lot more.  Each set has 5 shadows.  It is $48 for 15 shadows.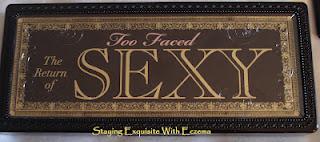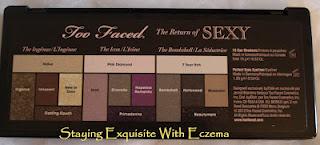 Extras and Overall Impression
It does come with a full size Perfect Eyes Eyeliner in Perfect Black and a deluxe sample of Shadow Insurance.
I am not a huge fan of this palette.  It has too much shimmer and the fact that the pigment does not transfer well to the eyes is a huge turn off.  The only palette that has really good pigment that does transfer is "The Bombshell."  I am going to give this a 3/5.  I don't exactly hate it, but I am not going to keep it.