I'll admit that when I first saw pictures of Too Faced's Natural Love Eyeshadow Palette, I wasn't impressed. It just didn't look interesting enough. I was in Ulta a few weeks ago and happened to swatch a few of the shades. I was actually shocked by how smooth and beautiful they were. I've been using it ever since and I love every single look I have done with it so far.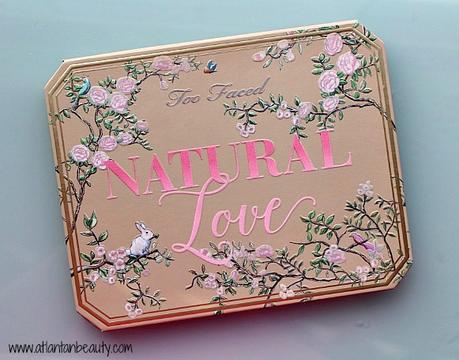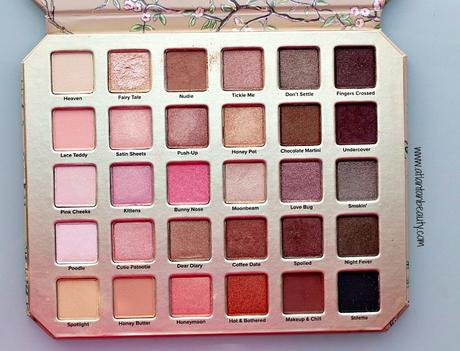 The Shades:
This palette has 30 shades in a variety of finishes, so you can do a lot with this palette.
Heaven is a matte cream, which is a shade I always appreciate in a palette.
Fairy Tale is a glittery light gold. This one is best used with a wet brush. Doing so makes it a lot easier to work worth and the pigment is greatly improved. Otherwise, it is sheer and a bit chunky.
Nudie is a matte fawn that is a nice crease or transition shade depending on your skin tone. The color payoff is a bit sheer, but the intensity can be built up.
Tickle Me is a shimmering taupe. I'm not usually a fan of cooler toned shadows (ironically I don't find them flattering on me), but I do love shades like this one.
Don't Settle is a metallic cool toned brown.
Finger's Crossed is a dark gilded brown.
Lace Teddy is a matte light peachy pink.
Satin Sheets is a golden pink.
Push Up is a bronze with a pearl finish.
Honey Pot is a metallic gold.
Chocolate Martini is a an espresso.
Undercover is a dark purple.
Pink Cheeks is a matte pale pink base with silver shimmer throughout.
Kittens is a rosy pink with a gold shift. Gorgeous color, but I do wish it had more color payoff.
Bunny Nose is a bright pink with a pearl finish.
Moonbeam is a metallic silvery champagne. This is amazing on the inner corner.
Love Bug is an interesting color, and one of my favorites. I would say it is a shimmering cranberry with a hint of silver.
Smokin' is a shimmering pewter that has a slight green look in certain lighting.
Poodle is a shimmery white with a pink shift.
Cutie Patootie is a gorgeous metallic peach.
Dear Diary is a metallic bronze.
Coffee Date is a shimmery warm brown.
Spoiled is a chocolate brown with a pearl finish.
Spotlight is a matte light beige.
Night Fever has a matte dark brown base with gold flecks throughout it. 
Honey Butter is a matte warm brown.
Honeymoon is a shimmery coral with golden flecks throughout.
Hot and Bothered is a gorgeous, intense shimmering copper.
Makeup & Chill is a matte reddish brown.
Stiletto is a matte black.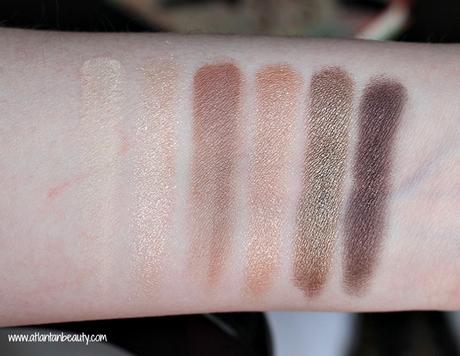 Heaven, Fairy Tale, Nudie, Tickle Me, Don't Settle, Fingers Crossed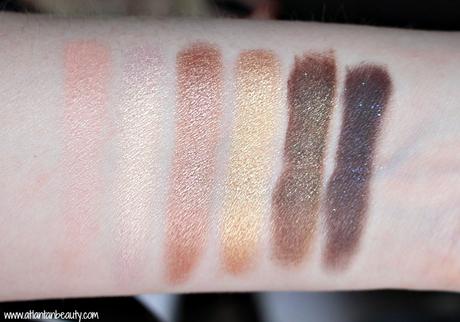 Lace Teddy, Satin Sheets, Push Up, Honey Pot, Chocolate Martini, Undercover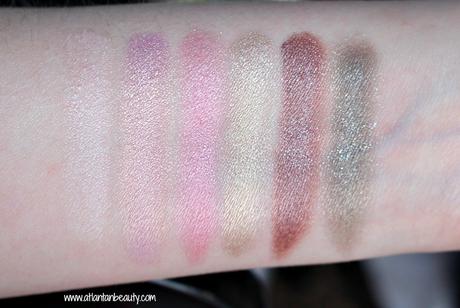 Pink Cheeks, Kittens, Bunny Nose, Moonbeam, Love Bug, Smokin'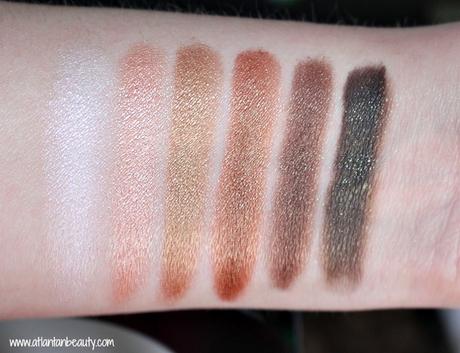 Poodle, Cutie Patootie, Dear Diary, Coffee Date, Spoiled, Night Fever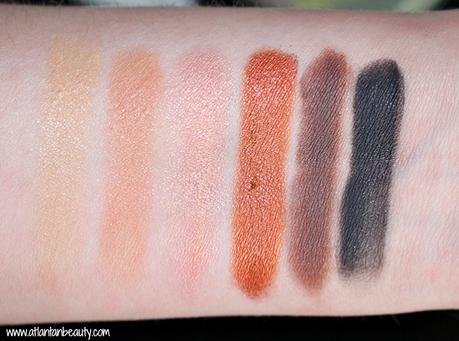 Spotlight, Honey Butter, Honeymoon, Hot & Bothered, Makeup & Chill, Stiletto
Overall, the color payoff of the shadows is nice. There are a few shades that are more sheer, but the intensity can be built up pretty easily. The texture of the shades is also nice. Some of them felt a little drier at first, but as you use them and wear away that top layer, they get more soft and buttery. I find the shades to be extremely easy to build up and blend. A more dramatic eye look that is usually very time consuming is fairly quick to do with this palette. And of course an easy, everyday look can be done in a snap. My grandma has been in the hospital for over a week now and this has been my go to every single day. Obviously I don't go all out, but I also want to look put together. This is perfect for that. I'll try to do an FOTD of what I have been doing because I know a lot of people will find that helpful.
The shadows are not patchy and I cannot think of any that are chalky. A few of the shades are a little bit powdery, but it isn't problematic. I haven't experienced any fallout, either.
I always use an eyeshadow primer, so I cannot speak for how these shadows perform without one. That being said, these stay on very well. It gets really hot where I live, so any shadow that stays on even with primer is amazing. I haven't noticed any creasing or fading over the last few weeks. This is by far the best palette Too Faced has done, in my opinion. I like the Peach Palette and their Peanut Butter & Jelly Palette, but I think this one is even better.
The packaging is very slim and lightweight, yet it still feels pretty sturdy. It does have a mirror, but I have never used it. It is kind of awkward to hold the palette as you do your makeup. Too Faced also included some mini-tutorials and look inspiration, which can be helpful.
At $59, this palette certainly isn't cheap. However, considering the quality and how much use I have already gotten out of it, it has been worth the splurge. Plus you are getting thirty eyeshadows that are great for natural and dramatic looks. I highly recommend looking into this palette if you haven't already.