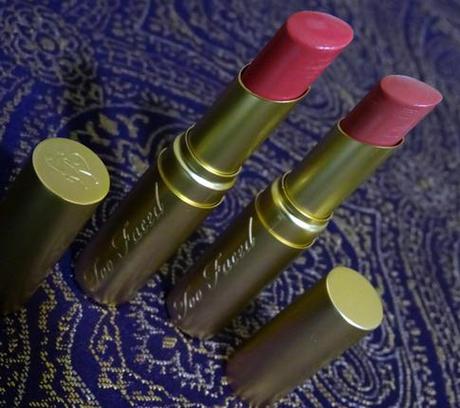 I know...I'm a little late on reviewing the Too Faced La Creme Lip Cream, but I'm loving these so much that I had to write about it! Now, this review is going to be formatted a little differently because I've been trying to make my reviews a little easier to read without compromising important details. So, if you can, please let me know in the comments if you like this better or if I should stick to the old format. Now on to the actual review...
Price: $21.00 , size .11 fl oz
The Claims: Rich creamy lip color, drenched with luscious, hydrating moisturizer. Conditions, smooths, and firms the lip area. [source]
Packaging: Beautiful, gold metallic tube that contains an airtight-like seal inside the cover. The packaging is luxurious and very brand-like (same "vibe" as other Too Faced products). I love that Too Faced decided to add the seal...this protects the product from drying out, maintains it's consistency, and prevents the cover from coming off unintentionally.
What I Love: I love everything about this lipstick; it has great pigmentation and leaves a beautiful finish on the lips!  It's about 2-3x the cost of drugstore lipsticks, but definitely not the most expensive (ie. YSL) - and for the quality (lipstick and packaging), it's totally worth it! It's very moisturizing and super comfortable on the lips! I experienced no bleeding, even without using a lip pencil, and although it isn't the longest wearing lipstick, it does last a decent amount of time. Currently, there are 20 lip colors that are divided into five main ranges: nudes, spices, berries, pinks, and reds. The colors range has a good mix of vibrant and basic colors for all skin tones!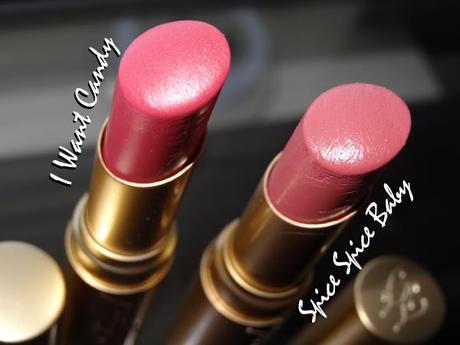 A Few Cons: As I mentioned before, the price of the lipstick is a bit pricier - you can get about 3 drugstore lipsticks for the price of one La Creme lipstick. And, while there is a good mix of colors available, the colors are nothing extraordinary (but the fact that these colors are wearable is also a 'pro' for the lipstick).
Warning: These are very moisturizing! Keep them away from direct sunlight or they'll start to melt.
Final Thoughts: If you want to invest in a higher end lipstick, this is it! There's a shade for all skin colors and it looks absolutely beautiful on! For people with darker lips (like me), Spice Spice Baby is the perfect "your lips, but better" color! Overall, these are amazing lipsticks and I highly recommend them!