Hey, Lovelies!
Today, I have a  very simple Fall smokey eye look to share with you all using a couple of old L'Oreal HiP Duos that I just happen to come across in my collection. Does anyone remember these duos? They used to get a LOT of raves from the online beauty community because they were one of the first highly pigmented eye shadows that was available in the drugstores.  Now, I'm not 100% sure if these are still around but if they are, definitely give them a try because they are really high quality eye shadows - extremely pigmented, easy to blend, and lasts a long time. The two duos that I used to create this look was Sculpted (left) and Adventurous (right). If you can't get your hands on these duos, you can still easily recreate this look using similar shades that you may already have in your collection.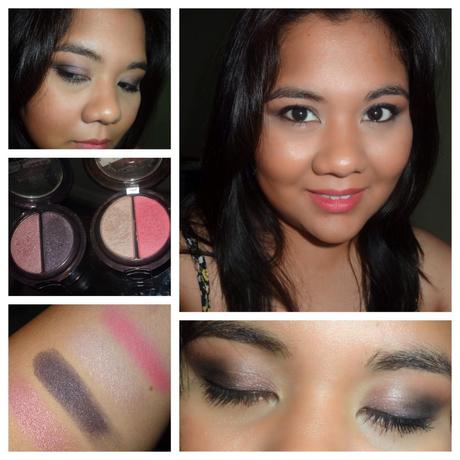 click for a larger image. 
Base:
Maybelline's Color Tattoo in Pomengranate Punk (30).
All Over Color:
L'Oreal HiP Duo in Sculpted - lighter metallic purple
Outer Corner
: L'Oreal HiP Duo in Sculpted - darker metallic purple (
slightly
blended into the middle)
Inner Corner:
L'Oreal HiP Duo in Adventurous - lighter pinkish taupe color  (meets with outer corner color).
Crease/Blending Color:
L'Oreal HiP Duo in Sculpted - lighter metallic purple
Right Above the Crease:
L'Oreal HiP Duo in Adventurous - pink (blended thoroughly)
Highlight:
None - but if you need it (base on your eye shape), use any matte cream shadow.
Eyeliner:
Urban Decay's 24/7 Eye Pencil in Zero (only in lower water line and softly smudged into the lower lash line)
Mascara:
Maybelline's The Falsies (waterproof)
The most important technique in any smokey look is
blending
! You want to blend enough so that you get rid of any hard edges and the colors seamlessly
transition
into each other, but you don't want to over blend and muddle all the colors together! Remember - you should still be able to distinguish the different shades (in this look, it's prominently the pink above the crease, the dark purple in the outer corner, and the light pinkish-taupe in the inner corner).
Also, what really completes this look is the pointed upward edge (outer corner) - this not only lifts and elongates your eyes, but it gives the illusion of having that cat-eye look without the use of eyeliner. If you do want to take this look up a notch, line your upper eyelids and use false eyelashes - this will instantly make your look even more dramatic.  Personally, I prefer "softer" looks (even in smokey eyes), hence I opted not to use any of those - but you certainly can!