Good morning!  How was your weekend?!  Mine turned out extremely busy, but a lot of fun and very informative.  Let's back up to recap very briefly what the past two weeks have looked like though – I had my wisdom teeth out which you all know, I thought I would heal a lot quicker than I did, I had to leave work very early one day because of the pain, I was practically in tears over my dinner one night because I couldn't even take five bites of it and was miserable, then I finally started feeling better, only to be hit with tonsillitis literally that same day!  That is finally behind me and I'm starting to feel like my old self again – I've been eating REAL FOOD!
I still have some holes in the back of my mouth from wisdom teeth, but they no longer hurt and I've gotten use to keeping them clean.  Crossing my fingers they close up this week.  So far I've had zero infection, hooray!  Also, I'm slowly starting to feel like this dumb palette expander is part of my actual mouth, so I'm learning to ignore it's awkwardness when I eat.  Since that has practically been my life the past few weeks, looks like you're all caught up!  Now on to the weekend!
Friday night we had a company event at the Mississippi Brave's Game.  It was a lot of fun and very chill – we had 2 suites with food & drinks and enjoyed watching the game.  It was getting late though and I had to be up super early for a drive to Tupelo so I could go to an Arbonne training.  This was my first Arbonne training and it came at the perfect time.  I haven't done much with Arbonne yet because of everything going on in my mouth, so I've been trying to stay connected to events we have going on to stay motivated so when I was ready to start having my own parties and presentations, then I could!  I'm excited to say that I have my very first party this week, so hopefully it goes well because I'll be doing it on my own which makes me a bit nervous!
We had a long day of wonderful speakers, everyone did such a great job and really provided solid information that I felt I could use when it was over along with excellent motivation and encouragement to get me up and going!  They shared a lot of great quotes, but I really liked the one above.  Setbacks are inevitable, not just in multilevel marketing companies, but in life.  Although I'm extremely terrified of rejection and I do NOT want to be on people's "call screening" list, I know that this quote is going to help me through a lot of setbacks and it's going to propel me to do the things that are not so fun with Arbonne.  Arbonne has been unbelievably fun so far – the people I meet are loving, kind, encouraging, and supportive, the events are fun, uplifting, and motivating, the products are absolutely perfect for my life and provide such a large variety, that you're bound to find something you love, but with everything, there is a negative or a not-so-fun part of the job and 99% of the time in Multilevel Marketing – it's the ask!
The things I have to remember though are this: 1) I have a longer list of goals than I do of fears in this business, so I can't give up on my goals because they're way too big and way too important to me.  2) I have products that are beneficial to others so I shouldn't be afraid to share that.  And 3) This opportunity was given to me for a reason and even though it can be hard at times, I also know it will be rewarding – I trust that it will be rewarding.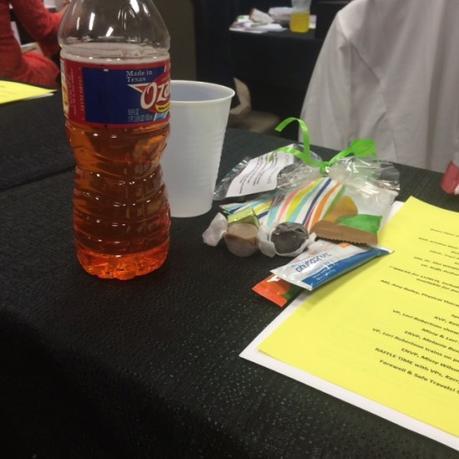 Here are a few other quotes I enjoyed throughout training:
"Duplication is key, the best copy cat wins."  I love that they encourage using what others have already done and they don't get bent out of shape or offended.  It makes working this business so much easier for the newbies out there and it gives us all the opportunity to be better and do better!
"God does great things through surrendered people."  Another thing I'm thankful for with Arbonne is the Christian based community I'm surrounded with.  I have not been going to church for the past few months and I've been wanting to get plugged back in, but just haven't done it yet.  I definitely think God brought me to Arbonne when I needed it most and although I was terrified to sign up as a consultant, I do believe I surrendered to a calling and my prayer is that it's beneficial to those around me and that I'm able to help a lot of people through it.
"You can't worry and trust at the same time!"  So so true.  A beautiful reminder for daily living!
"Work more on yourself than you do on your business every day."  They also encourage self-improvement which is something I have always been passionate about.  I love that this business is not all about the money, but it's about empowering others and improving lifestyles for the better!
"Formal education will make you a living, but self education will make you a fortune."  I'm sure you've heard the stories of millionaire's who either didn't have a degree or got turned out thousands of times before someone said yes to their million dollar idea!  Good food for thought right here, education doesn't just stop at high school or college or with your masters.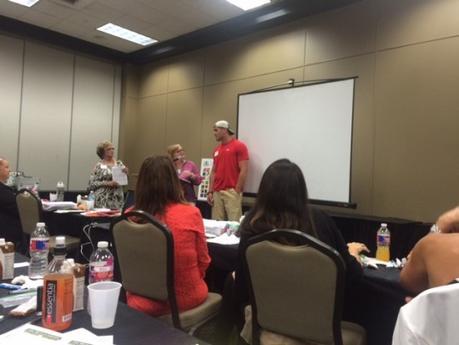 I cannot explain how great this training was for me, I'm just so thankful I had the chance to be there!  Lindsey and I talked about Arbonne the entire way home and again, it was all very uplifting and encouraging!
I got home really late Saturday and had been going non-stop all weekend, so I was looking forward to a more relaxing Sunday – I spent time reading a Liane Moriarty book (If you haven't read her – do it!)  while sipping on my coffee.  I worked on my personal goals and making a list of things I'd like to read or watch for self-improvement.  I cleaned my room and purchased new bed sheets.  I did laundry.  And just like that, the weekend came to a close.
I can't wait to share about my very quick, but very wonderful trip to New Orleans last week!  Now that I'm feeling way better, I am actually up for blogging again – which for a little while there I wasn't sure I'd ever be up for anything again! haha
Questions for the day:
What was your favorite quote and why?
What did you do this weekend?
What is an organization or group of people that you're a part of that is a constant encouragement and motivator in your life?