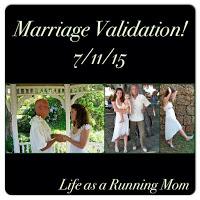 I am super excited to announce that dear hubby and I are getting our marriage validated tomorrow! If you follow me on facebook or instagram, you may have already got the news. This means the world to me but as I stand on the mountaintop spreading the good news it seems some don't quite know what I mean. So here it is in a nutshell.
I was married before. I got married when I was 19 and I had no clue what I was doing. The man was a gem, a dear friend, but that is it. We were awesome friends. Not meant to be married and live our lives out together. Some may say I was running away from things and into things searching for happiness. I didn't find it there but I did find my way to Maui. I will be forever grateful as that started my path to meeting dear hubby. But first I had some serious road bumps along the way.
My life changed from married lady on Maui to single lady on Maui and I made mistakes. I felt awful for getting a divorce and started making bad decisions and one bad decision led to the next and to be honest, they kept getting worse. Needless to say, my faith wasn't guiding me. I am sure my Mom was praying for me like crazy but me, I can't say I prayed much at all. Not like today. I pray every day now and many are simple "Thank you God!" prayers for all the little blessings I see. He didn't abandon me when I wandered so far. He patiently called me back over and over and over and over again.
It was in this time of Him calling me back that I started to fall for dear hubby. I was falling head over heels in love with him and could feel my heart opening up again. It had been closed for so many years. I even took a job and moved to O'ahu to confirm my love for him was real. Yes, I moved to another island to confirm what we felt was true and not a love out of convenience. And then he went to Spain to do some work there and we got to fully try on a LONG distance relationship. I was finally convinced what we felt was real and moved back to Maui to be with him as he was back home from his Spain assignment....so we thought. I moved to Maui, he left for Spain again, and here we were....LONG distance relationship while I tried to convert our home full of nothing into a home of something. I sold almost everything I owned when I moved back to Maui.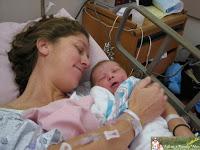 As his time in Spain grew and grew I worked two jobs and eventually he talked me into flying to Spain. God blessed me with my job giving me the time off (please note, I had only been working for them for a couple of months when I asked) and I spent a very brief time in Spain (in order to get back to work for the next school group I was teaching). And now each and every day I see that blessing of time in Spain whenever I look at darling daughter. She was my gift. God gave us a beautiful daughter while I was in Spain (yes, she was conceived in Spain) and I prayed for a little girl as dear hubby already had two sons. He was married previously too.
So when it came time for us to "tie the knot" I still felt too ashamed to tell the priest we both had previous marriages and...gasp...I had a child out of wedlock. I know this may sound old school to some of you but even though I drifted so far from my faith, it was still a part of me. And I still yearned to feel true happiness. And even though God was blessing me left and right, I was missing it. I wasn't seeing it. I was blind.
I didn't find that deep happiness until I faced my fears, confessed my sins, and started making things right according to my faith. In March I began the journey to get our marriage validated as this was deeply important to me. Dear hubby obliged. I truly felt that once I did this those dark gloomy feelings of regret would go away and I could feel the full love of our relationship and marriage. Dear hubby and I have been on a relationship tightrope for YEARS but I got to say, we are the best we have been in YEARS now. God is doing His work...or should I say, I am now doing things His way and feeling the peace, love, and happiness I have craved for years.
And hey, dear hubby got to propose to me!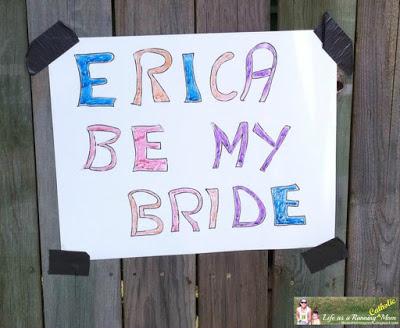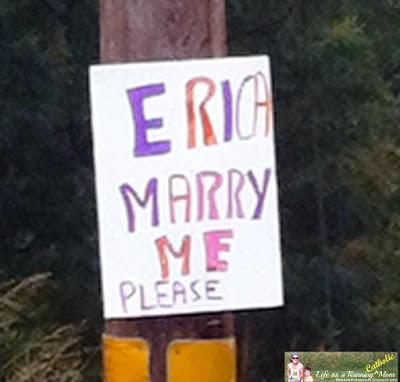 Yes, that didn't happen the first time as our marriage just evolved out of discussions. No formal engagment or anything like that. I just picked the date and place and voila! We were married.
So in a nutshell, getting our marriage validated means that after our ceremony tomorrow the church will see our marriage as the sacrament it is meant to be and that means the world to me.
Daily Gratitude: I am thankful God has opened my eyes to see His beauty and blessings each and every day.

Daily Bible Verse: Love is patient and kind; love does not envy or boast; it is not arrogant or rude. It does not insist on its own way; it is not irritable or resentful; it does not rejoice at wrongdoing, but rejoices with the truth. Love bears all things, believes all things, hopes all things, endures all things. Love never ends. As for prophecies, they will pass away; as for tongues, they will cease; as for knowledge, it will pass away. ~ 1 Corinthians 13:4-8