First of all, I am happy I got this product on sale.  I would have never paid full price for it since the shadow quality was disappointing.  I have swatched other Tokidoki shadows (singles and other palettes) and the quality was a lot better.  Based on this previous experience, I bought the Airways palette online.  I don't know what happened with this palette.  The quality is inconsistent throughout the palette.  Paris, Los Angeles and Tokyo are the shades with the worst quality.  They are not pigmented, powdery and a little chalky.  On the other hand, Hong Kong and New York have nice pigment are not powdery/chalky, just nice and smooth.  The neutral shades are okay.  The pigment is a little better than the purples and they are soft.  I found them to be a little bit chalky and powdery, but tolerable. Despite the lack of pigment, they actually stayed on pretty well.  There was a little bit of fading, but no creasing.
The lunch tin packaging is adorable and it is the selling feature of the palette.  It is covered with illustrations that represent popular destinations across the world.  It also comes with a cute a little key chain.  I would not recommend this for anyone experienced with makeup, but I think it would be a cute gift for a young girl who is new to it.  Currently, it is on sale at Sephora for $19.
Overall, I would give this a 3/5, so there is a chance it will be returned or exchanged.
Shades:
Paris: very pale shimmery pink, almost cannot be seen
Los Angeles: pale shimmery lavender
Tokyo: shimmery violet
Hong Kong: shimmery light green
New York: shimmery pine green (the best shade of the palette)
Rome: matte dark brown
London: shimmery tan
Hawaii: shimmery cream

Top of the palette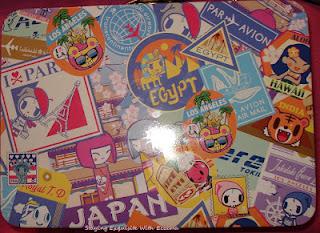 Front (the back looks the same)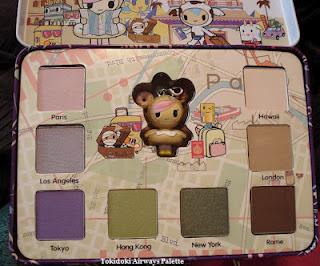 Inside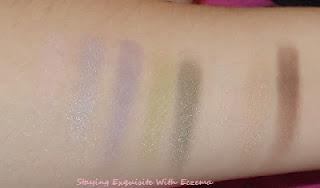 Left to right: Paris, Los Angeles, Tokyo, Hong Kong, New York, Hawaii, London, Rome

After applying Paris (all over), Los Angeles (lid) and Tokyo (liner and outer corner). Kinda sad.