Timballo alla Romana
This Timballo alla Romana is a great dish one which I have only tried it but I haven`t had the chance to make it. I had it in some local restaurant on my last trip to europe. I was in love with it at once but I am not sure how to make it perfectly as the dish I have had on my trip. I had quickly asked for the recipe for the very chef but I had no pen or paper that time. So I am asking if anyone who is reading this article has tried making it at home to give us a more insight on this Timballo alla Romana recipe. I hope other members of healthy lunch ideas reading this article can benefit from for recipe.
Ingredients:
Cold fowl,
game, or sweetbread,
butter,
lard,
flour,
Parmesan,
truffles,
macaroni,
onions,
c.
Directions:
Make a light paste of two ounces of butter, two of lard, and half a pound of flour, and put it in the larder for two hours.
In the meantime boil a little macaroni and let it get cold, then line a plain mold with the paste, and fill it with bits of cut-up fowl, or game, or sweetbread, bits of truffle cut in small dice, grated Parmesan, and a little chopped onion.
Put these ingredients in alternately, and after each layer add enough cream to moisten.
Fill the mold quite full, then roll out a thin paste for the top and press it well together at the edges to keep the cream from boiling out.
Bake it in a moderate oven for an hour and a half, turn it out of the mould, and serve with a rich brown sauce.
Decorate the top with bits of red tongue and truffles cut into shapes or with a little chopped pistacchio nut.
Enjoy!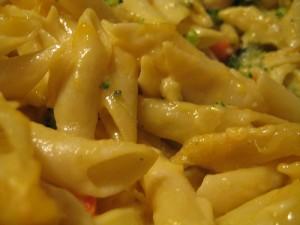 Photo by: Kripptic