To-Do Thursdays: 
By now the holidays are in full gear with 12 days left until the big day. If you're like most parents I've talked to, there's still lots of Christmas shopping left to do, so your weekend is already full of required holiday parties and holiday shopping. 
However, if you do have any free time to share with your family this holiday (what a thought), consider hot chocolate and some family board game fun! Don't have a board game collection to choose from or looking for something different to play, consider these 6 must-have board games for your collection.  But if you're looking for something out and about, you still have a little time left to get out there and enjoy what the holidays have to offer with some festive family fun like:  It's Tea Time: Teddy Bear Tea at the Anatole
Light up the Holidays with: Prairie Lights in Grand Prairie
Light Up Your Holidays: Interlochen Lights in Arlington
Addison's Vitruvian Lights
See the Largest Indoor Christmas Tree in the U.S. at Galleria Dallas
7 Tips for the Perfect Experience at ICE! at the Gaylord Texan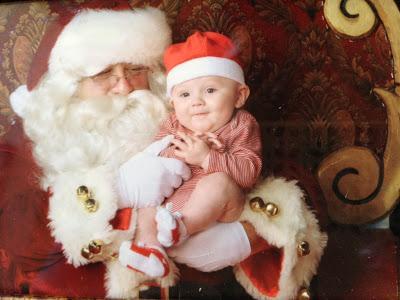 Still love this photo from my son's first Christmas!
And if you're still working on those special gifts for your colleagues at the office or girlfriends, here's a great giftable recipe that makes you look like a pro in just a few minutes or practice Christmas brunch with this recipe from Chef Bob Stephenson for Carrot Cake French Toast.
Or you could just "Go ElfYourself!" 
Have a great one whatever you choose to do celebrate the holidays!