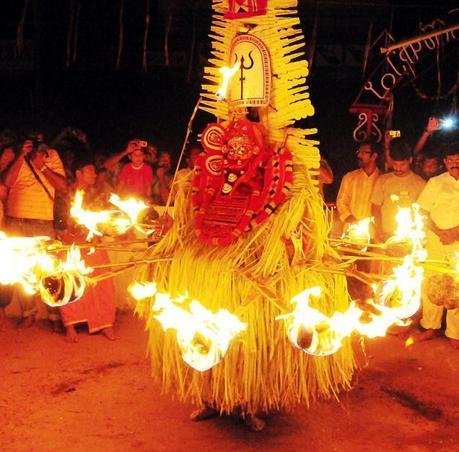 Agni Kandakarnan Theyyam being performed at the Kallikkodan Kavu in Kannur, as part of the Kaliyattam
 The State's colourfully spectacular ritual art form Theyyam is set to go live on Web.Kerala Tourism will stream live for the first time this performing art of Malabar origin.The two-day webcast will begin on Monday from the venue of the annual festival of Kozhunthumpadi Vellor temple near Payyannur.Art lovers across the world can watch the performance on PCs and mobile phones. BSNL is telecom partner of the webcast.The webcast is scheduled between 5 p.m. to 11 p.m. on Monday and from 9 a.m. to 4 p.m. on Tuesday.The live webcast will also be available onwww.keralatourism.organd YouTube.Webcast of 16 performances are planned from the venue, an official spokesman said.Five high-definition cameras are being deployed to ensure quality webcast.
CRANE-MOUNTED
Cameras mounted on cranes are expected to give a stage-like experience to viewers.Themes offered for webcast include 'Sree Bhootham,' 'Kuttichatthan,' 'Vishnumoorthi,' 'Madayil Chamundi,' and 'Gulikan.' "It is a significant event in the cultural calendar of Indian tourism," said Tourism Minister A.P. Anil Kumar."Live webcast from a major temple will give art lovers opportunity to view the art form as it is performed," he added.As a State known for Kathakali and other art forms, Kerala is always looked up to by art lovers, said Suman Billa, Secretary, Tourism."We want to take them closer to not only Malayali diaspora but also to art lovers from the rest of the country and abroad," he added."It will be a singularly personal experience we are proud to be part of," said Rani George, director, Kerala Tourism.The State is a major destination on the country's cultural calendar highlighted by events such as ongoing Kochi-Muziris Biennale.Kerala Tourism has also organised several cultural events to appeal to the intellectual and cultural tourists.These include Hay Literary Festival, annual international theater festival in Thrissur and Kerala International Film Festival in Thiruvananthapuram.
Source: 
http://www.thehindubusinessline.com/news/travel/theyyam-to-be-streamed-live-on-web/article4472131.ece