I think theBalm eyeshadow just might be among the best.  I have been wanting to try this palette for the longest time and was finally able to order it.  When it arrived, I actually heard the Hallelujah chorus going off in my head.  It is good thing I am not the one who saw the UPS man, because it would have been difficult for me not to hug him.  My excitement was justified because this palette did not disappoint.
Shades and Color Description
This palette has a variety of 9 shades.
1.) Lusty Lee: shimmery silver
2.) Envious Erin: shimmery white with silver microglitter
3.) Racy Kacy: shimmery, somewhat metallic copper
4.) Safe Bet Annette: shimmery pale pink
4.) Runaround Rebecca: shimmery light yellow green
5.) Come Hither Heather: shimmery soft taupe.  Probably my favorite shade in the palette.
6.) Open to Offers Olwen: shimmery blue
7.) All The Way Anne: shimmery violet
8.) Guilty Gwen: black with silver microglitter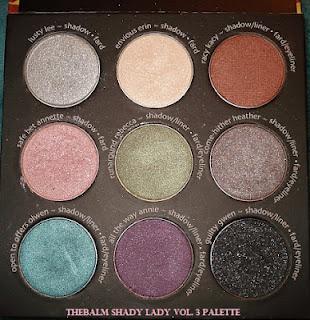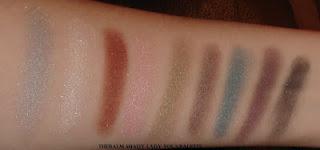 Lusty Lee, Envious Erin, Racy Kacy, Safe Bet Annette, Runaraound Rebecca, Come Hither Heather, Open to Offers Olwen, All The Way Annie, Guilty Gwen.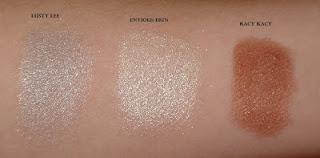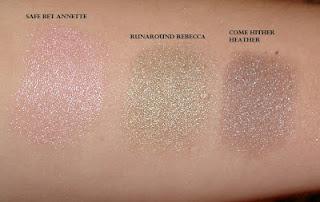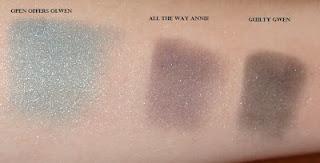 Texture, Pigment and Staying Power
For the most part, the texture of these shades are perfect.  They are very smooth and almost buttery.  Guilty Gwen feels a smidge gritty due to the microglitter.  The pigment is great for most of the shades, but others require a little more work when applying.  Guilty Gwen, Lusty Lee and Safe Bet Annette are the main culprits for this problem.  The shades are not overly pigmented, so you can create a softer look.  However, they are easy to build for more intense looks.  Guilty Gwen is also a bit chalky, but this is not a problem with any of the other shades.  The staying power was excellent.  The shades did not budge and there was no creasing.
Packaging and Overall Impression
I love the packaging for this product.  You would think it would be huge since there are 9 shadows, but it is relatively compact.  The exterior is giraffe print with the classic "Shady Lady" emblem.  They included a nice size mirror that is usable for application, which always makes me happy. It is made out of sturdy cardboard, but does not feel cheap.  It has a magnet, so it will not pop open.  I really love this palette.  It is probably my favorite in my makeup collection. The colors and pigment are great.  Plus the staying power cannot get much better.  The cost is $39.50. You can find them at Sephora or directly through theBalm.