This is a little story about Adrian but I have to mention that Lincoln says "worm" so cute, he says "WOOM!" "WOOM!" and every time it rains he looks for worms on the ground, little boys and their worms! Cute overload. Anyway, to my story.
I was at the store with the kids and they asked for gummy bears. This is the reason they wanted gummy bears:
So I said I would get them some gummy bears. I spotted some sour gummy worms when they were getting their bears and I grabbed those for Glen because he likes them every once in a while.
When we got home the kids split up the pack of gummy bears and gobbled them up except Nevaeh who kept putting them in her mouth and spitting them in her hand because it made them look shiny, yuck. A couple hours later after dinner was done and all that Adrian went up to Glen and asked him for the "gummy snakes" Glen hadn't opened them and had stashed them away in the cupboard for later. He didn't really want to open them yet so he was just kind of ignoring Adrian.
I was in the kitchen cleaning and stuff and Adrian came up and asked me for a pen, a very common occurrence. I gave him the pen and moments later I heard him in the living room talking to Glen, he said "Look Dad! A million dollars! Now can I have a gummy snake?"
He drew this: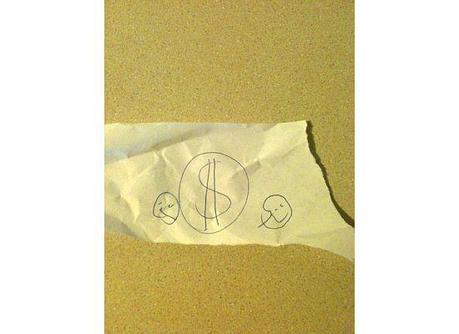 So Glen caved and paid the "kid tax" he calls it of two gummy worms each.