Last weekend, The Makeup Show LA welcomed over 4,500 attendees through it's doors. With over 60 exhibitors offering fantastic discounts, and keynotes from some of the industry's top makeup artists, the show was a must-see for beauty professionals. I attended on Sunday, saw some friends, watched a few of the speakers and spent way too much money.

While all of the Keynote Speakers I saw were inspiring, my favorite talk of the day was Troy Jensen. He spoke so candidly about the industry and offered amazing advice for artists of all levels. I loved his realness when answering questions, nothing was sugar coated. His body of work is beyond inspiring, and watching him speak made me an even bigger fan.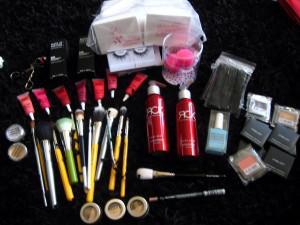 Per usual, I went a little crazy on the exhibit floor. I picked up some Inglot eyeshadows to see what the hype is about.  I also got new Lip Tars from OCC, some goodies from Kevyn Aucoin (who were offering amazing discounts), a few bottles of Joanna Schlip's Red Carpet Kolour and some brushes from Bdellium Tools.


My favorite purchase of the whole show is my first Hakuhodo brush!! The price tag of these beauties has always been a deterrent but this year I decided to avoid the Crown Brush booth all together and invest in better quality. I'm already in love, it's so soft!! It's only going to be touching very special faces haha.

I was super excited to get a free Minx manicure compliments of Marinello Beauty Schools! I've been wanting to try Minx for awhile.
Don't live in LA? Check out The Makeup Show in other cities
New York : May 13-14, 2012
Chicago: June 17-18, 2012
Europe: September 22-23, 2012
Orlando: November 4-5, 2012