I say this at the beginning of every single month, but where is time flying to? I mean, seriously, it doesn't seem like two minutes ago we were all moaning about the incessant snow fall that ground the entire country to a stand still, and now we've experienced the hottest Easter in goodness know how long.
Only a quickie hottie and the nottie this month, which will hopefully be the last of a certain subject for a little while *fingers crossed*
Loving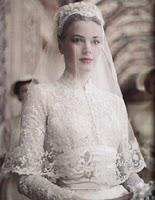 Weddings
. Anyone who knows me, will know that I have absolutely no desire to get married. I have nothing against the idea of marriage, in fact, I find weddings all romantic like most girls, but it's a personal choice, and marriage just isn't for me (right now, anyway. I'll never say never!). But, I have to say that I'm getting a real buzz about weddings at the minute.
With William and Kate's wedding last week, and my brother's impending one at the end of May, I just feel all warm and fuzzy (and slightly nauseating) about weddings.
My faith in romance (once fueled by the Disney classics) may actually have been renewed, but I must disclaim that this appreciation for the holy vows of matrimony is likely to run dry in the very near future. Therefore, enjoy it whilst you can ;)
Hating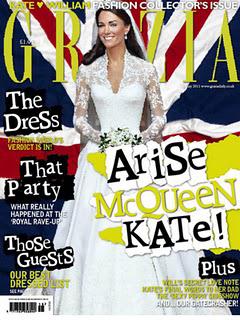 Image from Grazia
Grazia
. We are all more than aware that practically no image displayed in the media is completely "natural". We know that magazines nip, tuck, smooth, decrease, increase, de-wrinkle all of their models and celebrities using Photo Shop, but Grazia may have just overstepped the boundary of "taking the piss" (and yes, that really is necessary language!)
The picture on the right is from the front cover of the latest issue of Grazia, and I am absolutely shocked, no disgusted, at the photo-shopping of this image of the already beautiful Kate Middleton (or the Duchess of Cambridge, if you please). With this picture, it's not even a case of "editting a little", but more, synching in her waistline to something that only 19th Century Corset-Wearing women could re-create.
Why a magazine felt the need to reduce her waist in the first place, is completely beyond my comprehension, but what kind of message is this sending out to young girls, especially since Kate is quickly becoming (and quite rightly so) an iconic symbol amongst girls and women alike.
Grazia magazine. You should be ashamed of yourselves.