It's no secret that I've got enough eyeliners to draw directional lines on a highway (well, if my eyeliners were white), so what the hell, here's another eyeliner review – except that this time, this. is. da. bomb. This has got to be one of the most everything-proof eyeliners I've ever come across

The Face Shop Face It Maxx' Eye Twinkle Pen Liner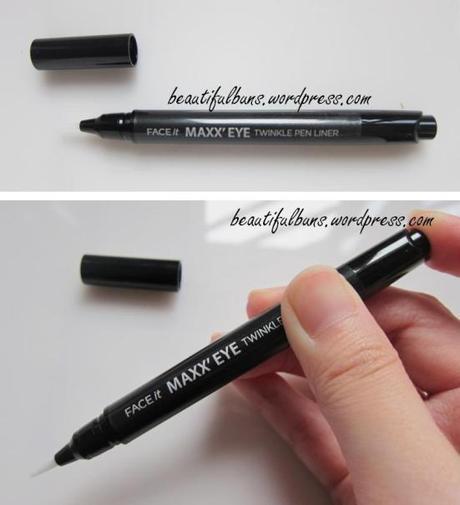 Tap dat ass baybeh, tap it!

And voila! We have struck first ink!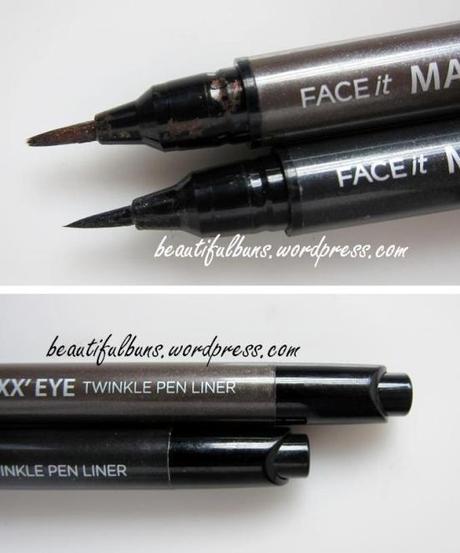 Currently in my makeup pouch – the black and brown versions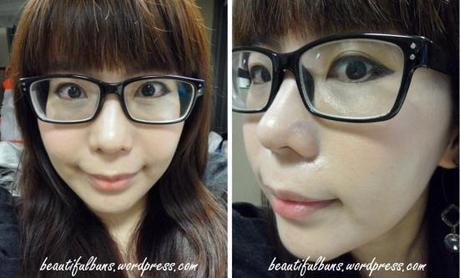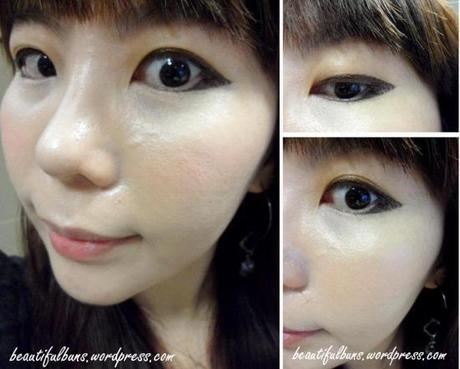 Guess what? I'm using brown in this photo – it looks black, doesn't it?

I say…
There really isn't anything else to say besides – this is the eyeliner that I swear by these days.
The ink is dispensed via a click dispenser at the end.
When using for the first time, it takes quite a number of clicks to dispense the ink.  After that, every single time you use, just click 1-2x before applying.
It comes with very miniscule glitters.
The brush tip is also soft and doesn't poke my eyelids.
The colours are intense, be it brown or black. There's also purple, but unfortunately, the one that I bought malfunctioned (or didn't come with any ink refill).
To be honest, these eyeliners are rather inconsistent when it comes to product packaging quality – some of them require several clicks to dispense ink (and I end up with a giant blob of ink at the tip of the brush), whilst others only need one click and I have a well-inked blob-less tip.
However, once the ink flows, it's so easy to apply and 2 coats is usually what I need to get a rich intense black. In fact, the brown is also intense enough (with several coats) and can look relatively dark brown/black.
The color aside, what really makes this product stand out is its ability to last. It's oil-proof, sweat-proof, water-proof, smudge-proof and wear-proof. It's the eyeliner I use everyday because it really doesn't budge at all.
At the end of the day, it can be removed easily with any makeup remover emulsion or cleansing tissue, and it comes off in clumps, so it doesn't streak and give you raccoon eyes.
The residual ink in the brush tip never really seems to dry up and clump into crusted bits, so I never have that kinda trouble. I do clean the tip from time to time with a cleansing tissue though.
All I can say is – this is da bomb diggity! Try to get it as fast as you can – I suspect they're phasing this out soon cos I had quite some difficulty finding this when I was in Korea last month (in fact, I couldn't even find any photos of this product from The Face Shop on the internet – Google haz failed meeee)
0.000000
0.000000